How to beat Zillow. Yes, it's possible.
Zillow is a website with real estate listings.
You have a website with real estate listings.
So why are they worth $25,000,000,0000 and you're not?
In our recent interview with the CEO of 1000watt, Brian Boero, he put it simply, they've built an iconic brand.
And by doing so, they've leveraged their position in the market to start creating a suite of products and services designed to streamline the entire real estate experience. From beginning to end.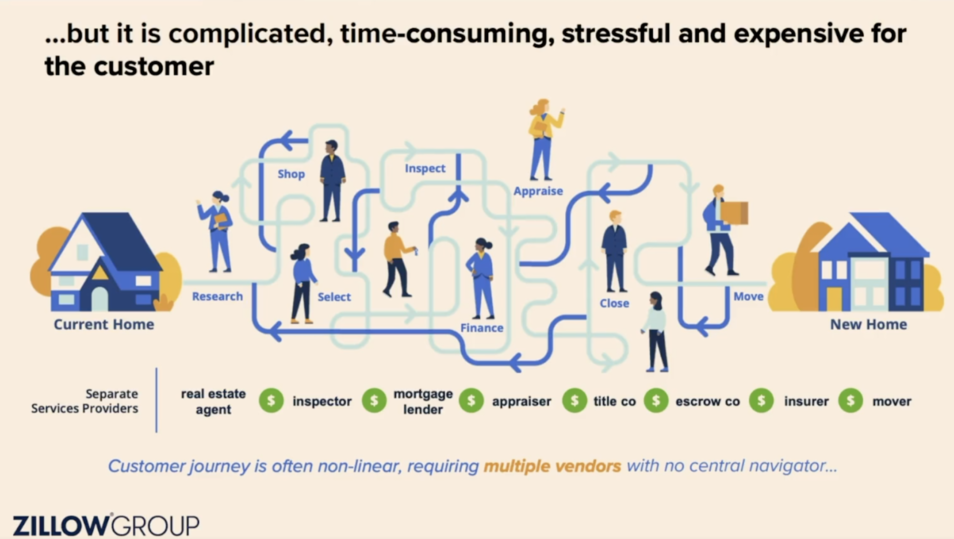 Zillow is synonymous with real estate. In fact, the keyword "Zillow" was actually searched more starting in 2016 than the keywords "Real Estate". (source: Inman News)
So, how do we develop a strategy to compete against a dominant market leader?
We lean into our strengths to create our own local Zillow. A better Zillow.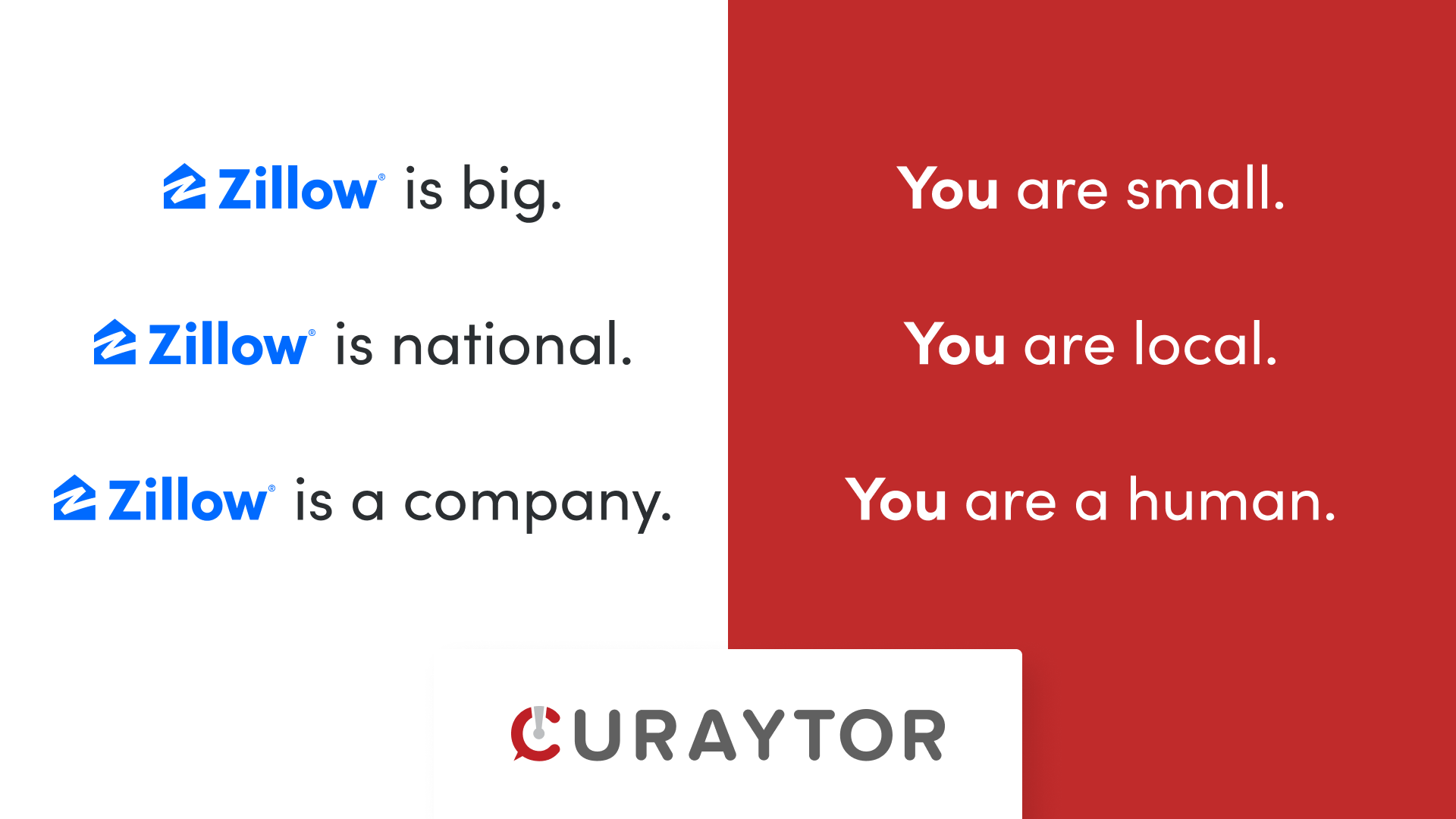 Put it all together: you are a local agent who is uniquely positioned to provide the personalized service your clients need to achieve their real estate goals.
Zillow's biggest strength (size and scale) is also their biggest weakness (slow and bureaucratic).

So, until Zillow Agents descend on your local market like Amazon delivery drivers, you have to leverage your strengths to build your own "local Zillow".
Let's take this concept and apply it to your marketing strategy using three real world examples of agents who are outcompeting Zillow.


1. Self-Serve Search vs. Curated Searches
The big lie that we tell ourselves is that we want choice. We don't. Too much choice creates anxiety and stress.
We've moved from the age of information to the age of recommendations. Everything in our lives is served up to us in the form of a recommendation.
The movies we watch.
The products we buy.
The food we eat.
All specifically designed for our unique needs.
So, why aren't we recommending homes the same way for our prospective customers?
Don't just drive traffic to your website through ads and marketing and force the customer to do all the work. They already get that through Zillow.
Instead, create curated, niche searches that fit a specific need and serve up those homes in a useful way. That's exactly what our client Jordan Rossman did to generate $33,150 in commission (and counting) from a single marketing campaign. It was relevant. It was timely. It was useful. And it worked.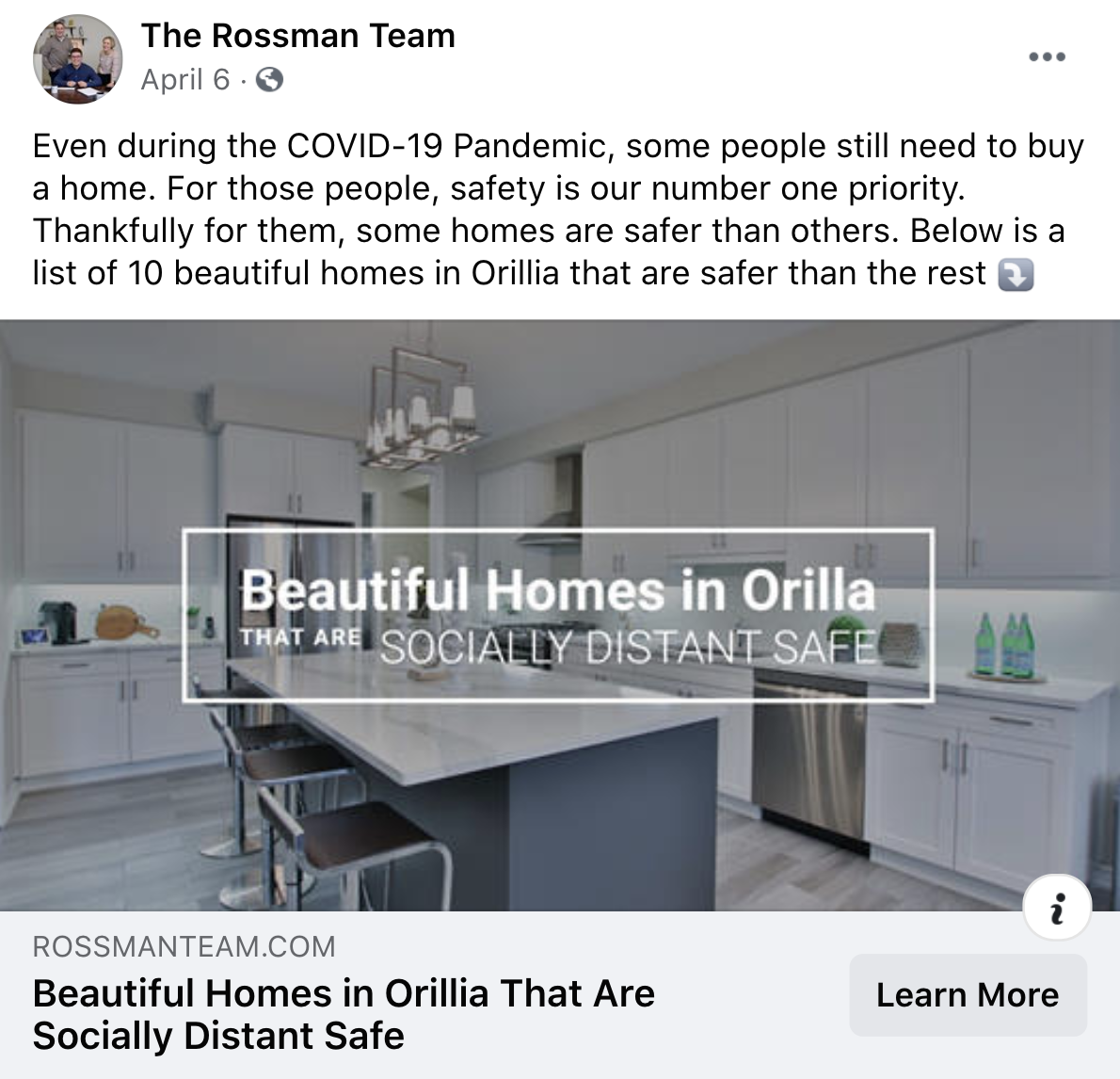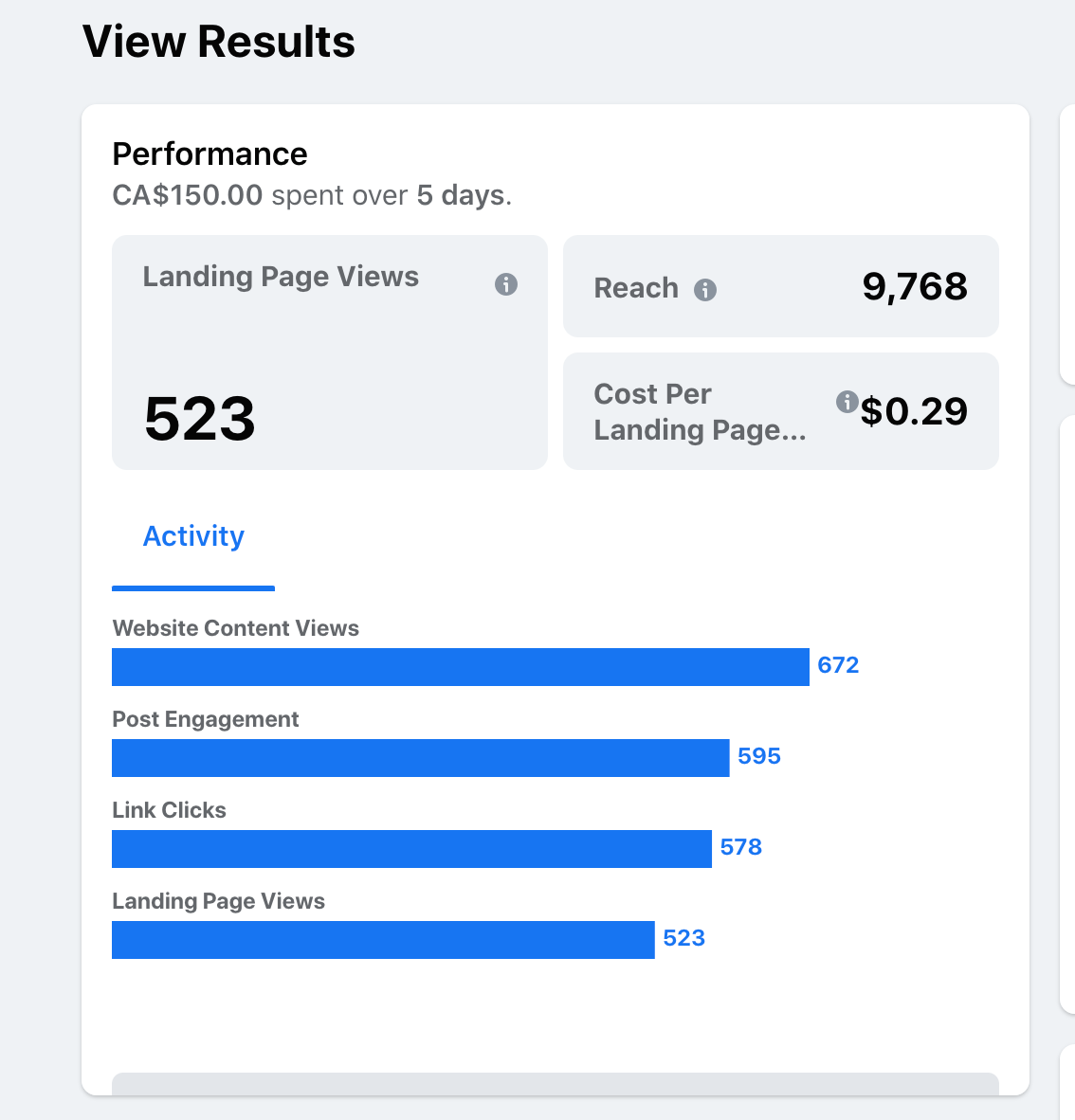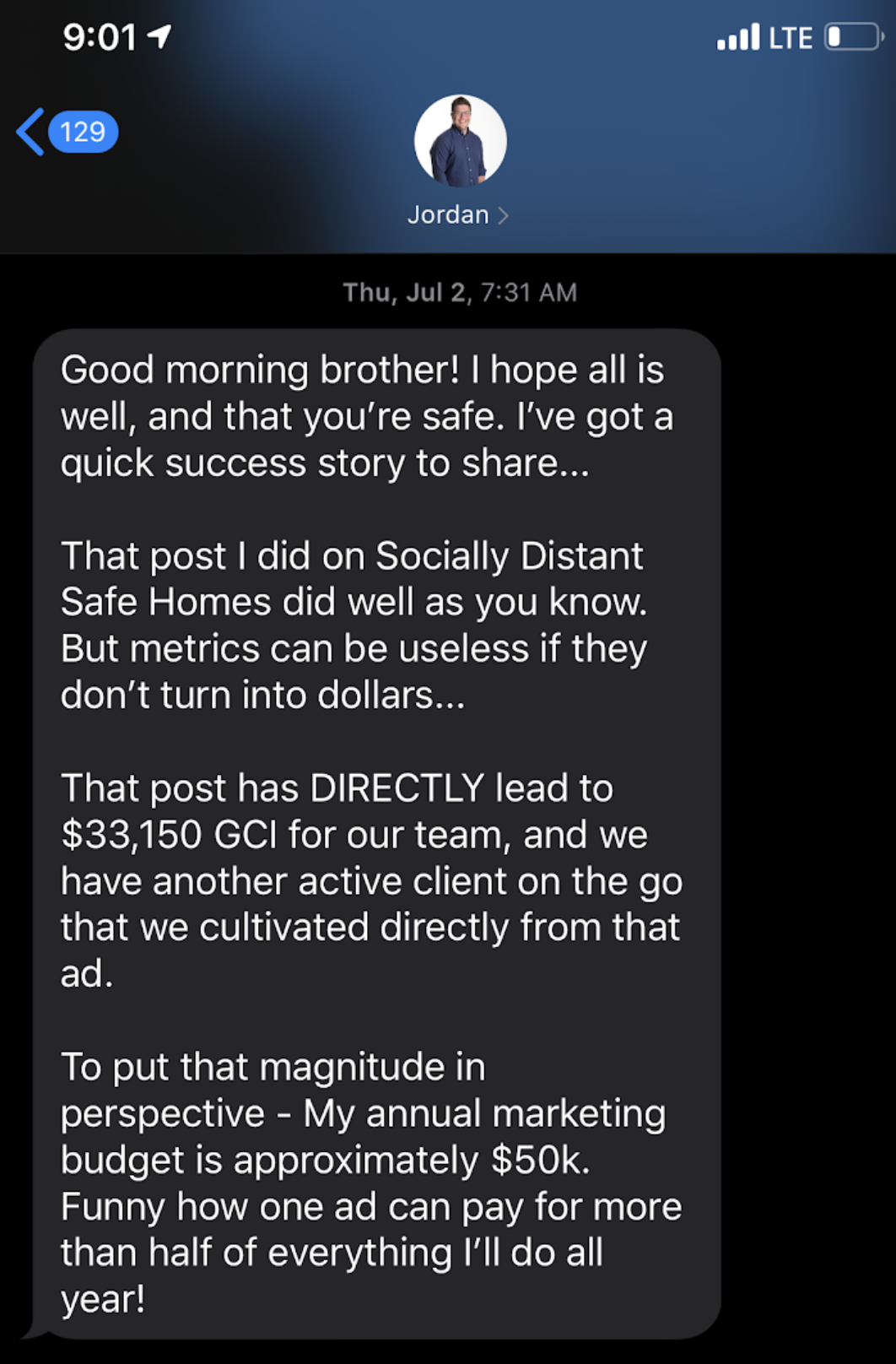 2. Market Stats vs. Market Commentary
If a consumer wants information about home values, recently sold properties or generic market trends, they can just go to Zillow.
But is that what they are really looking for?
I'd argue that when someone asks the question "How's the market?", they are really asking "What's happening in the market right now and why? And where is the market going?".
They want your expert opinion and they want you to provide them with a prediction so they can make a more informed decision. Think about how the news has changed in recent years. We no longer tune in to hear the news. We tune in to hear people's opinions of the news.
Below is an example of how our client Connie Carlson is using market stats with market commentary to position herself as an expert.


3. Real Estate Information vs. Real Estate Stories
Zillow's buyer guide is useful but it's also generic.
Zillow can't drill down to create a specific local guide for each unique situation.
That's where you come in.
Through the lens of a customer story, you're able to provide insightful information about the real estate process, while at the exact same time positioning yourself as a trusted advisor who can help your future customer navigate all the pitfalls.
These stories build an emotional connection with your brand and help sell your services. Here is an excellent example from our client Eric Rollo's website. After reading it is crystal clear that the agent on Eric's team (Max) went above and beyond for his client (Angela). But as you read the story it goes well beyond the typical 5-star review you find on Zillow.
A well-written customer story creates a magical moment where your future customer's inner voice will say "I'm just like Angela and if Max can help Angela he can help me too.
The bottom line is that your local customers use Zillow as their primary source of real estate information because they associate Zillow as the authority on real estate.
How do you change that habit? How do you become the destination of choice?
You have to provide information that is more localized, more personalized and more valuable to the unique needs of your local customers.
If you do that, you can compete and win the consumer attention and trust. You can build your brand to become synonymous with real estate, locally.
Want help competing against Zillow?
Then check out our new Accelerator program. We can help you generate higher quality leads that are easier to convert.
Check Out Accelerator