4 Easy Ways to Audit Your Real Estate Website
Think of your real estate website as your 24/7 salesperson.
It works around the clock to make sure you never miss an opportunity to personally connect with an interested buyer or seller. No matter what potential buyers and sellers are searching for, your website needs to help them quickly find what they want.
So, is your current website up to the task, or has it been dropping the ball? How well is your real estate website performing?
To make sure your website is properly turning interested visitors into leads, follow along with this website audit checklist. It has dozens of website recommendations for real estate agents who want to improve their lead generation with strategic tweaks.
Let's start with arguably the most important element on your website: your call-to-action (CTA).
1. Do you have a clear call-to-action?
When someone lands on your website, your call-to-actions should help them find relevant information so they can confidently take action. You want to make it easy for home buyers or sellers to contact you.
To better audit your real estate website and decide on a CTA, think about the different types of clients you typically work with and what they are motivated by. For example, a first-time home buyer might land on your website and want to browse available listings before they contact your team.
With this in mind, you'll want to create a listings directory on your website that is easy for a first-time home buyer to navigate. You can also create a positive first impression by creating separate listing pages with professional photos and helpful copy, all leading to one CTA.
It doesn't matter if your call-to-action is to have visitors schedule a showing, book an appointment, or something else entirely. The main idea is to choose one CTA so your entire website is hyper-focused on your audience taking one action. This reduces decision paralysis which can occur when your audience is given too many options.
One call-to-action will eliminate confusion and clearly state what step you want visitors to take next. We used this same principle when building our client Eric Rollo's website. You'll notice that the "Let's Connect" CTA is the same for their buying and selling pages.
It's also the same "Let's Connect" CTA button that we use in Eric's website navigation in the top right along with the high-contrast blue button underneath the website's main headline.

When a visitor clicks on the CTA button, they'll be directed to a landing page with the primary goal of helping interested visitors schedule an appointment to meet with a team member. It's so simple!
When you choose CTA button language, make sure you stay consistent. If you use "Schedule a Call," "Book an Appointment," and "Schedule a Consultation" interchangeably, you run the risk of confusing your audience. Keep it simple and make sure you choose one message.
Pro Tip:
Keep in mind that every page on your real estate website needs to link to a contact form or give your visitors more information on how to get in touch with you. If people don't know which action they should take next, they often forget to take action.
2. Do you feature high-quality photographs?
Have you ever visited a website that was designed beautifully but featured pixelated images? Not a great impression, huh? Using high-quality photographs instead will communicate the high level of detail and professionalism you bring to every listing.
When your listing features professional photographs, it will sell 32% faster than a listing with average photos. Almost half of buyers say professional photographs are extremely or very important in the home buying process. Many people need access to high-quality visuals before they feel confident in scheduling an in-person showing.
To make each listing stand out, you'll want to include professional photography inside your seller marketing packages. Our client Eric Rollo goes the extra mile by not only including high-quality photography but also drone-captured footage. Talk about making a lasting impression!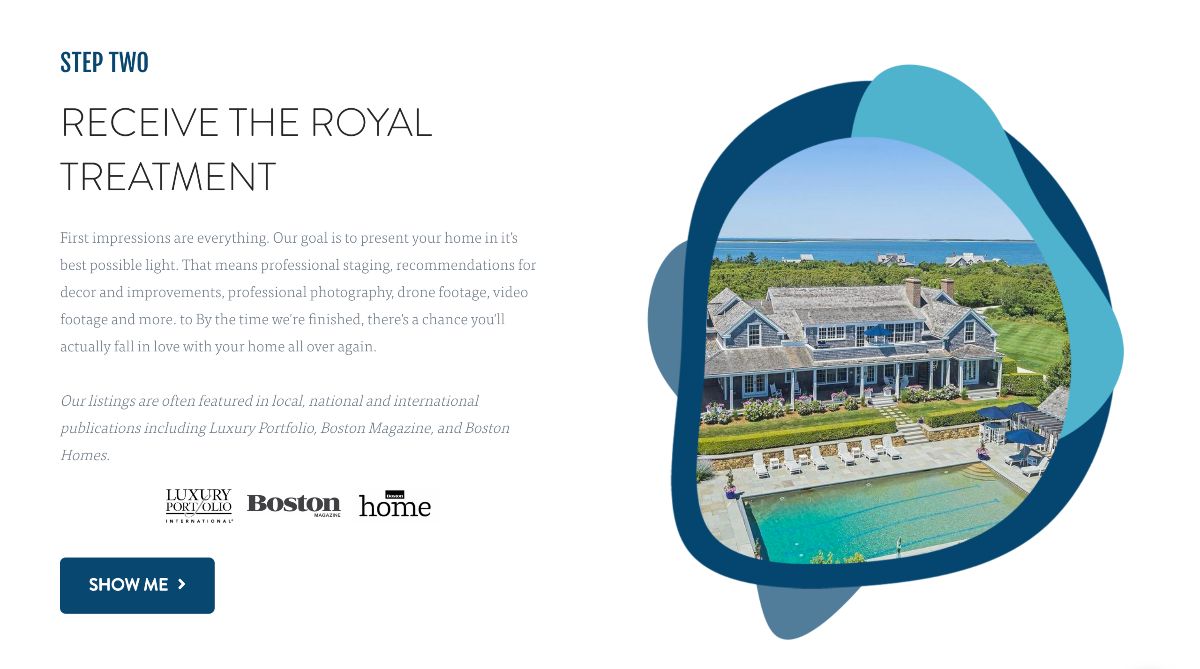 There are a few ways you can tell when a listing photo has been taken by a professional photographer, as illustrated in the photograph from our client Mathieu Newton's listing below:
Lighting
Natural lighting is essential in real estate photography, but a professional photographer will know how to expertly capture an interior room with no windows. You won't see distracting glares from overhead lights, weird reflections, or blinding streams of light.
Angles
Professionals know how to make an interior room appear larger so potential buyers can see every detail. This is typically done with a wide-angle lens. You can also tell the photo was taken on a steady tripod instead of by hand.
Editing
Most professional photographers have a clean and crisp editing style that brightens each interior room and sharpens the look of the exterior.

High-quality photography doesn't stop at your listings. You'll also want to hire a professional photographer to capture images of your team. Whether you take a large group photo of your team, individual headshots of each member, or both, you'll need them to look consistent.
To highlight their professionalism, the Mathieu Newton team decided to highlight a professionally captured group photo on their About page.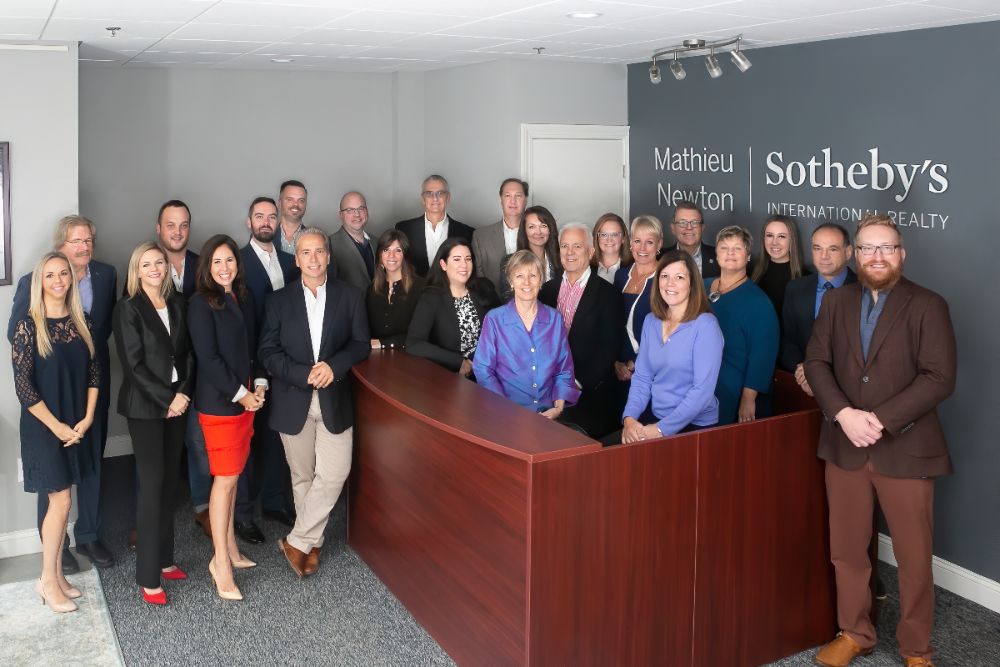 We love that they decided to have some fun with their second team photo!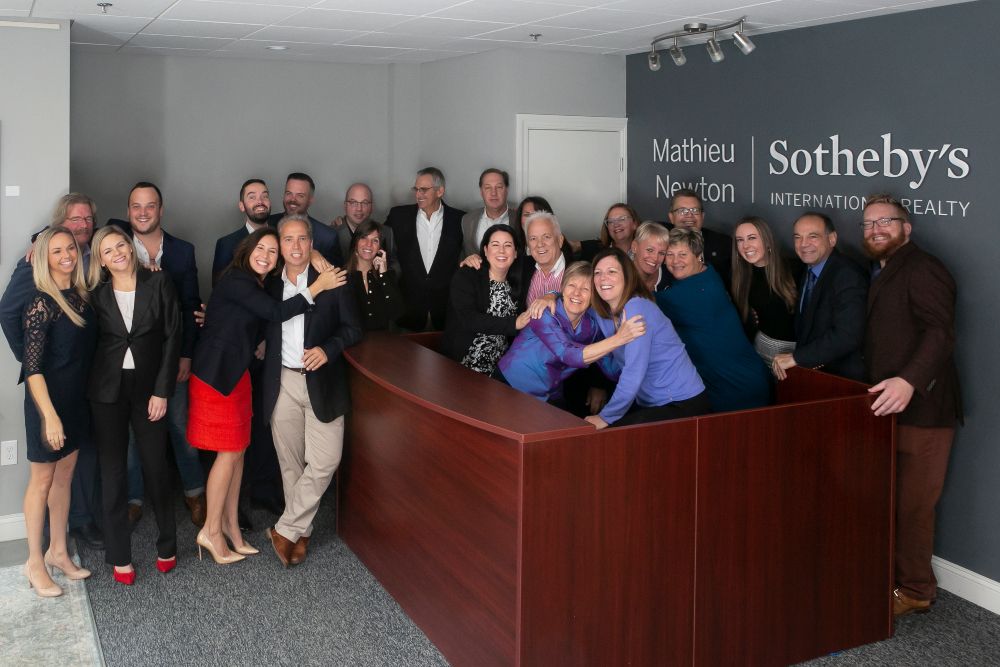 In addition to group photos, the team provided high-quality headshots of every member. It's optional to include short bios for each team member, but larger teams typically share single headshots.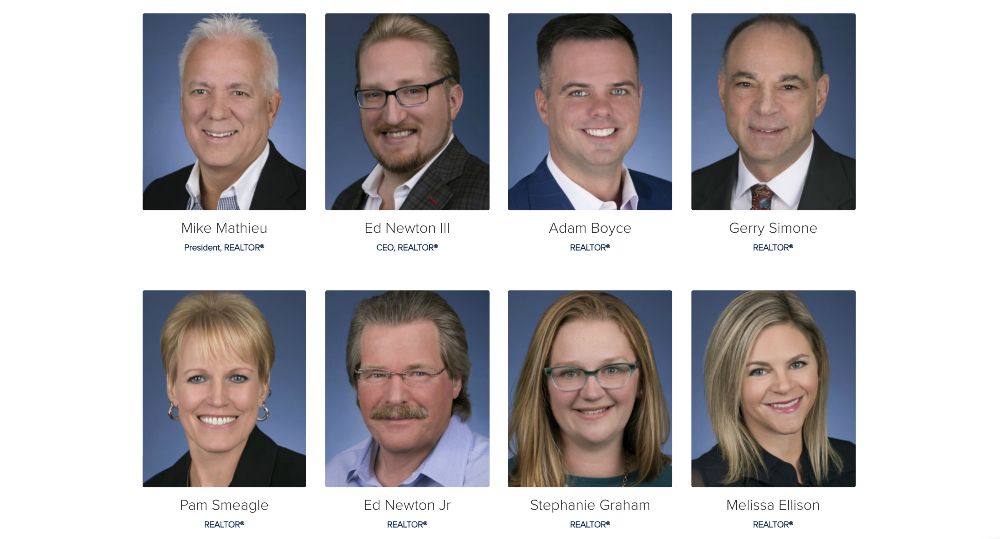 Pro Tip:
Did you notice in the headshot example above how the dark blue photo background is consistent in each photo? This is done intentionally to give the photos a cohesive and professional look. You can do the same by choosing a background that fits your branded color palette.
3. Are you including stories that will connect with your audience?
There are so many storytelling opportunities when you create your real estate website, and what better way to highlight your client experience than to share success stories from past clients who experienced it firsthand?
Social proof is incredibly important to your business since 92% of online consumers look at recommendations before making a purchase. Client testimonials are 12-times more effective than descriptions written as branded content.
A great success story will help potential buyers and sellers identify similarities between their own situation and what your past clients experienced. The more they feel like the past clients you're featuring are just like them, the more likely leads will feel that the same success is possible for them.
It's ideal to share your favorite success stories on your homepage, but you can also create a separate website page with multiple testimonials from past clients. You can see this in action with our client websites for Era Evergreen Real Estate and Trueblood Real Estate.
Let's break down what elements go into an effective client success story by looking at a fantastic example from our clients at MarcumSOLD.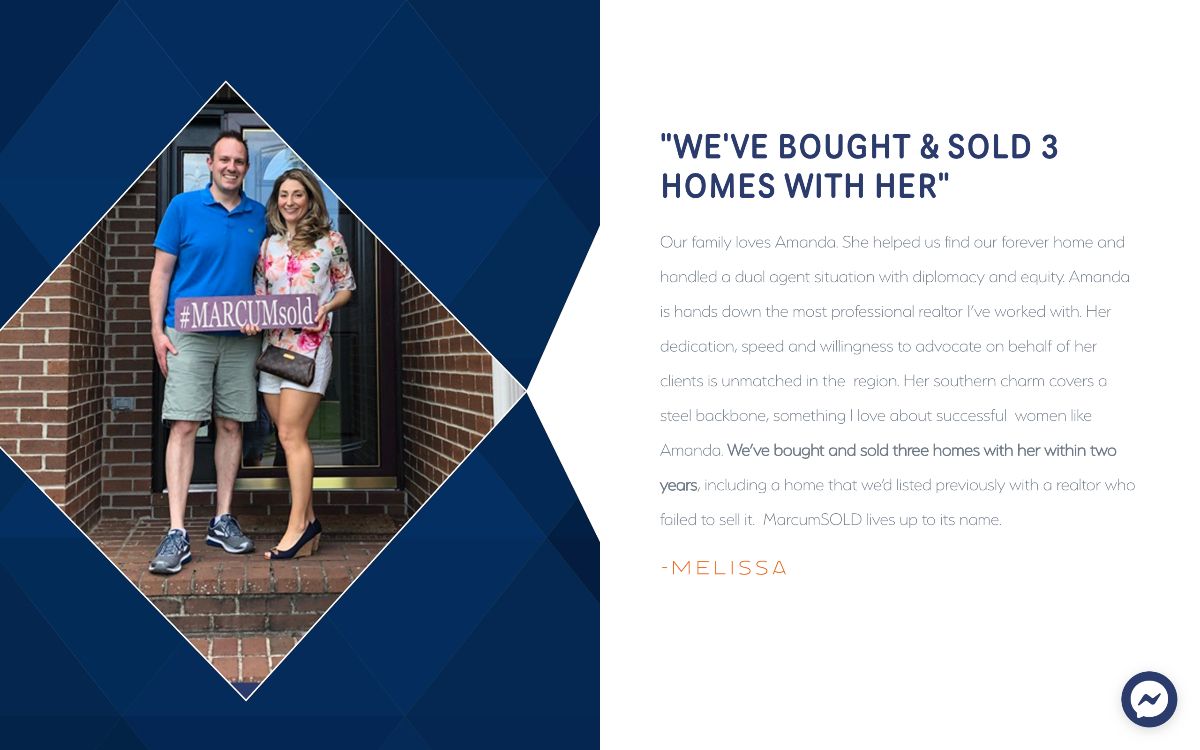 Attention-grabbing headline: Instead of leading with a summary of text, capture your audience's attention with a short headline. This is best when taken from your client's success story copy. Choose the excerpt that feels like the strongest lead, like "We've bought and sold three homes with her" in this example. It shows how the couple trusted the MarcumSOLD team multiple times with buying and selling because they received great results each time. All of this is communicated in one simple headline!
Concise success story: We typically recommend keeping client success stories around three to five short sentences long on the homepage. It's best to share the full-length story on a separate Client Reviews page. You can also emphasize important details within the success story by bolding or italicizing certain lines. This success story should be written in your client's own words. If you need to do some light editing, make sure you have permission from former clients before posting it on your website.
Personable photo: Photos are known to increase trust, meaning that people like to put a face to a name. It makes the client testimonial feel more authentic and real. We like that this client photo shows the couple in front of their new home with a branded #MarcumSOLD sign.
Name(s) of the client: In addition to a personal photo, you'll also want to share their first names. When someone puts their name behind a recommendation, it creates instant brand trust. You can keep the last names of your clients private if needed.
When you have a few client success stories, you might want to think about repurposing them for social media, blog posts, emails, and more. Don't forget to follow up with former clients and ask for testimonials. You don't want to miss out on the opportunity to create one of your best marketing tools for future sales. Here's an easier way to ask for testimonials with our review email template.
Pro Tip:
Utilizing the storytelling techniques of StoryBrand, remember that your brand is meant to play the role of a knowledgeable guide that helps your audience find the information they need. You're not the hero of the story; your client is.
4. Is your real estate website optimized to generate email marketing leads?
Email marketing is far from dead. In fact, it's better than ever since email marketing drives more conversions than any other channel. Yes, that includes search and social.
We highly recommend our clients use personalized follow-up emails when nurturing interested leads, but what about the passive visitors who are scrolling through your website? They're often looking for more educational information before they reach out.
By offering a lead-generating PDF, you'll be able to capture new leads and educate them on what they need to know about the house buying or selling process.
For example, our client Callison Group created a PDF guide on "7 Things You Need to Know About Boise" so email leads feel more confident in making the move.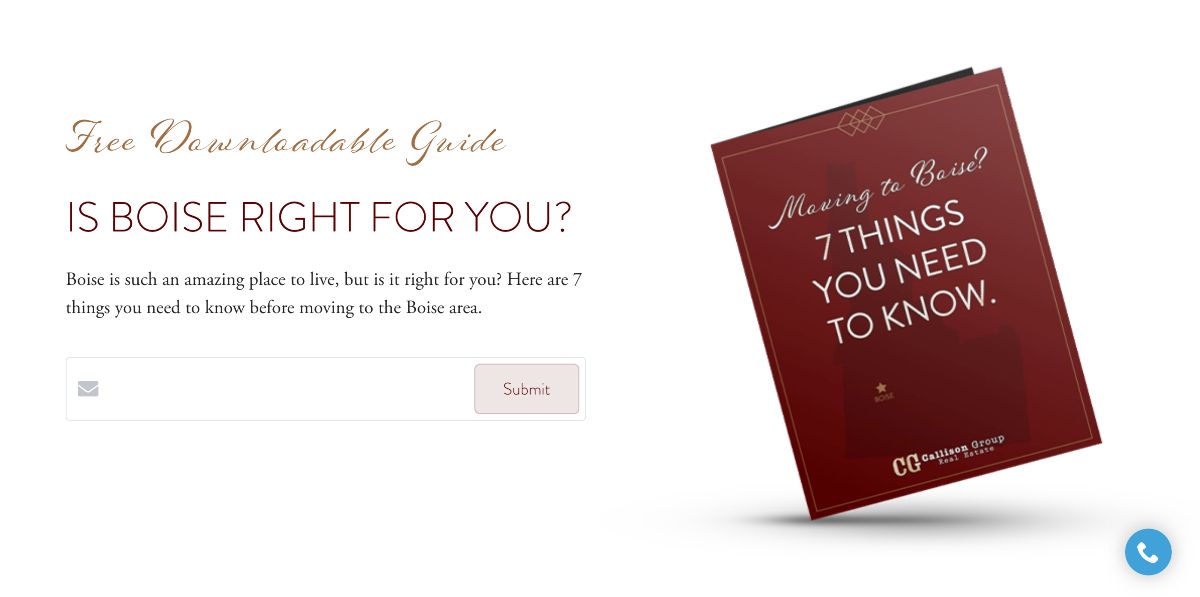 You can write educational content that is specific to your local market, like this example, or you might decide to offer information about the home buying or selling process itself. No matter what topic you choose, make sure it answers the questions that your leads typically have for you. That's the best way to test if your content is valuable and relevant.
The best place to put this lead-generating PDF is typically toward the bottom of your homepage (like you'll see on Callison Group and Eric Rollo's websites), but you can also utilize this email sign-up form on your blog and beyond. This works well as a secondary CTA as long as it doesn't distract from the main CTA.
Once a new email subscriber downloads your PDF freebie, what happens next? Too many real estate agents forget to nurture new email subscribers once they've joined your email list. Delivering the downloadable PDF in only step one. Now it's time to personally follow up with your email leads.
Personalizing your emails will help you build credibility, influence, and trust in the follow-up process. We know that 74% of marketers say personalization increases customer engagement because buyers and sellers want to feel like individuals, not transactions.
Your follow-up email marketing strategy will be even more effective when you include personalized videos inside your emails. The use of personalized video in emails can lead to a 500% lift in email conversions. We like those numbers!
Not sure where to start with personalizing your videos inside each email? We integrate with BombBomb to help our clients easily personalize their video emails so they can reduce churn and nurture new leads.
As you write personalized emails, here are a few best practices to keep in mind:
Write an attention-grabbing subject line. Your subject line is the first thing an email lead will see. The better your subject line, the higher your open rates will be.
Use first names. Personalized emails generate up to 6 times more revenue than non-personalized emails. Use your first name when making a connection and always address your lead by their name.
Choose one call-to-action. This recommendation comes as no surprise since we talked about this above. We often see real estate agents select CTAs like "Schedule a Call" or "Book an Appointment," but you can choose a CTA based on your sales strategy.
Keep an eye on your email analytics. Try to improve your email open rates and click rates over time by making strategic tweaks to your email templates based on the data.
Now that your email marketing strategy is fused into your real estate website, you can start generating quality leads from your downloadable PDF.
Pro Tip:
Before you send emails, test them to ensure the content and design are mobile-friendly. 46% of all emails are read on mobile devices, meaning your emails need to look great on mobile and desktop.
Want 10 More Website Tips?
Download our full website audit checklist to make sure your website fits modern best practices.
Your website just got better.
No matter if you're making revisions to your current website or building one from the ground up, this website checklist is a must-have.
Download PDF