6 Crucial Elements Your Real Estate Listing Might Be Missing
Buyers crave specifics when they're searching for a new house to call home.
As a listing agent, they're looking to you to paint a picture of what their life could look like inside the home before they decide to schedule a tour. This all starts with crafting an effective real estate listing that captures (and keeps) your audience's attention.
The better your real estate listing performs, the better your chances are that potential home buyers will take the extra step in touring the property in person. And you already know that the more showings you can schedule, the higher the likelihood you have of receiving multiple offers.
Where do you start when creating a buzzworthy listing? Since 44% of home buyers say their first step is to search online for new properties, it's important we begin by understanding what elements are needed inside each listing so it's ready to promote.
1. Highlight the property with high-quality photos
One of the best investments you can make when selling a home is in high-quality photography. Nearly half of all home buyers say that professional photos are crucial in their decision to purchase a home.
Why are professional photos so important? We process visuals 60,000 times faster than text, meaning that the imagery you include of the property could make or break the home buyer's first impression of the property.
You'll want to include professional imagery in your real estate listing and targeted listing page, much like our client Bob Maiocco from Evergreen Real Estate. Here are a few ways we highlighted professional photos in his listing page: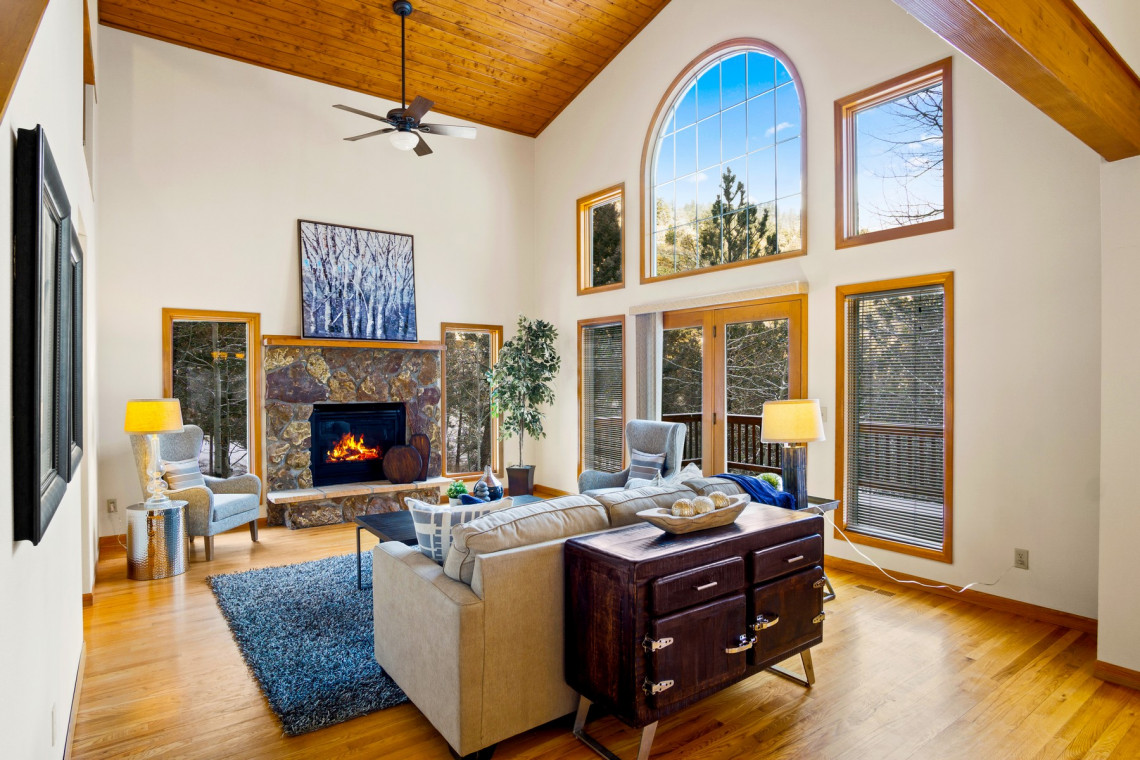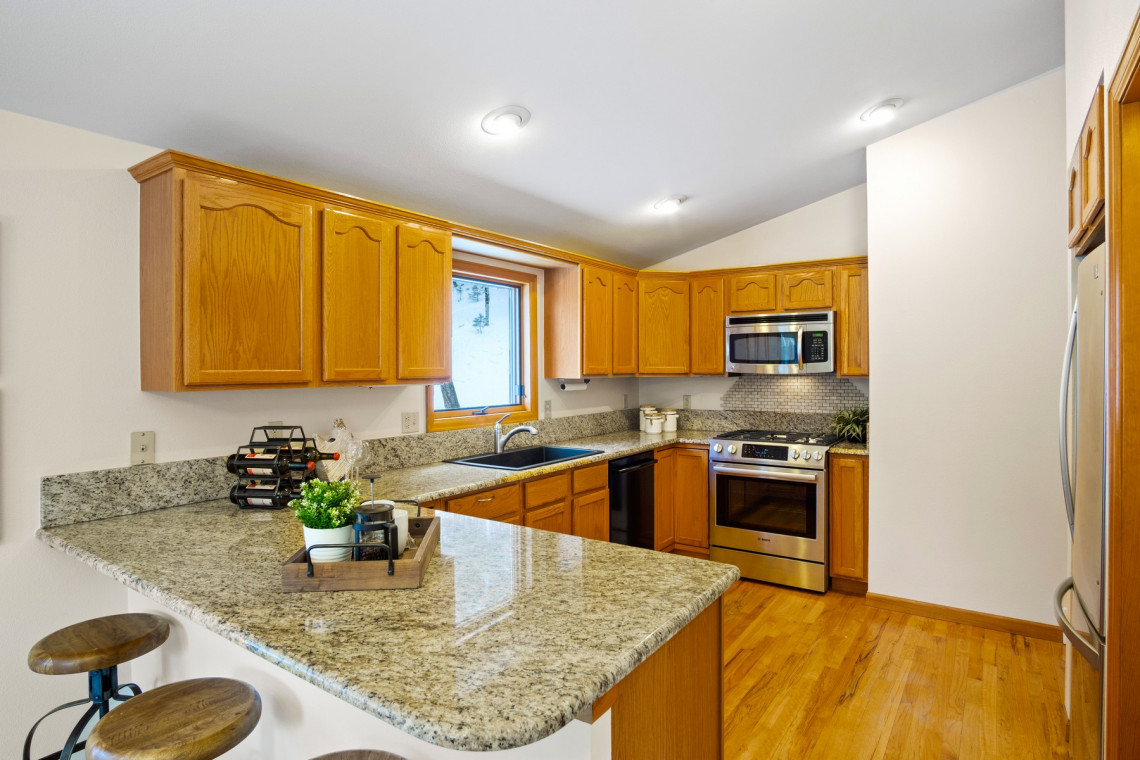 Instead of leading with a slideshow of images to click through, we wanted to do something different with Bob's listing. As a potential home buyer scrolls through his listing page, they'll see a variety of professional images of both the interior and exterior, all displayed in different ways.
The visual layout of imagery and text makes the listing page unfold like a story, keeping the audience's attention as they learn more about the property. How do you do the same with your listing?
Your first step is to build relationships with photographers in your area. You can ask for photographer referrals, go to relevant networking events, or do a simple online search.
Then you can create a game plan for getting the kind of photos you need for your real estate listing. This is often called your "shot list." The most important rooms to capture are the master bedroom, kitchen, living room, and bathrooms.
You'll also want a professional photographer to capture images of the exterior of the home. When the photoshoot is finished and the final image files are delivered, you'll have a professional gallery of images to choose from for your listing.
PRO-TIP:
Before the photographer captures imagery, make sure to properly clean and stage the property so everything is ready. This includes decluttering the space and removing any personal items that distract potential home buyers from picturing themselves in the home.
2. Craft a narrative description of the real estate listing
You'll need more than a bulleted list of features to effectively sell a property. Home buyers may have an idea of how many bedrooms and bathrooms they'd like to have in their future home, but when they read a listing description, they want to develop a personal connection with the home first.
Your listing description should tell a unique story about the home rather than simply listing its stats and features.
Think of it this way. Your team may be selling multiple four-bedroom, two-bathroom homes in your local area. You know that each property is unique, but how do you ensure each listing stands out when you promote it online? By telling an inspiring story inside the listing description.
You can begin by gathering details about what makes the home really stand out, what its best selling points are, who it is perfect for, and why it's worth touring. Then you can weave these elements into your storytelling-focused listing description.


Generic real estate listing description copy (not recommended):
"4-bedroom, 2-bathroom condo in Midtown. New furnace, new roof, all appliances included. Opens to a large deck in the backyard with a playground included."


Effective real estate listing description copy (recommended):
"You will love this turn-of-the-century two-story Craftsman home, rich with historic character and charm. Overlooking the towering trees lining the backyard, this 4-bedroom, 2 full bathroom home gives your family room to grow with 2100 sq. ft. of living space and an attached 3-car garage for ample storage. Retreat to your spacious master suite to soak in your charming claw-foot tub, curl up with a book by the wood-burning fireplace, or entertain guests in your fully updated kitchen with new stainless steel appliances. Sitting on nearly one acre, you'll have privacy with the convenience of living 30 minutes from Greenfield's city center."
Remember, it's not that the features of the home don't matter. It's that you'll want to lead with the story rather than the stats. Learn more about how to tell an impactful story with your real estate listings in our #WaterCooler podcast episode on Stories That Fuel Growth with Melanie Deziel.
PRO-TIP:
To seamlessly write your listing descriptions, create a personalized library of frequently used words that might fit each property. This word bank can come in handy whenever you sell homes with similar features (like "wood-burning fireplace" or "claw-foot tub") or sell homes in a similar style (by using words like "charming" or "historic"). You can also use the real estate listing description above as a template for your next listing and replace the descriptive words so it fits the property you're selling.
3. Give more details in your listing page copy
Once you've written this real estate listing description, it might work well for a Facebook ad (which we'll talk about in a bit) or on third-party sites like Zillow, but what about writing listing descriptions for your listing pages?
After someone clicks on your Facebook ad, you'll want to direct them to an optimized listing page that tells more of the story behind your real estate listing. In between the high-quality photos of the property, it's best to include small blurbs of copy that highlight each room and feature that's being shown.
Want to see how this works in action? See the live example from our client Bob, or take a peek at the screenshots below to see how to tell an effective story in your listing page copy.


PRO-TIP:
Before you write your listing page copy, revisit the real estate listing description to ensure you are expanding on the details you've already included on the description. This will create a consistent message throughout your Facebook ad and listing page copy. Also, select the photos you want to highlight front-and-center so you know what to write about.
4. Include a professional video touring the property
The ability to virtually tour a home without having to leave the couch has completely changed the way buyers search for homes. Technology opens new possibilities for people who want to learn more about a property before scheduling an in-person showing.
Through a professional video tour, your audience will follow a guided video that walks them through the property they're interested in. These professional video tours don't replace in-person home tours but rather increase the home buyer's interest in the property before they have a chance to tour it personally.
In order to show and not just tell, these video tours highlight the home's features and give you the opportunity to personally introduce yourself as the real estate listing agent representing the property. We love how Bob did this with his own video tour.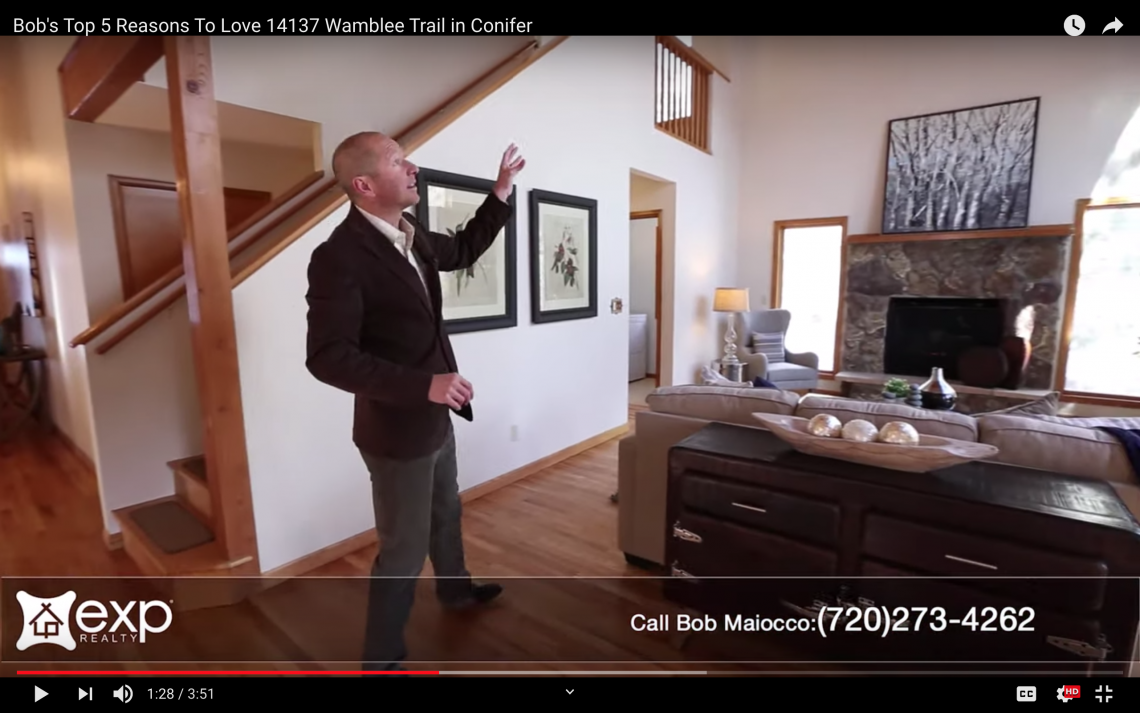 PRO-TIP:
When recording and editing your video tour, keep in mind that the average attention span of most home buyers will be around 30-45 seconds. Bob's video tour was longer, but he included other virtual walkthrough options on his listing page so his audience could choose how they wanted to explore the home.
5. Promoting the real estate listing on Facebook
After you've written your real estate listing description and designed all the elements of your listing page, you're ready to promote the listing on Facebook. With 2.37 billion monthly active users on Facebook, it's arguably the best place for you to advertise your real estate listing.
Facebook advertising is a big part of what we help listing agents with at Curaytor. For Bob, we wanted to highlight the professional images of the scenic property while pairing it with concise yet descriptive copy that made people want to click the listing page link to learn more. You can see how we did this in the Facebook ad below:
You might also notice that the top highlighted photograph says "Coming soon." This is done to describe what listing life cycle stage it's currently in. Not only is this helpful for your internal team, but it also gives your audience an idea of how long the listing has been available for.
There are five listing life cycle stages: (1) Coming soon, (2) Just listed, (3) Open house, (4) Price reduction, and (5) Just sold.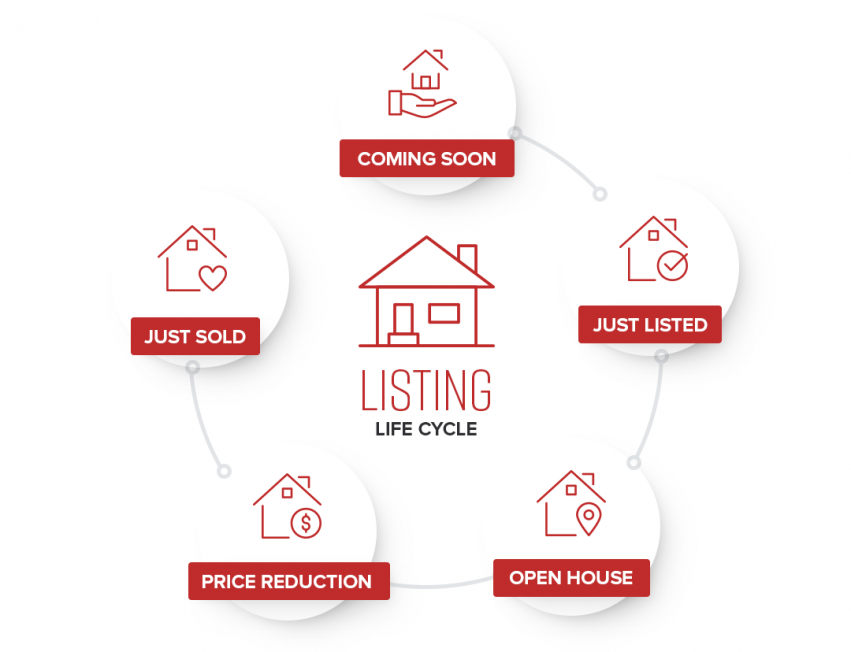 PRO-TIP:
Consistency is key! While not every listing ends up in every listing life cycle stage, we recommend marketing the listing when it transitions to a new stage. It's too easy for potential home buyers to miss one of your promoted listings. The saying goes that a person has to hear something seven times before they actually remember it. Keep this in mind when you create targeted Facebook ads. Not sure how to do this? We can help!
6. Including a clear call-to-action
A call-to-action (CTA) refers to the next action you want interested home buyers to take when they visit your listing page or see your Facebook ad. Your CTA should direct them to where they need to go next, making it easier for you to accomplish your goal.
So, what is your CTA goal? Is it to schedule a showing, contact you through email for more information, or something else entirely? Whatever you decide will guide how you highlight the CTA. Just make sure you choose only one call-to-action. Otherwise, you'll run the risk of confusing your audience and giving them analysis paralysis.
When you are writing a Facebook ad or promoting the real estate listing on social media, we always recommend including a listing page that is specific to the listing. It will be easier to capture your audience's information on a targeted listing page than it will be on social media.
We talked about having one central call-to-action, but this doesn't mean you should have only one call-to-action button. A single button could easily get lost as your audience scrolls through the page. Instead, include one TYPE of call-to-action and weave it throughout your listing page with buttons, links, and any other visual elements that make sense.
We created multiple CTA buttons on Bob's listing page, all leading to the same call-to-action of scheduling a showing. When someone lands on the page, they will see the green buttons that say "Schedule a Showing" and "Contact Bob." When clicked, both buttons direct traffic to the same contact form.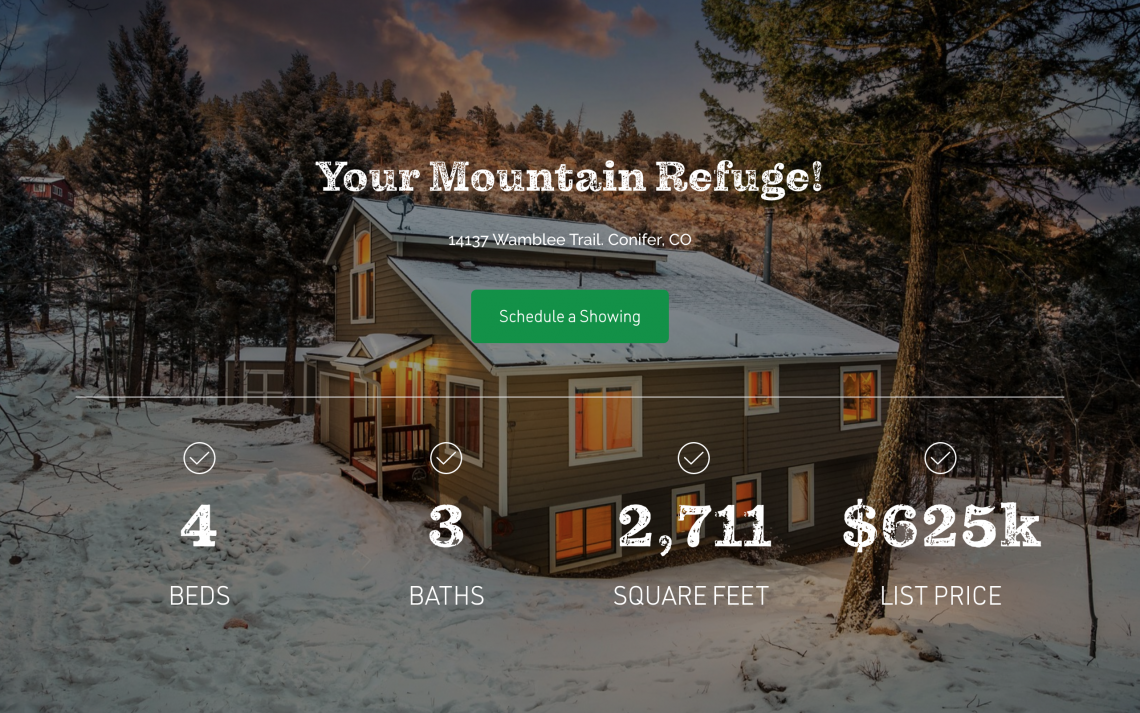 Toward the bottom of the listing page, we also included a bold CTA section with the same shade of green. It stands out among the other imagery we used in the listing page. It also shows the phone number that interested buyers can directly call to schedule a showing, making this process seamless and easy.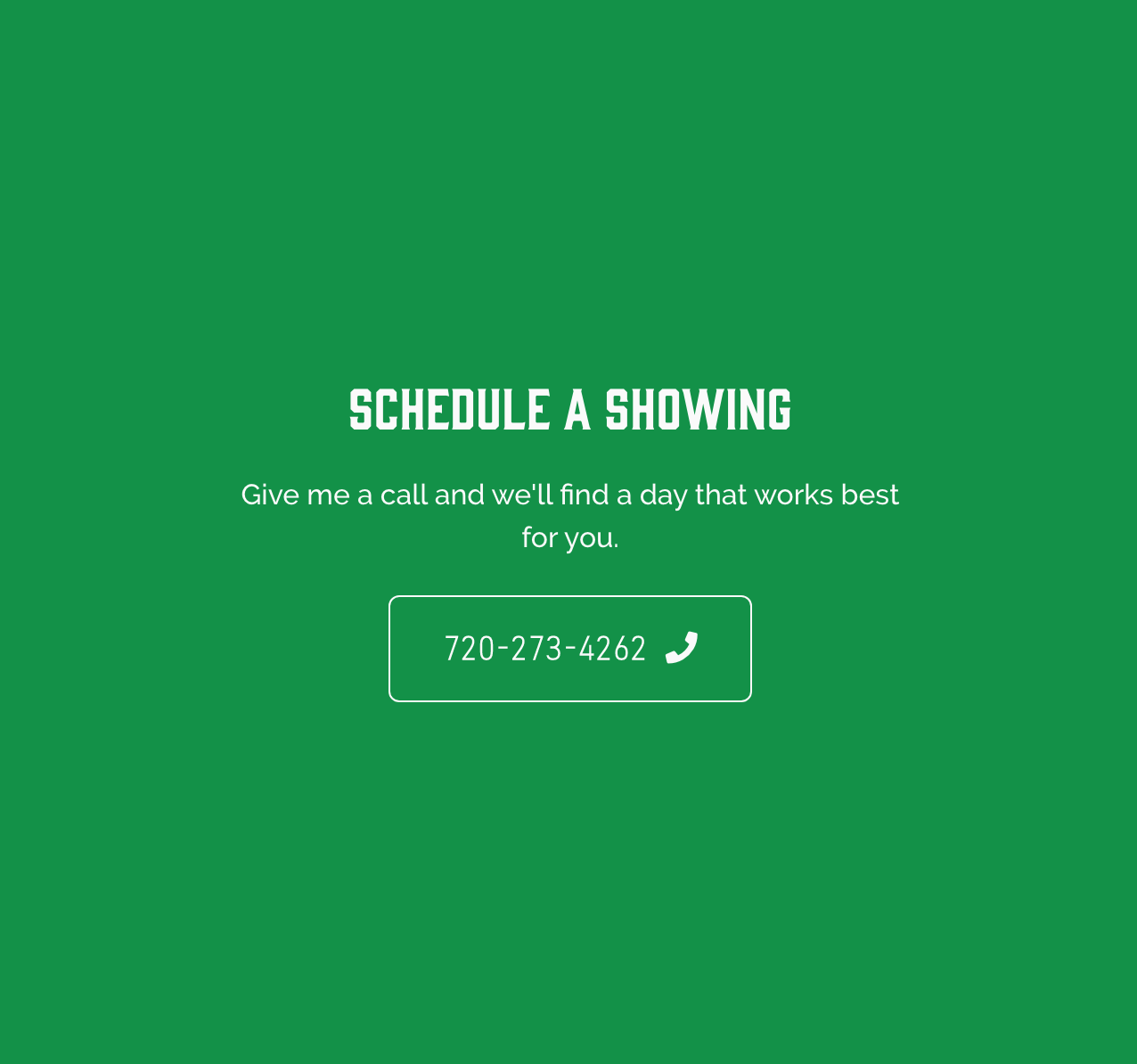 PRO-TIP:
The higher the contrast between your background and call-to-action button, the better your conversions will be. It's been proven that button contrast is more important than button color alone. We recommend choosing a color that fits within your visual brand guidelines, but make sure that it can be easily seen on your listing page.