How to Generate and Qualify More Leads with Pop-Up Ads (Yes, Really)
Pop-up ads get a bad rap. I'd even go as far as to call them the black sheep of the internet. They can be annoying, interrupt your experience, and are even sometimes passive-aggressive.
So why do marketers still use them? The answer is simple. We use them because they work.
We call them pop-up ads because of the way they appear on the screen, but they've been abused by bad marketers for so long time that the term itself now comes with a lot of negative weight. Pop-up ads are right up there with spam email as crimes against internet humanity. But not every marketing email is spam and not every pop-up is that kind of pop-up. Successful marketing emails transcend the spam filter with compelling copy about intriguing offers that are actually relevant to the reader. Why shouldn't the same be true for pop-ups?


why you need to rethink pop-ups
When done well, pop-ups on websites can go from being nuisances to helpful guides, effectively driving visitors to your highest-quality content. Pop-ups can further qualify the leads who engage with your content and ultimately lead to more conversions.
Consider the case study of women's online retailer, ZooShoo, who secured over 5,000 subscribers to their email coupon program in just two months using a strategically-designed pop-up. "After seeing way too much of their traffic just pass through the website without actually buying anything, ZooShoo decided to do something about it," (Optimonk). By implementing a pop-up on their site, they directly connected with prospects who were already viewing their products and turned those views into leads.
What better time to even further qualify a potential customer than when they're already on your website? That window of opportunity is not to be wasted!
You might also think that "takeover" pop-ups (often referred to as lightbox pop-ups) would yield higher bounce rates since they disrupt the overall site visitor experience, but data proves just the opposite. When thoughtfully planned and relevant to the consumer, takeover pop-ups actually yield higher conversion rates than sidebar pop-ups and other passive lead capture methods.
A great example of this comes from food and craft blogger, Nikki McGonigal, who actively A/B tested her site's sidebar opt-in along with a lightbox style pop-up and, after 8 months of utilizing both lead capture methods, determined that her lightbox pop-up captured 7,000 more subscribers than her on-site pop-up. Additionally her sidebar form, "...had a subscription rate of .4% while the light-box form converted at 5.5%," (CrazyEgg).
So if you want to see numbers like these on your website, I've made a list of best practices you need to know before you add pop-ups to your website.
5 Ways to Stop Being Annoying & Start Getting Leads

1. Lead with Value
When creating a pop-up that converts, you need to think about what the consumer is thinking about—themselves. What's in it for them? Why should they interrupt what they were doing to fill out your form or pursue your offer?
Great pop-ups lead with value.
The more you can convey why they should want to engage with your content in the first place, the more likely prospects are to actually interact with your pop-up and even share their information with you.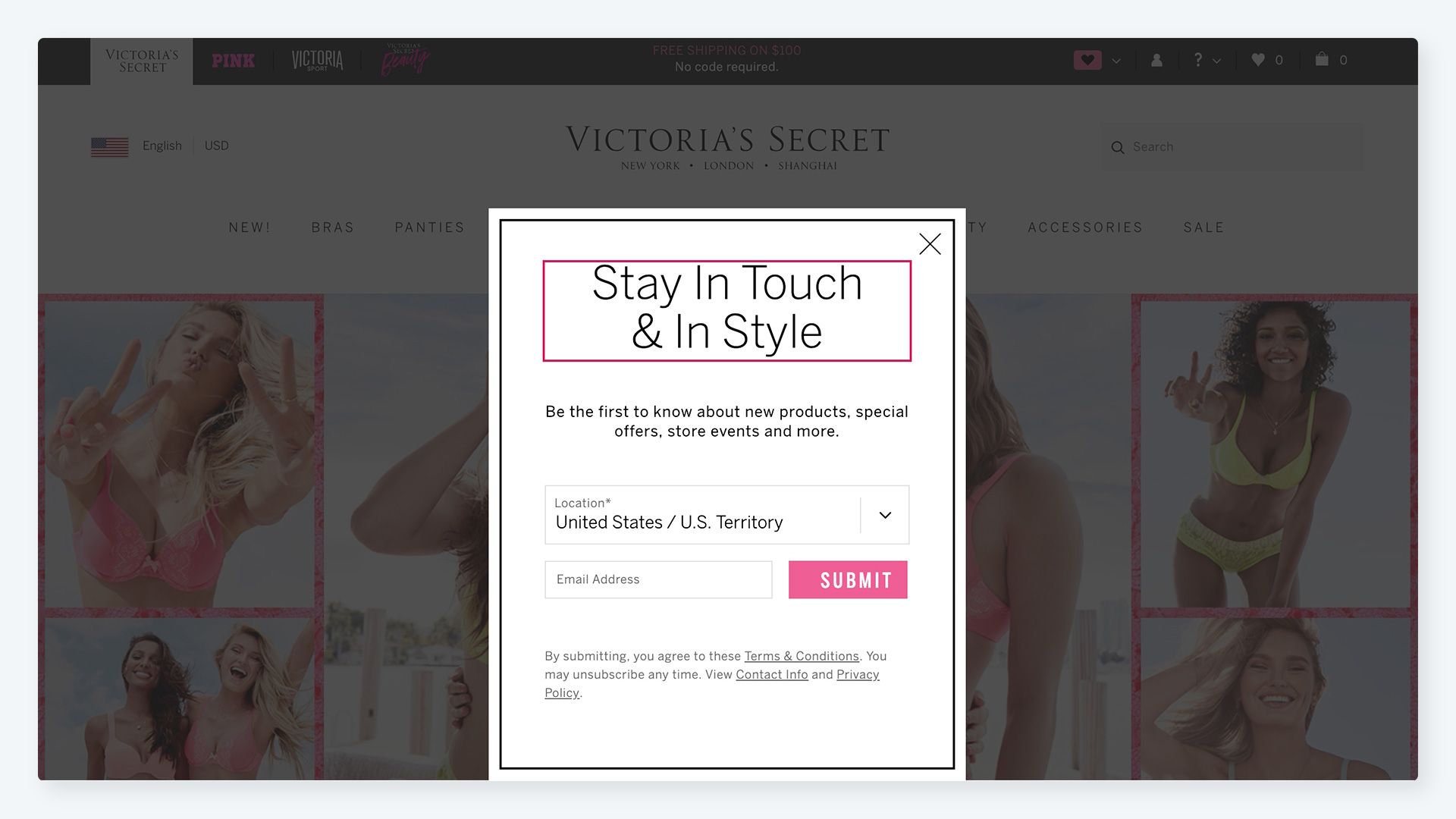 Take this Victoria's Secret pop-up, for example. From a design standpoint it's clean and elegant (definitely on-brand for VS), but it does a sub-par job actually getting to the point in the copy right away.
"Stay In Touch & In Style" doesn't mean much to me.
But, "Be the first to know about new products, special offers, store events, and more," speaks volumes.
When crafting your pop-up copy, put yourself in the consumer's shoes right away. They want to know why they should trust you; why they should share their information with you in the first place. If you don't tell them right away, you've already lost them.
2. Context is Key
Many marketing gurus have been quoted saying, "Content is king, but context is God." They couldn't be more accurate. In today's fast-paced world—where purchasing decisions can happen instantly and site visitors are conditioned to expect a friction-less web experience—staying relevant, and providing relevant content and offers to your consumers is what drives traffic and conversions.
If someone lands on your website and is immediately greeted with a pop-up that means nothing to them or has nothing to do with the on-page content you're sharing, they are far more likely to bounce and far less likely to provide their information to receive more content from your business.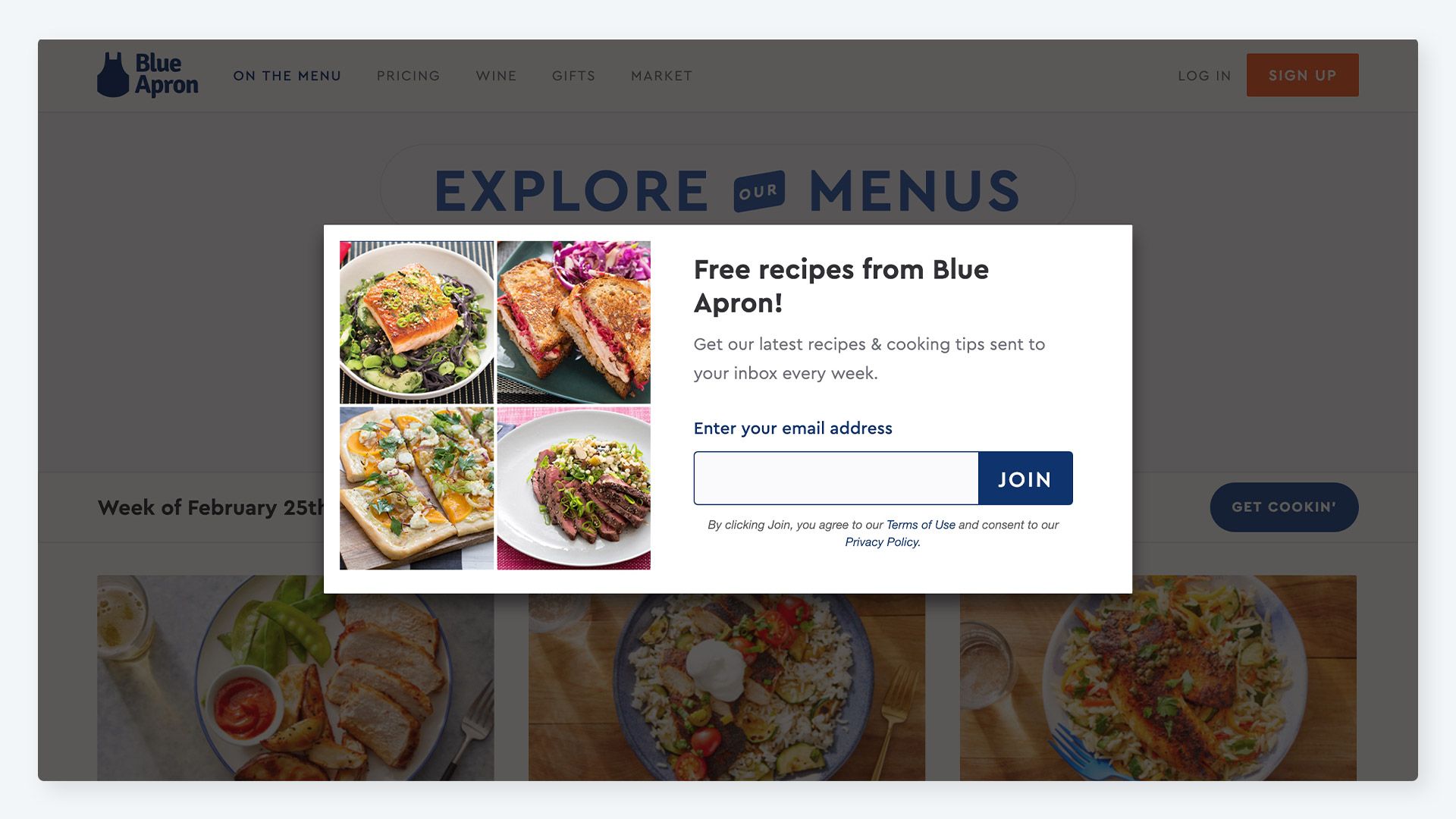 Have a look at this example from Blue Apron and consider the experience of an on-site visitor. You're browsing through their menu for the week, taking a look at the current recipes and offerings, and what appears but "Free recipes from Blue Apron!"
It's simple and brilliant.
The value of the message is so clear and relevant for consumers (and potential consumers, in this case) that it's almost impossible not to complete the call-to-action that's presented there.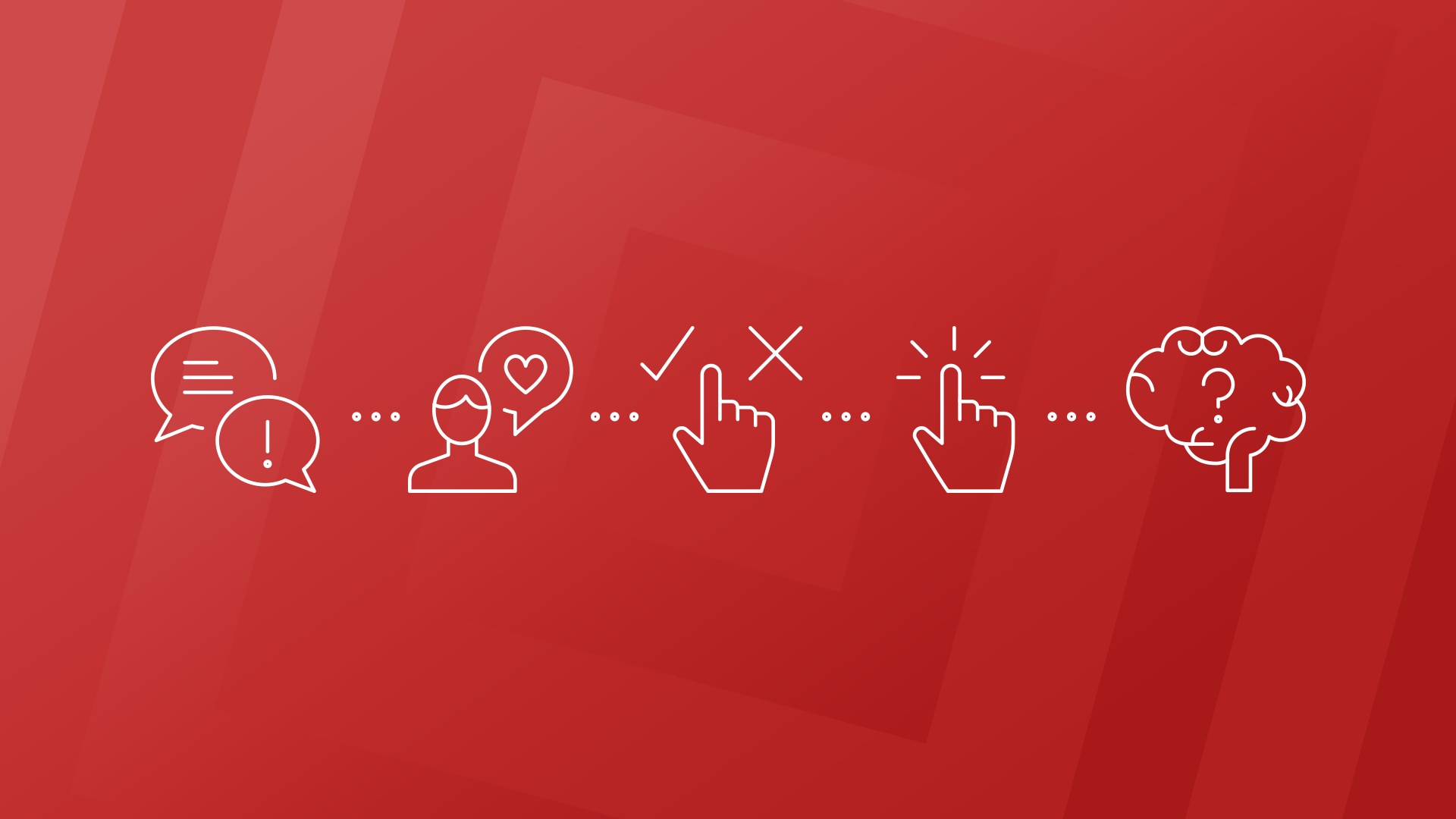 If you're a real estate agent sending emails to your past clients, we have 5 helpful quest...
3. Tone can Kill
Just as much as the context of your pop-ups should be aligned with the on-page content, your tone of voice needs to align with your brand, as well.
Do you typically crack jokes within your ad copy? Is wit something you pride yourself on? Or are you hyper-professional and often statistically-driven in your verbiage? Contrary to popular belief, both writing styles and brand tones are perfectly fine, but retaining that tone throughout everything you do is the ultimate key to your success.
Additionally, the "passive aggressive opt-out" tactic leaves a bad taste in users' mouths and simply isn't a copywriting direction that I'd ever recommend.
Consider this — you've logged onto housebeautiful.com because you're an avid DIY'er. You're looking for tips to update your decor and keep your home tidy and, upon scrolling, you're met with the following pop-up screen: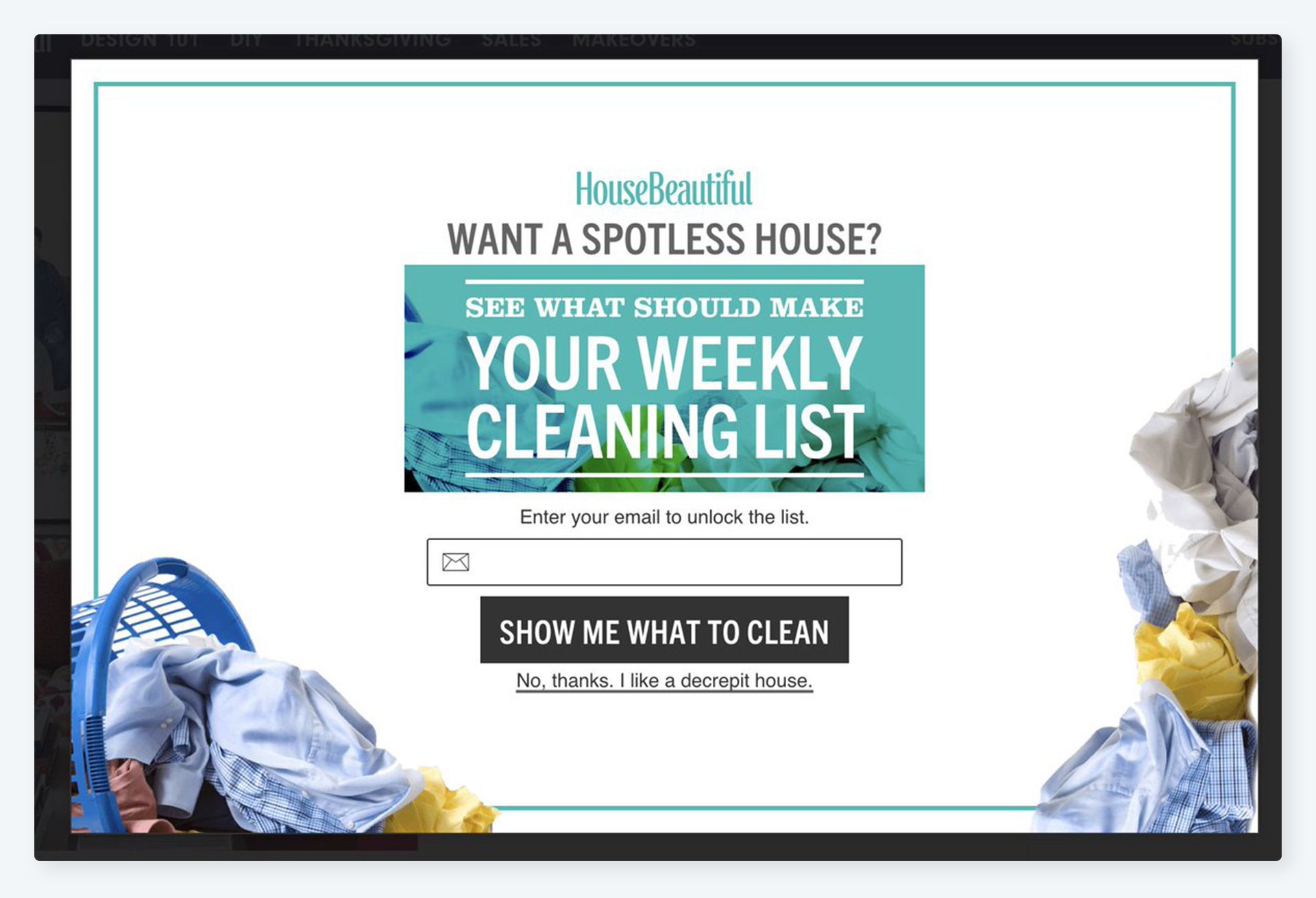 On first glance, all looks good there. The design is fairly simple and aligns with the HouseBeautiful brand, but take a deeper look at the microcopy — "No, thanks. I like a decrepit house."
While the "SHOW ME WHAT TO CLEAN" call-to-action may be an excellent motivator for ready-to-convert site visitors, that opt-out is a throat punch to anyone who's still on the fence. And their likelihood to convert in the future has just diminished entirely.
When crafting your pop-up copy, I implore you to keep this in mind. It's the difference between capturing some highly-qualified leads … and losing them forever.
4. INCITE ACTION
Sticking with the same HouseBeautiful example here — let's revisit the call-to-action for prospects who actually are ready to share their information in order to access the company's house cleaning content.
"SHOW ME WHAT TO CLEAN" is a very specific and action-oriented CTA.
It's both calling on the consumer directly and, simultaneously, reassuring them that their problems will be solved after the information-for-content transaction is complete. This is a clear motivator and makes all the difference when identifying what to write within your pop-up message.
So, next time you're at the pop-up drawing board and find yourself typing "Subscribe Now" into the CTA field, please reconsider. Your lead flow depends on it.
5. Time it right
Last but not least, if you have the ability to alter the timing of your pop-ups directly, that's another incredible tool to add to your lead-generation toolbox. Not only do site visitors not want to be bombarded the moment they land on a page, but many search engines and lead generation platforms (like Google and Facebook) don't want you bombarding people, either. That's crucial to keep in mind.
If you're able to locate a pop-up software that allows you to incorporate time "cues" into your pop-ups, definitely take advantage of that. Pop-ups on-scroll can be a great, basic solution to this issue as well.
Even with the "black sheep" persona that pop-ups tend to have, if they're done well, they can be highly effective in moving the needle for your business. These tips can be implemented using many different website pop-up solutions, but I've put together a quick list of my favorites here, as well.
Here are the pop-up tools I recommend taking a look at if you haven't already —
Kissmetrics

Opt-in Monster

Unbounce

HubSpot

Curaytor!
If you're just getting started utilizing pop-ups to further qualify leads while they're already on your website, definitely take the time to shop-around. Test out different tools. Consider what's easiest for you (and your team) to manage. And then … execute.
It's as simple as that.
Every Effective Marketing Campaign Starts with an idea