What Your Real Estate Marketing Plan Needs in 2020
While algorithms, tools, and software seem to evolve more quickly than ever, there are a few real estate marketing principles that stay true year after year.
One of them is to keep your real estate marketing plan focused on accomplishing three core goals:

In 2020, we want to help you create a real estate marketing plan that attracts quality client leads, builds trust, and ultimately leads to more sales. This can't happen without strengthening these key areas of your marketing plan.
Posting consistently with a paid advertising budget
Did you know that there's a 23% average increase in revenue when businesses have a consistent brand presentation across all platforms? Consistency makes or breaks your bottom line. When you show up consistently on social media and through your email marketing, it's easier to build trust with client leads.
Consistency shows that you are reliable. If you only post on Facebook once a month and send out an email whenever you get around to it, it shows potential home buyers and sellers that you don't take your business as seriously.
At Curaytor, we tend to follow the Bill Belichick mentality: no weeks off. That means posting and engaging consistently on your valuable marketing channels.
Have you been struggling to create consistent content? With our solutions, you'll always have relevant content to post when you market your listing at every stage in its life cycle.
We think the perfect marketing plan includes weekly content plus listing promotions for all five stages of the listing life cycle:
There are five listing life cycle stages: (1) Coming soon, (2) Just listed, (3) Open house, (4) Price reduction, and (5) Just sold.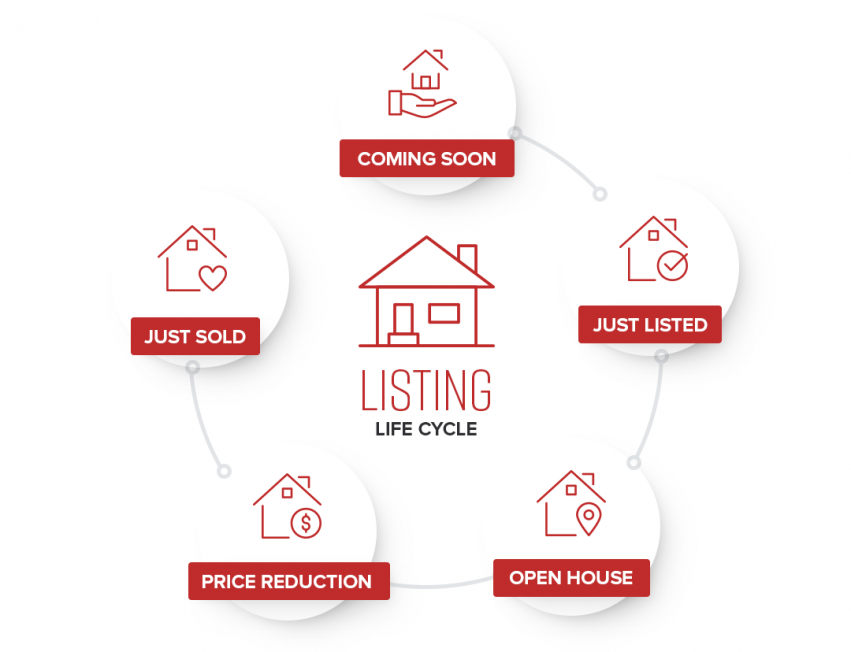 You don't want to post about the property once and let it collect dust. The strategy of "one and done" doesn't work well with the listings.
Since only 2.2% of people who like your Facebook business page will organically see your content, you'll need to post about the property more often. To make sure more people will see your content, you'll want to invest in Facebook ads.
Facebook's "pay to play" model means, in order to see real ROI with your listings, you'll need to have a paid advertising budget set aside for Facebook ads. We generally recommend putting around $100 per listing promotion but, ultimately, your ad spend depends on your goals.
To create fresh content for your Facebook page while putting ad spend behind quality listings, you can follow our client Dan Chin Homes' example.
We turned one listing into SIX pieces of content! You can try out this listing life cycle method for your next listing. With this same strategy, we helped Dan Chin Homes capture 2,887 leads in just one year, along with hundreds of thousands of page views and very high post engagement.
102,855
Page Views in the last 90 days
64,492
Likes, comments, and shares
2,887
New leads in the last 12 months
Utilizing storytelling best practices
Consumers are 22 times more likely to retain a story than a fact. A list of statistics and numbers might confuse or overwhelm your audience if they aren't paired with a memorable story.
When selling real estate, there needs to be a story to tell. If the narrative is missing, it could be more difficult for home buyers to build interest in the property.
Stories create a personal connection between home buyers and the property, transforming the house buying process into an exciting journey of finding a perfect home. As client leads move through this journey, they'll build a strong connection with your brand in the process.
We recommend telling a story when you write listing descriptions, but another way to share impactful stories is to highlight client success stories. You could be sitting on storytelling gold and not even know it. We're here to help you mine for stories that will instantly connect with potential home buyers.
The first step is to think about clients you've worked with in the past.
What stories immediately stand out?
Maybe it's a single mom who saved a portion of her income every month for five years to purchase a home for her small family. Perhaps it's an older couple who always dreamed of retiring on the lake and your team helped them make this vision a reality.
No matter what the story is, it will likely resonate with other home buyers who are looking to purchase a home. Placing significance on the buyer's story positions your brand as a trusted partner who cares about the details and desires of each person. Because selling real estate is more than a transaction. It's an opportunity to become a part of your clients' personal journey.
In addition to writing a success story, we also recommend sharing a photo on social media with your clients holding up a "Sold" sign. This photo communicates that your team was successful in guiding the client all the way through the home buying or selling process.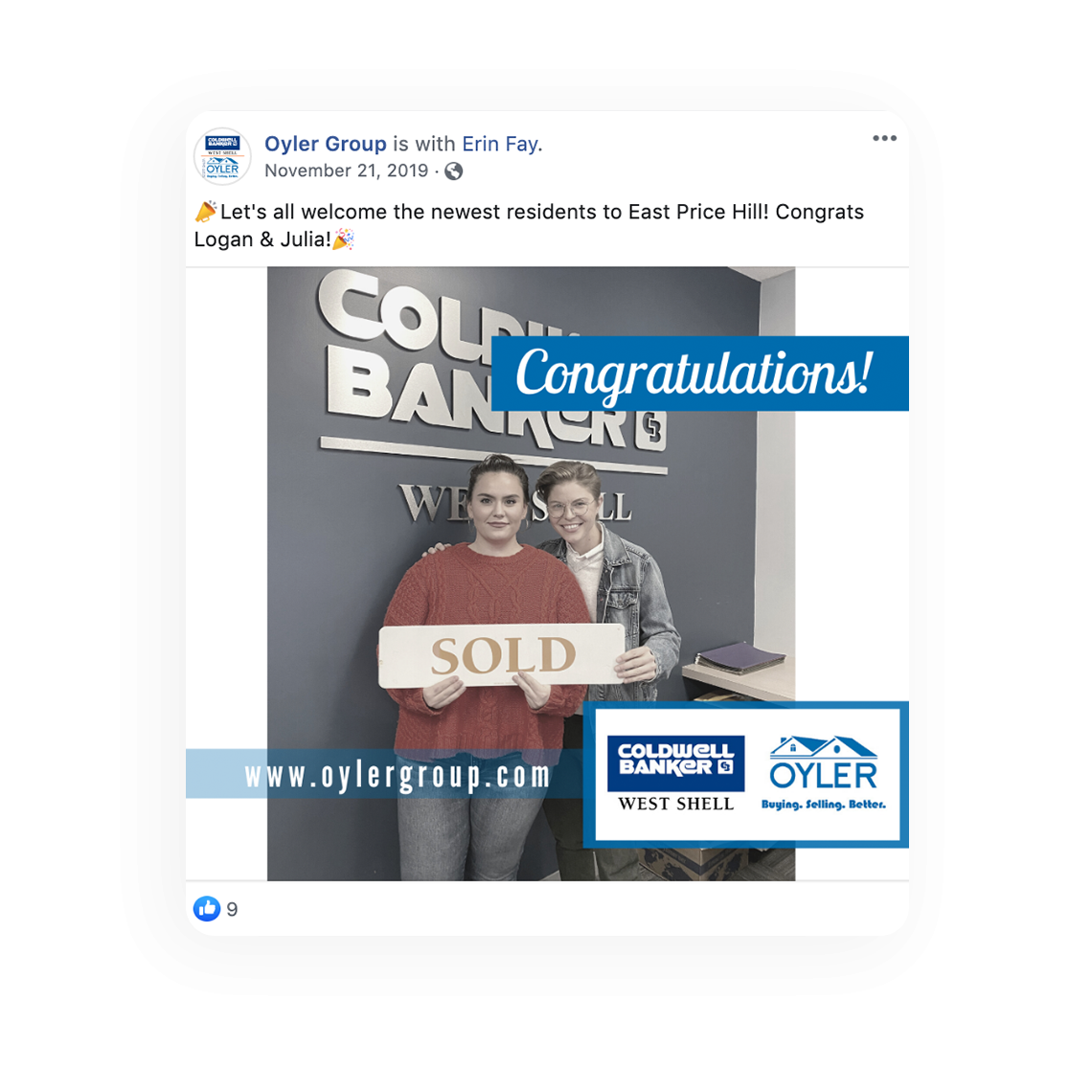 Investing in your video marketing
We talked about writing success stories for ads, listing pages, and your website, but you can take it one step further by scheduling an in-person video interview with your clients.
Success story videos add a feeling of authenticity to the story because it's more powerful to hear a testimonial delivered by video than text. It's no surprise, then, that video testimonials are 90% more effective than written recommendations.
It's also said that video testimonials have a 95% retention rate, whereas text testimonials have a retention rate of 12% on average. Videos also provide visuals that help your audience retain information more easily. They bring every success story to life, strengthening the narrative of each story from the voice of a trustworthy source.
Our client Great Life RE created a great success story video that tells the story of Matt and Milka's lake home search in their own words. You can see the video success story in action here.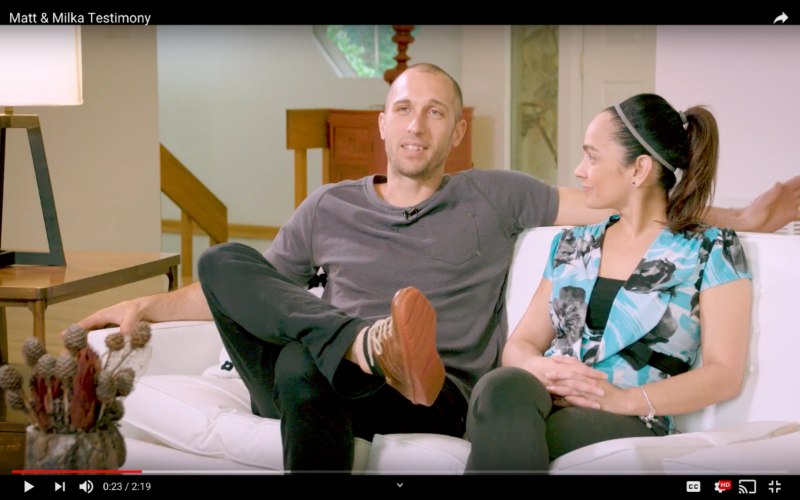 There are a few things we love about this video success story:
Personal approach: Matt shared that he and Milka had different opinions in the home buying process and how the Great Life RE team helped them thoughtfully balance those opinions.

Specialization: Milka pointed out that the Great Life RE team specialized in lake home properties so they knew what to look for and what they should expect.

Guidance: The couple mentioned that it was their first time buying a lakefront property so they needed guidance from a knowledgeable realtor to properly spend their money.

Results: Milka also mentioned that the Great Life RE team sold their house in just one day! It shows how much effort they put in the home buying and selling process.

Differentiators: The couple states that Great Life RE's differentiators are (1) their marketing skills and (2) the combined lake home knowledge of the team members.


You can follow these same guidelines when creating your own video success stories. We also suggest creating videos for blog posts, market reports, social media content, and other marketing channels.

High-quality production videos can help your real estate brand stand out amongst competitors in your local area, but you may not always have the opportunity to create videos with this level of production value. That's why we recommend recording in-the-moment videos on your phone.

Many smartphones now have 4k video capabilities so your videos can still look professional outside of a recording studio environment. The newest iPhone 11 even has video stabilization features that can help when you record a video home tour. This content can be created onsite for a low video marketing budget, allowing you to quickly upload the videos on social media through Instagram Stories, IGTV, or Facebook Stories.

People connect with faces more than logos, so it's important as a listing agent that you get out from behind the camera and confidently present yourself as a knowledgeable expert. This leads to more trust with home buyers, and thus, more sales.
Creating professionally branded content
Speaking of visuals, make your videos and other marketing content stand out through your visual branding. This brings us back to the importance of consistency in your real estate marketing plan.
You need to have a consistent, cohesive look in order to build trust and establish your influence as a real estate expert. It's not enough to simply post marketing content on various channels. It needs to be branded to who you are as a brand while speaking your audience's language.
Working with a professional brand designer to create a logo design that effortlessly fits your clientele's tastes is ideal. You may run the risk of hurting your professionalism if you try to design a do-it-yourself logo without graphic design experience. It's worth hiring out when you have the marketing budget set aside for it.
Speaking of logos, we love how Dan Chin Homes incorporated his company logo into a branded photo of his team. It makes the photo really stand out on his About page.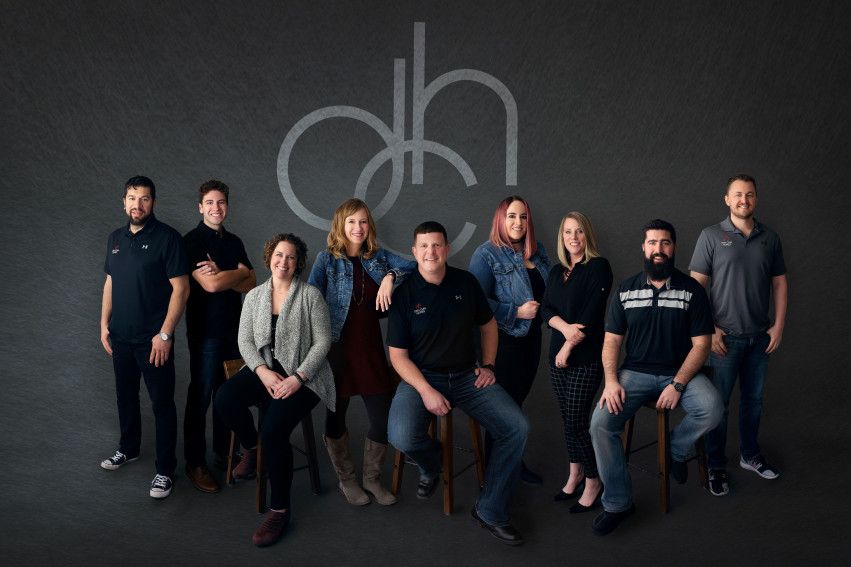 However, your logo design only represents ONE core element in your visual brand identity. It's important, of course, but there are other visual elements you need to define before you create branded content.
This can include a distinct color palette, set of branded fonts, and any other visual guidelines you want your team to follow when designing graphics for your brand. Creating a brand style guide will help your team stay consistent by outlining every approved visual element in one central place.
Don't forget to build buzz with your email campaigns
Once your audience members give you their email address through a Facebook ad, listing page, or your website, you'll want to strategically send follow-up emails that create a personal connection. Make sure you lead with value and think about what information is most important to them, depending on what stage of the home buying or selling process they're in.
Your social media channels are meant to grow your audience and build your influence, while your email marketing efforts are focused on generating more sales. This strategy makes sense because email marketing is nearly 40 times more effective than social media platforms in making a sale.
Remember, real estate is not an impulse buy. Potential home buyers need to feel nurtured in the process, and when they give you their contact information, they're hoping that you'll supply them with the education and information to help them find and successfully close on their dream home.
So, what kind of power does one email have?
Read our client Connie Carlson's story of how she connected with a well-known construction business owner in a new local area who was looking to buy and sell luxury real estate, all from one email.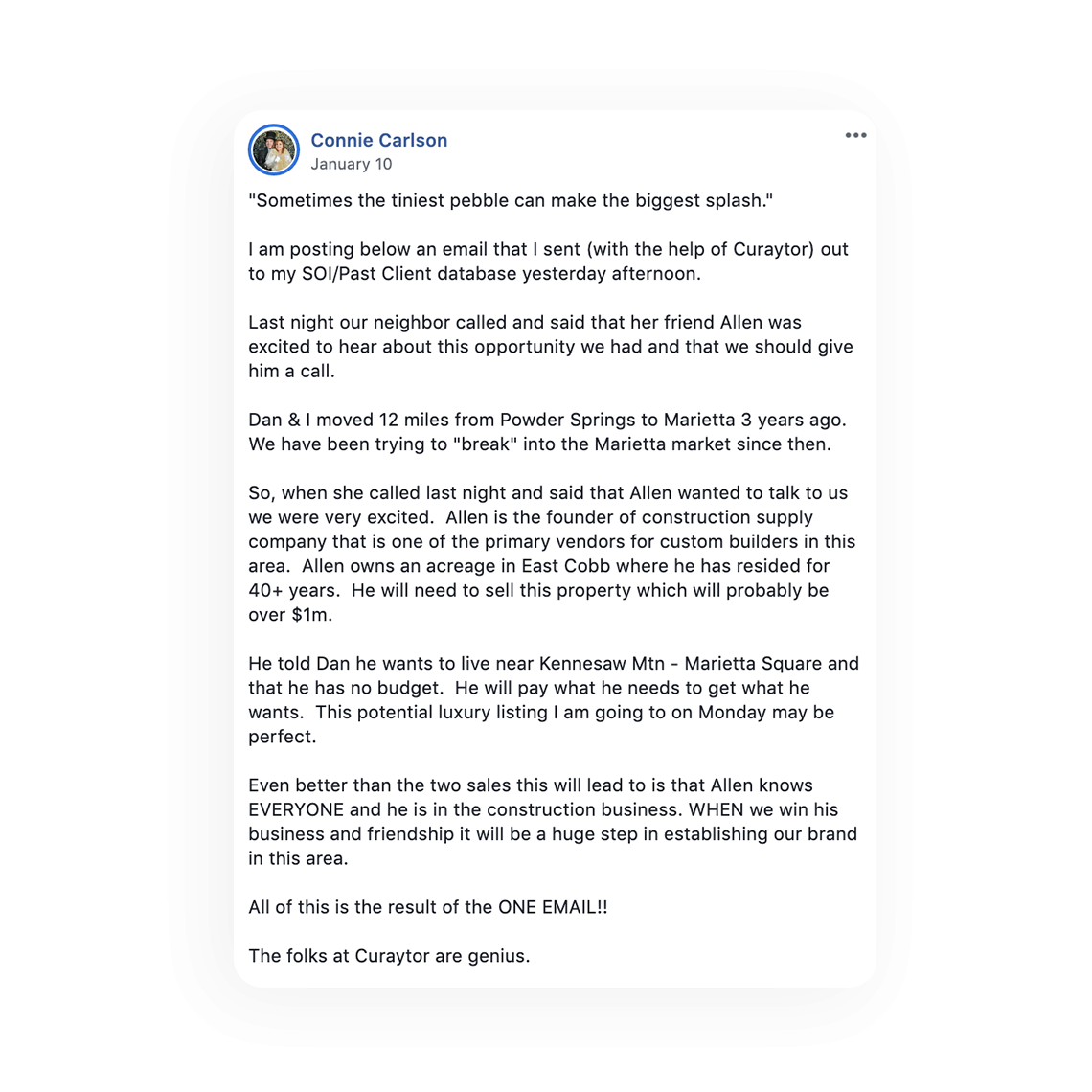 We love Connie's motto of "sometimes the tiniest pebble can make the biggest splash." Every listing agent needs to have this perspective when following up with client leads through email. You never know what can happen after sending one email!
If you aren't sure how to get started with writing follow-up emails, click here to get instant access to FIVE email templates you will love.
Each email template will help you (1) build the buzz, (2) offer early access, (3) give them the last chance, (4) explain what happened, and (5) share what you do. You can tweak and customize the templates for each unique listing.
Don't let email marketing fall to the bottom of your to-do list. Your real estate marketing plan will be stronger in 2020 when you utilize email marketing best practices.