Convert more leads with these three new follow-up ideas
When I wrote The Conversion Code I had a hunch that people needed a blueprint for capturing quality internet leads, turning those leads into qualified appointments and closing those leads more effectively by improving their sales pitch. Little did I know that the book would take off the way it did, becoming a USA Today bestseller and being translated into six languages around the world. I have gotten thousands of messages thanking me for writing it from those who read it and were able to improve their business because of it. I'm also very proud of the fact that five years later 98% of what is in the book is still relevant and useful today.
But with all that being said there are definitely some new technologies and tactics that have emerged recently that can take your lead conversion rates to even greater heights...
See, for the last decade the primary way to follow up with the leads you generate has been emails, phone calls and text messages. And those methods still matter. But there is no denying it has become harder to get people to answer their phone and our inboxes are so overloaded that lead follow up emails can easily get lost in the shuffle.
I've also learned that many real estate agents simply do not like calling internet leads. It can be a grind and they would prefer to network or focus on their past clients and sphere when they prospect. Due to this the role of ISAs (inside sales agents) has exploded in popularity. But even having an ISA isn't right for everyone. It is another person you have to find, hire, train, manage, pay and hold accountable to their numbers.
Before I dive into the three new ways to convert internet leads that you probably are not doing yet I want to recap two of the foundational principles of The Conversion Code. Speed and tenacity. To convert leads at the highest rate possible you need both. You have to follow up FAST and you have to follow up A LOT. For some context here is the impact of speed to lead on conversion. You can see that you have a 100x better chance at contacting a lead if you follow up with them within five minutes compared to within thirty minutes.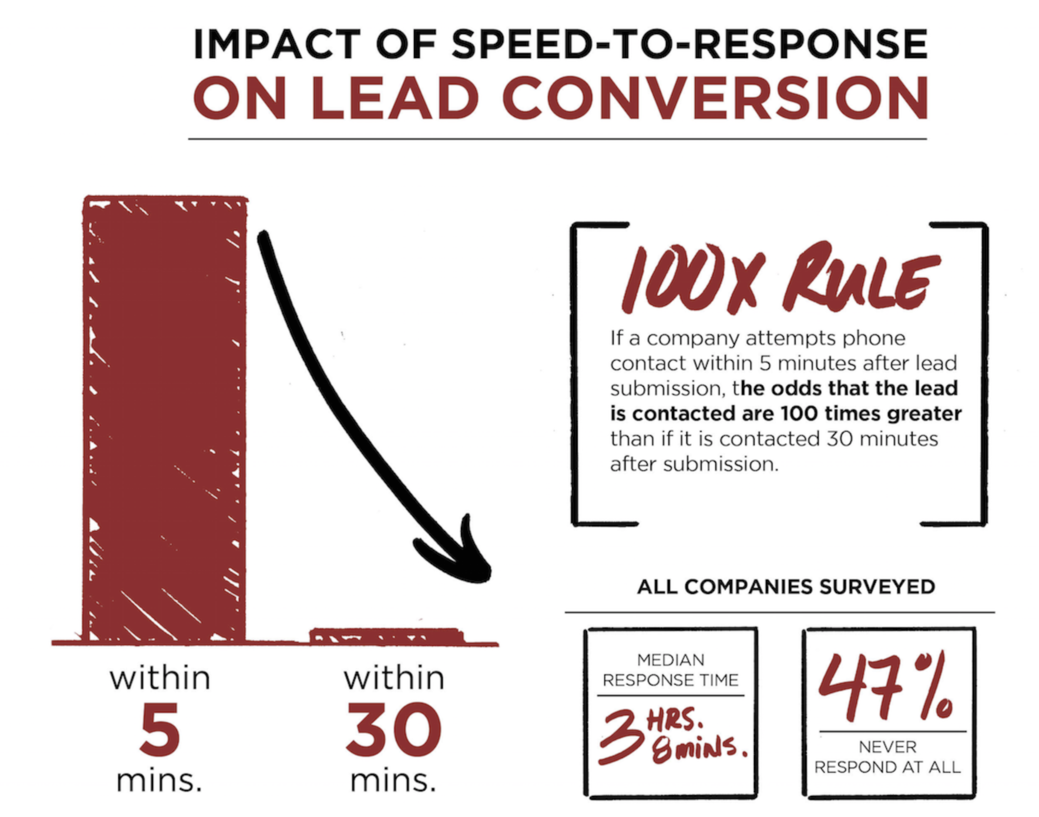 But even if you are fast you also have to follow up frequently. Trying to contact a lead once or twice isn't going to cut it. The impact of attempts on contact rate is undeniable. If you follow up with a lead once, even if you do it quickly, the contact rate is about 48%. But by the sixth follow up attempt the contact rate gets up to ninety three percent. You can literally almost double the number of leads you speak with by simply calling them all more often. I get asked a lot when these six calls should take place and my answer is three calls the first day, two calls the second day and one call the third day. Front loading the attempts is the best way to go after a new internet lead because there is a serious time decay that occurs.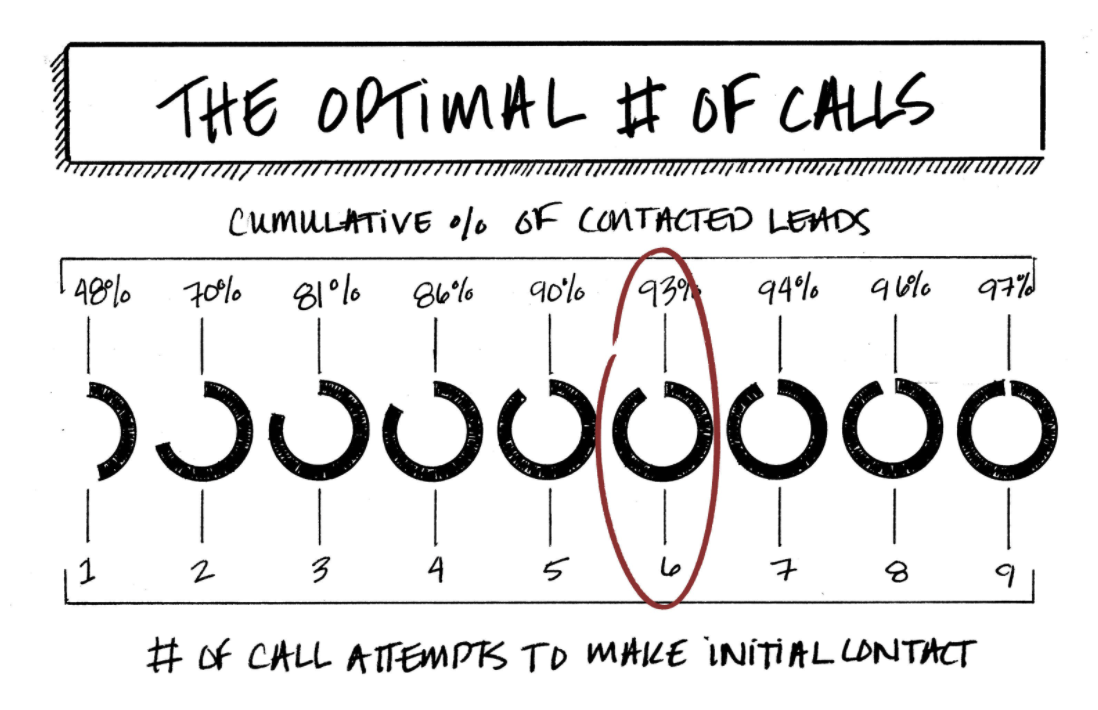 The reason I wanted to start with the impact of speed and tenacity on lead conversion is that even though the following three tactics are new, and you likely are not using them yet, they still line up with the principles of being fast and being frequent. One quick disclaimer before I go through the tips. Anyone can call a lead quickly and often. And anyone can send emails and text messages to leads. But the following three techniques might require you to get help with them. They are fairly advanced by nature but worth pointing out as they are all going to be the status quo sooner rather than later. If you do need help we offer all three at Curaytor be sure to check out our new Accelerator service.
1. Retarget Leads with Dynamic Listings
If you have ever been shopping on Amazon and looked at a product only to then start seeing that same product in ads as you continued to browse the web you have experienced retargeting. But did you know that Facebook actually has an option to retarget the people who browser your website and look at listings with more listings just like the ones they viewed? Often referred to as dynamic ads for real estate this is one of the most powerful ways to stay in front of a lead with relevant information, in this case listings like the ones they are interested in. The more relevant your ads are the more likely they are going to be clicked. So showing buyers homes for sale that are exactly like the ones they have been viewing makes this one of the most effective ad units we have ever tested.
Here is how it works. A lead comes to your website and looks at homes for sale. Based on things like the price, number of bedrooms and neighborhood you can actually show them more properties like the ones they viewed.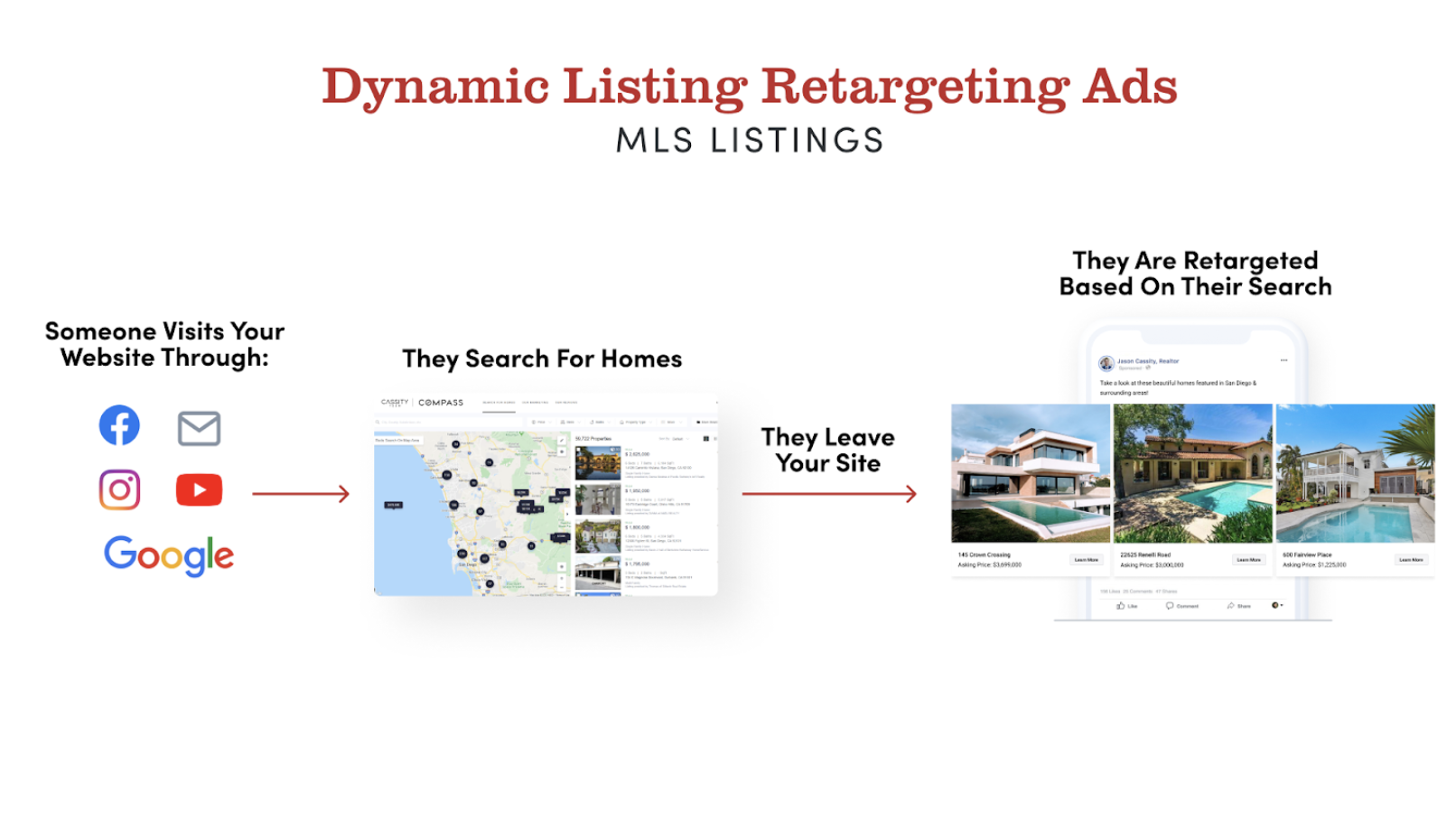 If you want to really dig into how the technology works and what the requirements are to setting this up and getting it right you can do so here. My advice? This is a complex set up that is above the skill set of most human beings so you really should consider hiring a company who specializes in setting this up for you.
2. Retarget Leads with Branded Ads
While consumers start off online looking for listings in most cases, and not agents, there is a point where they do need to contact a local agent to get help or their questions answered. You want to be that agent. For that reason, I highly recommend you retarget your website visitors not just with dynamic listings but also with branded retargeting ads. All of the studies show that in order for a consumer to recall your brand or ads they have to be exposed to them a minimum of seven times. Your goal should be to "be everywhere" they are as they browse the web and social media after leaving your site. When we see a brand or agent or business everywhere it gives them credibility and creates trust.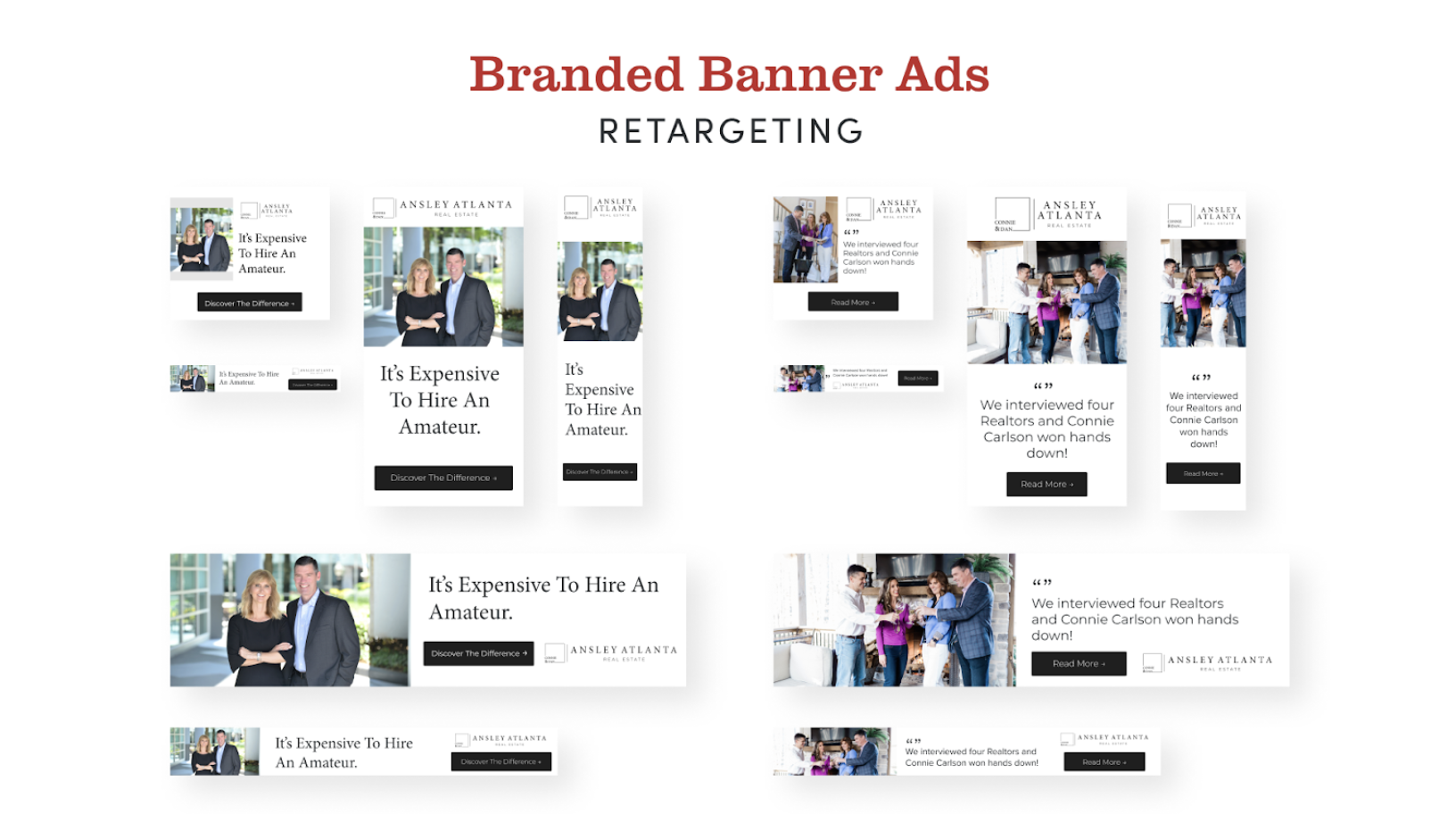 As I mentioned before the number of call attempts going from one to six can increase the contact rate from forty eight percent to ninety three percent. Think of branded retargeting ads as doing the exact same thing. If people see one ad one time they are not likely to remember it or you. But when they see you over and over again all of a sudden you become the authority. One thing that we do and recommend is to take an inventory of your best content. This can be videos, reviews, blog posts or accolades and then use that in your retargeting ads. Some of the retargeting ads that we run that get the most clicks are pictures of our clients with their clients that showcase a review or success story.
3. AI (artificial intelligence) Chatbots
For smaller teams or solo agents who do not have an ISA or a strong sales team in place an AI chatbot can serve that purpose instead. Artificial intelligence has come a long way and is now at the point where it can have solid conversations on your behalf. Is it perfect? No. But it is certainly better than the alternative of not following up with the leads you generate.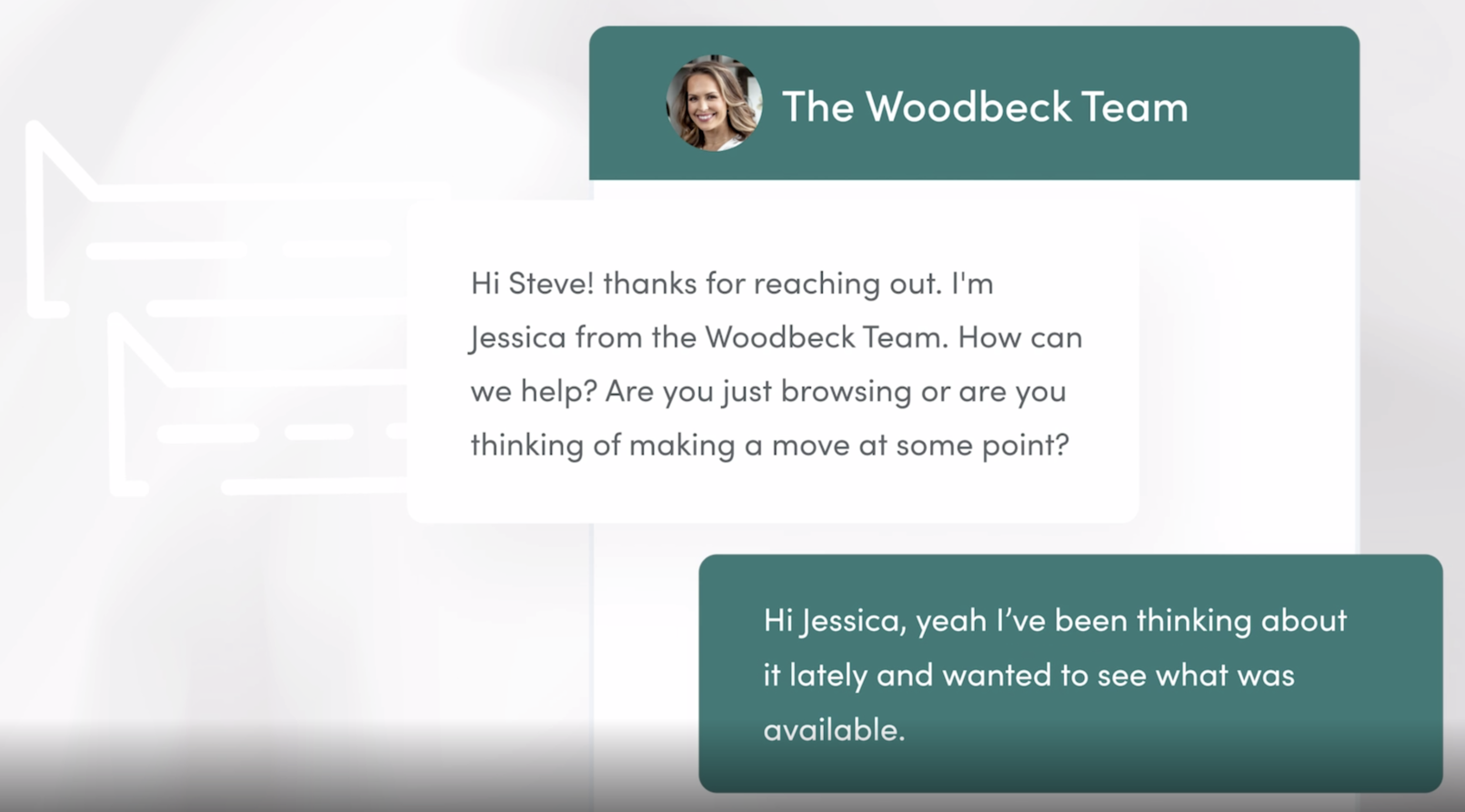 Consumers want an instant response to their inquiry and busy agents can't always provide that. But a chatbot can. Big brands like Lyft, Fandango, Spotify, Whole Foods and Sephora have all already embraced chatbots to improve the customer experience and this trend isn't going away. As the AI gets smarter and smarter by having more conversations the technology will become mainstream.
If you have been calling, texting and emailing leads there is more you can be doing to convert them. Try adding dynamic retargeting, branded retargeting and an ai chatbot to your follow up arsenal and watch your conversion rates improve, fast.
Need help with lead conversion?
Curaytor provides dynamic and branded retargeting, plus an ai chatbot.
Learn More