Will iOS 14 Impact My Business?
There has been a lot of chatter on the internet about Apple's upcoming iOS update, which is set to rollout in "early Spring" 2021.
Part of that update will include a major privacy-focused change that will force every app on your phone to prompt you, asking whether you consent to that app tracking your activity. It will look like this: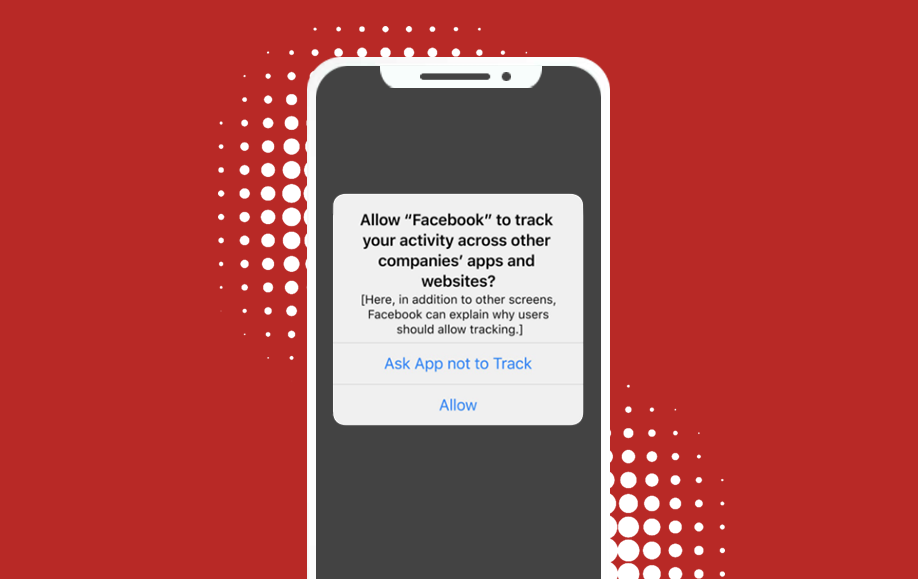 If the user selects "Allow", nothing changes. Everything will continue to work as it always has.
If the user selects "Ask App not to Track", the user becomes anonymous to that app - removing their ability to track that user outside of the app.
This is a big deal because online advertising has been built on the foundation of pixel-based tracking. It becomes much harder (or even impossible) to do pixel tracking for users that opt out of this prompt.
It's important to realize that iOS14 is not new. This is just the next iteration of privacy-focused updates that follow things like GDPR, CCPA, and Safari's ITP updates.
So, why is iOS14 getting so much attention?
Because Facebook is very upset about this. There will be a major impact on Facebook's revenue. So they are shouting from the rooftops about this update.
The question is, will it impact YOU?
The short answer is no. We don't anticipate any noticeable impacts to your lead flow or campaign performance.
But, that doesn't mean you shouldn't care. It's obvious that privacy is a growing concern in the digital advertising world. This isn't going to go away. In fact, we believe this is just the beginning.
So, in this article we're going to dive into iOS14 to give you the background that you need to understand what's going on. Then we're going to give you our 3 tips for how you can future-proof your business and never worry about privacy updates - ever again.
Technical Background
Let's take a step back and get technical for a minute.
Historically, every Apple device has had a unique identifier called the "Identifier for Advertisers" (or IDFA), which is similar to a fingerprint for your phone. Platforms like Facebook used IDFA to gather all kinds of data about your behavior online.
It allowed them to track your post-click behavior when you clicked on an ad on Facebook. Did you make a purchase? Did you register for an email list? How long did you stay on the page? Etc.
But it ALSO allowed them to gather your browsing data from any website that had a Facebook pixel installed. Whether or not that visit originated on Facebook.
We've all had the experience of searching Google for a pair of shoes, and then seeing that pair of shoes pop up in an ad on Facebook. That was thanks to IDFA.
With iOS14, if you opt-out of tracking, that visibility goes away. Facebook will no longer have access to the IDFA, so they cannot gather that browsing data.
Advertising Impacts
This has massive implications for many online businesses. It will be much harder for e-commerce companies to effectively track sales, which will make campaign optimization more difficult. Retargeting audiences will be impacted, as it's likely that anyone with an iPhone will not be trackable - and therefore won't be eligible for retargeting. Facebook is likely to lose a large percentage of their data pool, which will make their "off-the-shelf" audience algorithms less effective.
So, it's certainly a huge change. But it will not be the end of Facebook ads. Especially not for Curaytor clients.
What's Not Changing
To understand what we need to do, we need to understand what IS NOT changing.
iOS14 only affects Apple-based mobile devices (iPhones, iPads). So anyone on a desktop, laptop, or android device will be unaffected. For curaytor.com, iOS traffic makes up ~30% of visits - so the impact is significant, but it's not 100%.

This change only affects people who opt-out of tracking. We don't know what this will look like until it rolls out - I have seen estimates that range from 25% to 75%. So, we really have no idea. But the point is that anyone selects "Allow" will be unaffected. After all is said and done, we are estimating this change will impact ~10-15% of traffic on curaytor.com - and we expect to fill that gap from the massive inventory available in digital advertising.

Facebook is losing a lot of data signals with this change, so their "off-the-shelf" audiences will likely be impacted. Algorithms like data, so limiting the amount of data usually means less effective algorithms. However, because Fair Housing is already so restrictive in targeting options, we anticipate that the real estate industry will be unaffected by this.

Facebook's first-party data is not impacted. This means that if the action - whether it's browsing behavior or a lead registration - happens on Facebook, then there are no restrictions. That is "first party" to Facebook, and therefore they will continue to maintain full visibility.

Your first-party data is not impacted. That means you can still collect contact information from leads. You can use Curaytor's Convert tool to see post-registration user behavior. And, you can pass custom lists to Facebook from your CRM to build custom audiences to serve ads to.
So, with all of that in mind, it's really important that you don't panic 🙂
A lot is changing. But, a lot is staying the same.
How to Future Proof Your Business
iOS14 is just another step in the move towards better privacy options online.
And, we actually believe that this is the right move. It puts consumers first and gives them the opportunity to choose whether or not they share their data. At Curaytor, we have always built our business with a consumer-first mindset. We truly believe that is the best move in the long run.
Also, with big changes come big opportunities. While your competitors are scrambling trying to figure out how to adapt, focus on these 3 things:
Facebook Lead Forms continue to reign supreme. We have always been bullish on these at Curaytor. They have been an outstanding ad type for us, and our clients. Leaning into them in a post-iOS14 world will definitely make sense because it allows Facebook to maintain a first party data relationship with the lead. So they will be able to use that conversion as a signal in their algorithm - regardless of whether the user opted in or out of the privacy prompt.

Focus on growing your database. This is something that Curaytor has long advocated for. Capturing lead information allows you to own the relationship. It puts you in the driver seat and insulates you from future privacy updates. If you own the contact information, it will always be first party data, which means you'll always be able to create custom audiences. It also gives you the opportunity to move the relationship into 1:1 exchanges through email, text and phone calls. The bigger your database, the more effective your campaigns will be.

Learn everything you can about UTM parameters. Curaytor uses these extensively to help us track campaign performance and attribute leads back to the right place. UTMs can be automatically applied to a lead profile in most CRMs. So they are a very powerful tool that can help with some of the attribution and conversion tracking challenges that may come from iOS14 (and other privacy updates in the future).
Bottom line -
We do not expect any disruption to our client's lead flow or campaigns performance when iOS14 rolls out in the March/April.
However, we believe that privacy updates will continue to happen in the coming years, so it's worth considering actions that we can take today to help avoid or mitigate impacts from those future changes.
As always, if you have any questions or concerns, please reach out to the team. Curaytor is always here to help you dream bigger and accomplish more.
BONUS TIP:
For all Curaytor clients - Base, Marketer, and Accelerator - we have already done this for you.
If you're not a Curaytor client, Facebook is recommending that all businesses go through the domain verification process. Post-iOS14, advertisers will be limited to tracking 8 conversion events and verifying your domain ensures that you have control over which 8 you track.
Most clients will be nowhere near that number, but we believe it's a worthwhile step to ensure there's no disruption as these changes roll out.