Facebook Ads Every Real Estate Agent Should Be Running
Where does the majority of your business come from?
If you're like most agents, I bet it comes from your past clients, sphere, or database.
And if you're like most agents, I also bet the vast majority of your advertising spend and marketing efforts go to capturing new leads.
This is the marketing strategy most real estate agents follow. It's not because they're opposed to running ads to their sphere or database, they just don't know where to start.
The two metrics most folks seem to care about are the number of leads they've added to their database and the number of deals they closed. There is a lot of time between those two events. It's in that space that most agents can improve a great deal with a little extra focus. In this article, I will outline a simple strategy that will allow you to nurture and convert more leads in your database.
No matter the number of contacts in your database, let's categorize them into three stages:
Group 1: Holding Pattern. These contacts have no immediate plans to buy or sell.
Group 2: Research Phase. These contacts are 6-12 months away from taking action. They're starting to look at properties and agents.
Group 3: Action Stage. These contacts are soon to be (or are already) in the process of buying or selling.
Before we talk about running ads on Facebook to people already in your database, you will need to make sure you have a custom audience created that is made up of those contacts. You can learn how to do that on Facebook's help center.
Group 1: Holding Pattern
First, and the largest of the three groups, is the people in your database who are in a holding pattern. This is the vast majority of all real estate leads and traffic. Typical marketing efforts to this group include: canned drip emails, listing alert emails, or email blasts featuring content that may or may not be particularly relevant or interesting to them (if this sounds familiar, you might want to give this post a read - it'll help your email marketing game). This bucket of people in your database is your biggest opportunity for growth; it's where the majority of your future business will come from. So how do you engage with these people who don't have a need for
It will require a blog to run the best possible ads to this stage of your database. At Curaytor, we recommend differentiating yourself by establishing yourself as an expert in your market. There may still be some people who are happy to receive refrigerator magnets with your local sports teams' schedules on them, but we recommend going a bit deeper. A contemporary example we've seen a lot of clients succeed with is local event calendars. They kill two birds with one stone: in one post, you're helping people with what they're doing in their everyday life and you're making it clear you have your finger on the pulse of your area.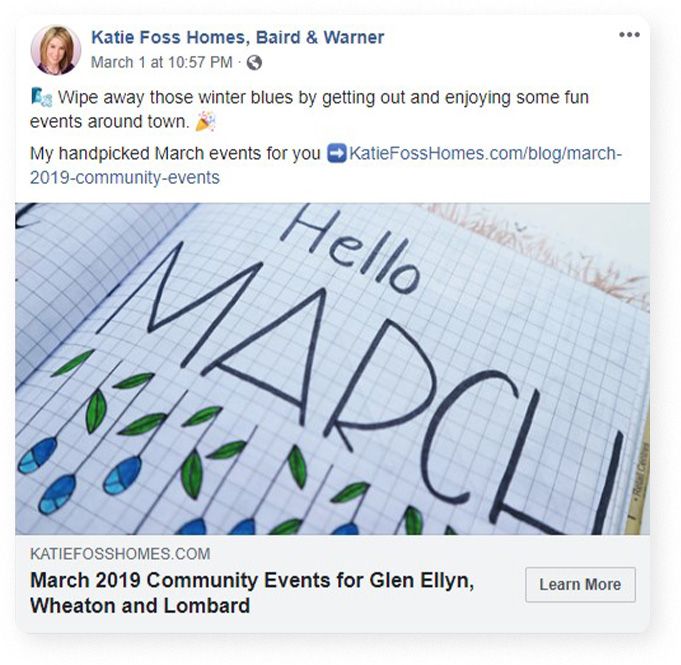 An easily repeatable extension of this idea is to create content around upcoming events and holidays. My Tampa Agent provides an excellent recent example: a blog post listing the best places to go for Valentine's Day in Tampa. This is an article that you can either update or recreate every year as the holiday approaches.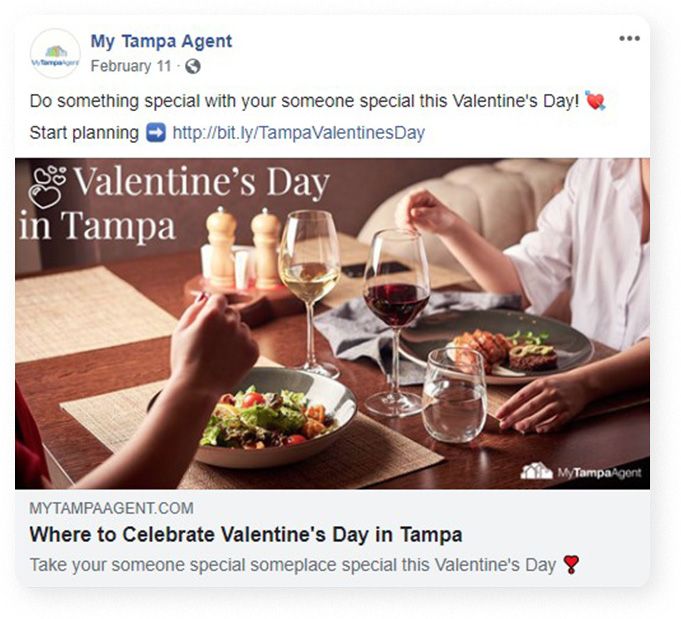 Some of the best performing content Curaytor and its clients have created involve topics like "the best places to watch fireworks on the Fourth of July" and "what are the best neighborhoods for trick or treating?". This type of content strategy is atypical for real estate agents and your database and community will appreciate it. It is a great way to stay engaged with your database for years between their needs for a real estate agent.
Group 2: Research Phase
The second stage for your contacts is the research phase. This is when they are under a year out from buying or selling but they're gathering all information. The Facebook ads that are most effective with this group help answer all of their questions, even the ones they don't know they should be asking.
Think about every listing presentation you have ever had: what do you wish they knew about the market, about you before, and about the buying and selling process before you walked in the door? that is exactly what you should be creating. Get these ads in front of them before they go to Google.
Examples of this type of Facebook ads are going to be neighborhood profiles, community videos, or education pieces.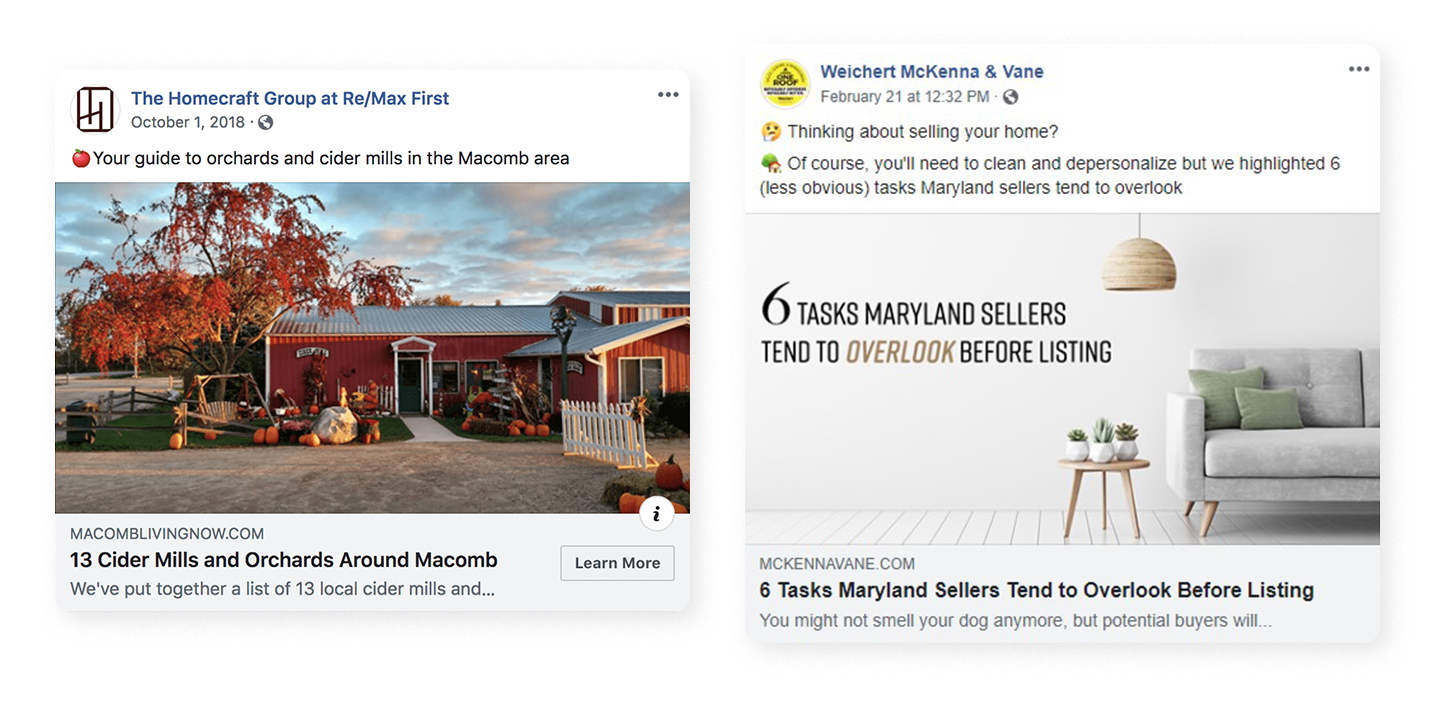 Group 3: Action Stage
The third group in your database is in the action stage. This is when they are buying or selling soon. Most real estate agents are most comfortable marketing with the types of content that resonate with this group: home value report requests and featured listings. The room for improvement here is in the targeting: many agents just run these types of ads to a general audience that don't know them, rather than to warm leads who are ready to convert. Fastball marketing is the most effective marketing if you do it right. Here are three examples of Facebook ads to drive action: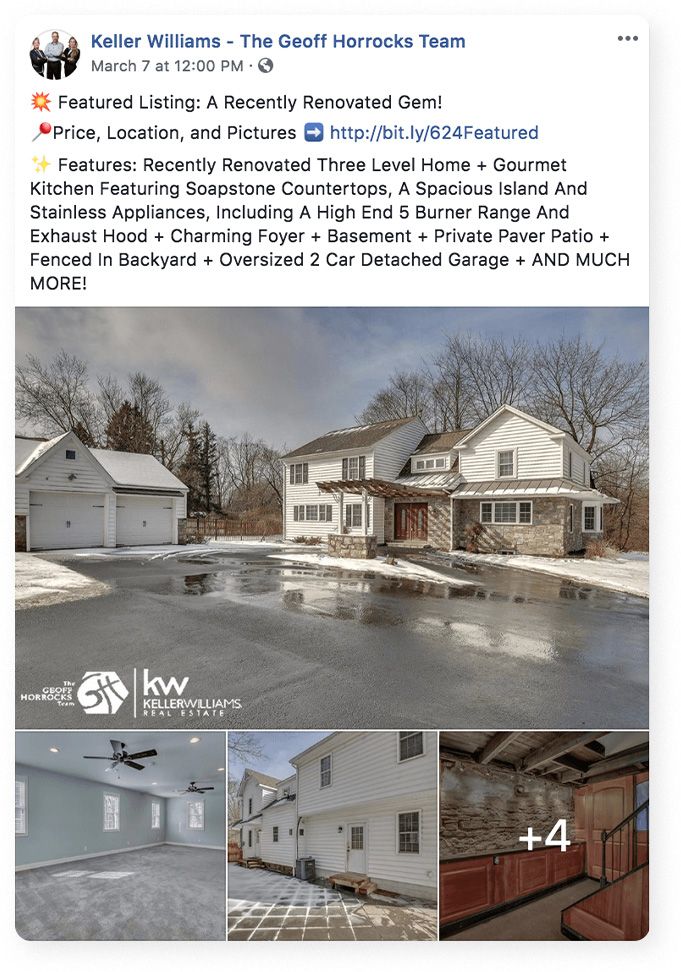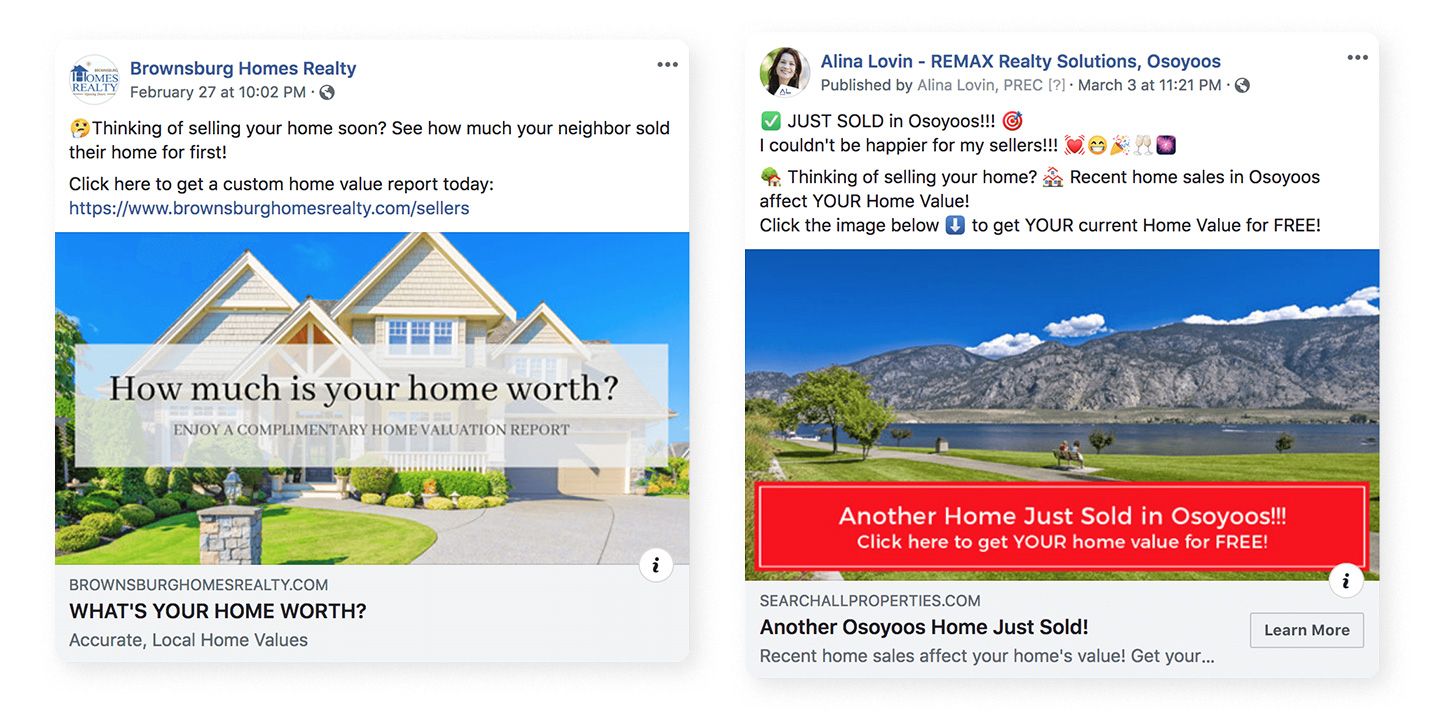 At Curaytor, we believe your website can be your best salesperson. That means the content you create and advertise has to reflect the high quality of your work. If you add these ads to your marketing repertoire, you will continue to generate new leads while helping existing leads along your marketing funnel. When the time comes for these leads to hire (or refer) an agent, marketing like this will make sure you're the one they call.