A Proven Strategy To Creating Highly Engaging Emails
Marketing gurus regularly tout the magic of Email Marketing
"It has a 40X ROI." - Gurus
But let's be real... you're not getting those KIndS of results.
Email Marketing strategies that lack focus and consistency fail to produce the results we hope for. We've successfully conditioned our audience to ignore us.
We use tactics like growth-hacks to improve our short term results at the expense of our long term growth.

Have you ever received an email from a business that has the words: RE: or FWD: preceding the subject line?
The marketer sees an artificial uptick in their open rate and is convinced the tactic actually worked; meanwhile the recipient feels like a fool.
Not exactly the emotion you're trying to elicit with your potential clients.
Effective Email Marketing is much simpler than most marketers make it out to be.
Send emails with a compelling headline, that has a clear message and purpose, with an obvious call to action to a relevant list of subscribers, and do it consistently.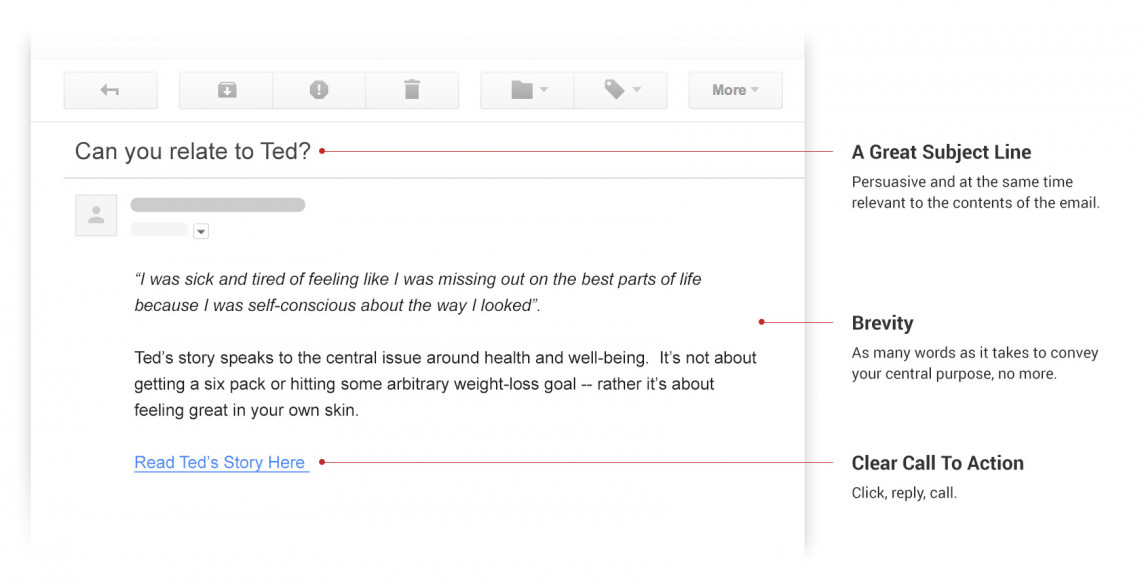 Targeted: (send emails to people on your list that have a shared common interest)

A Great Subject Line (persuasive and at the same time relevant to the contents of the email)

Brevity (as many words as it takes to convey your central purpose, no more)

Clear Call To Action (click, reply, call)

Consistency: (top of inbox, top of mind)
But here's a tip even the pros miss.
Stop looking at your emails as a singular event and start connecting them through the power of storytelling.
This idea was popularized by Jeff Walker in his book The Launch Formula.
Send this email prior to next listing appointment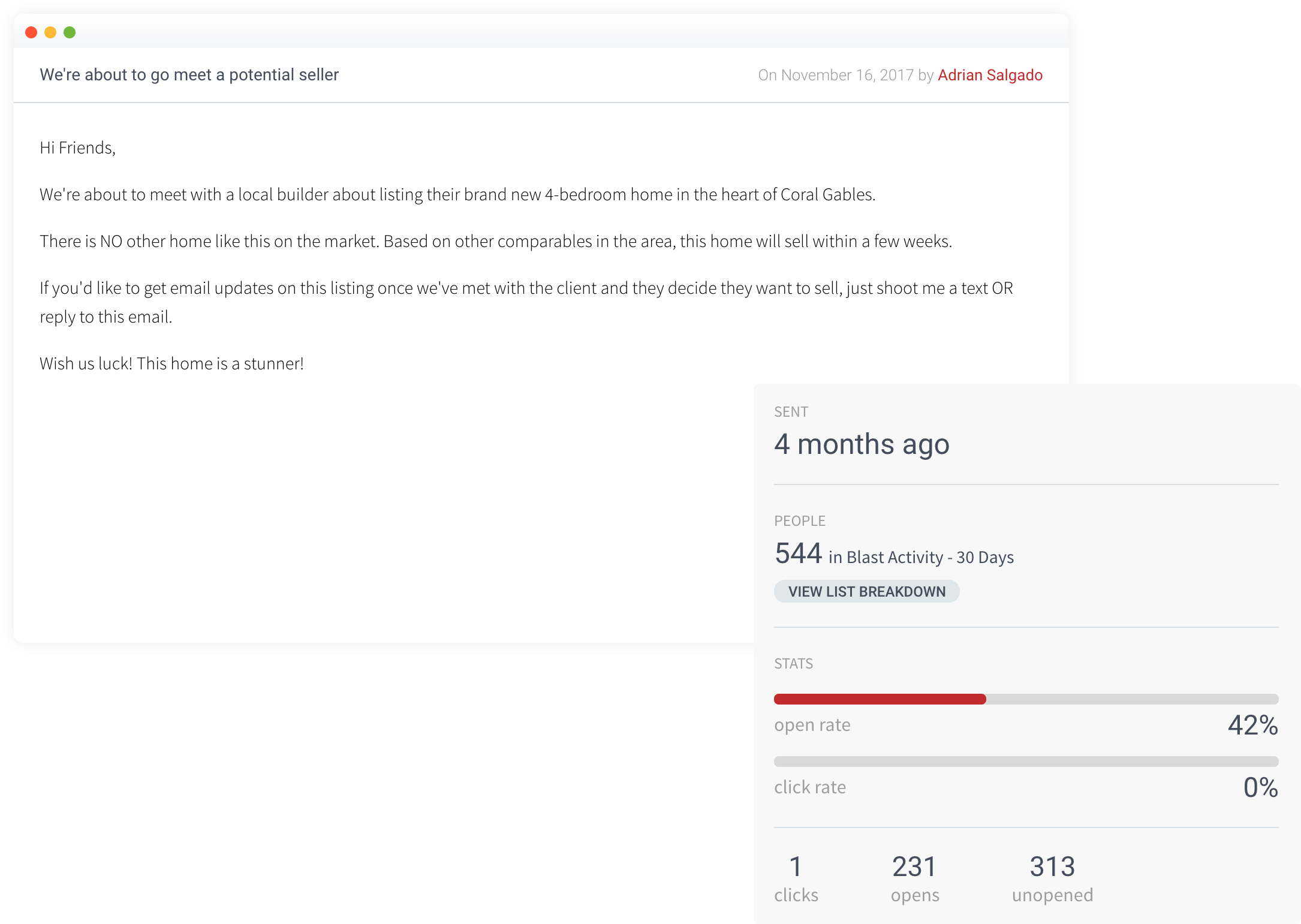 Send this email to everyone who opened up the first email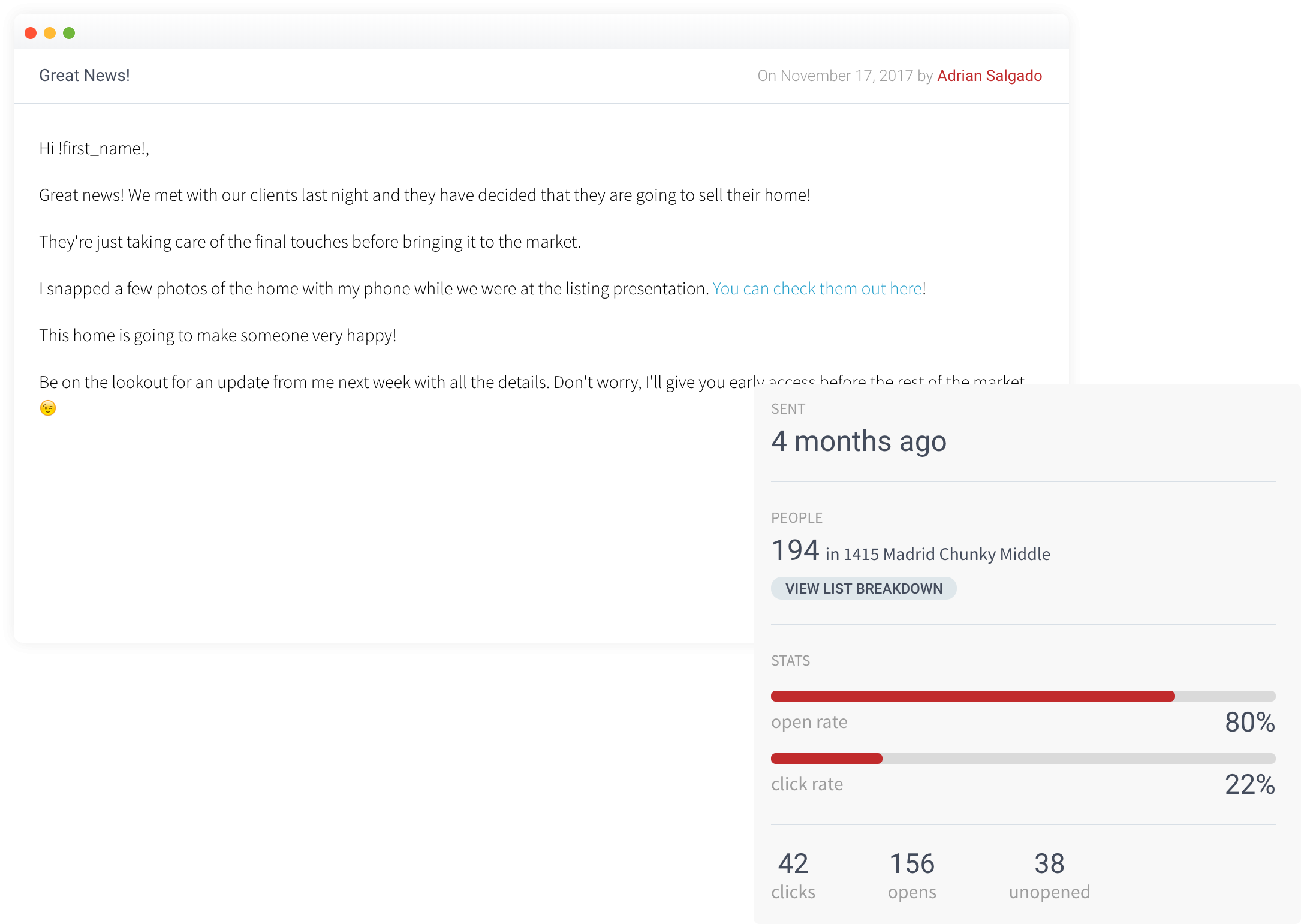 After you've successfully promoted the listing on Facebook, send this email: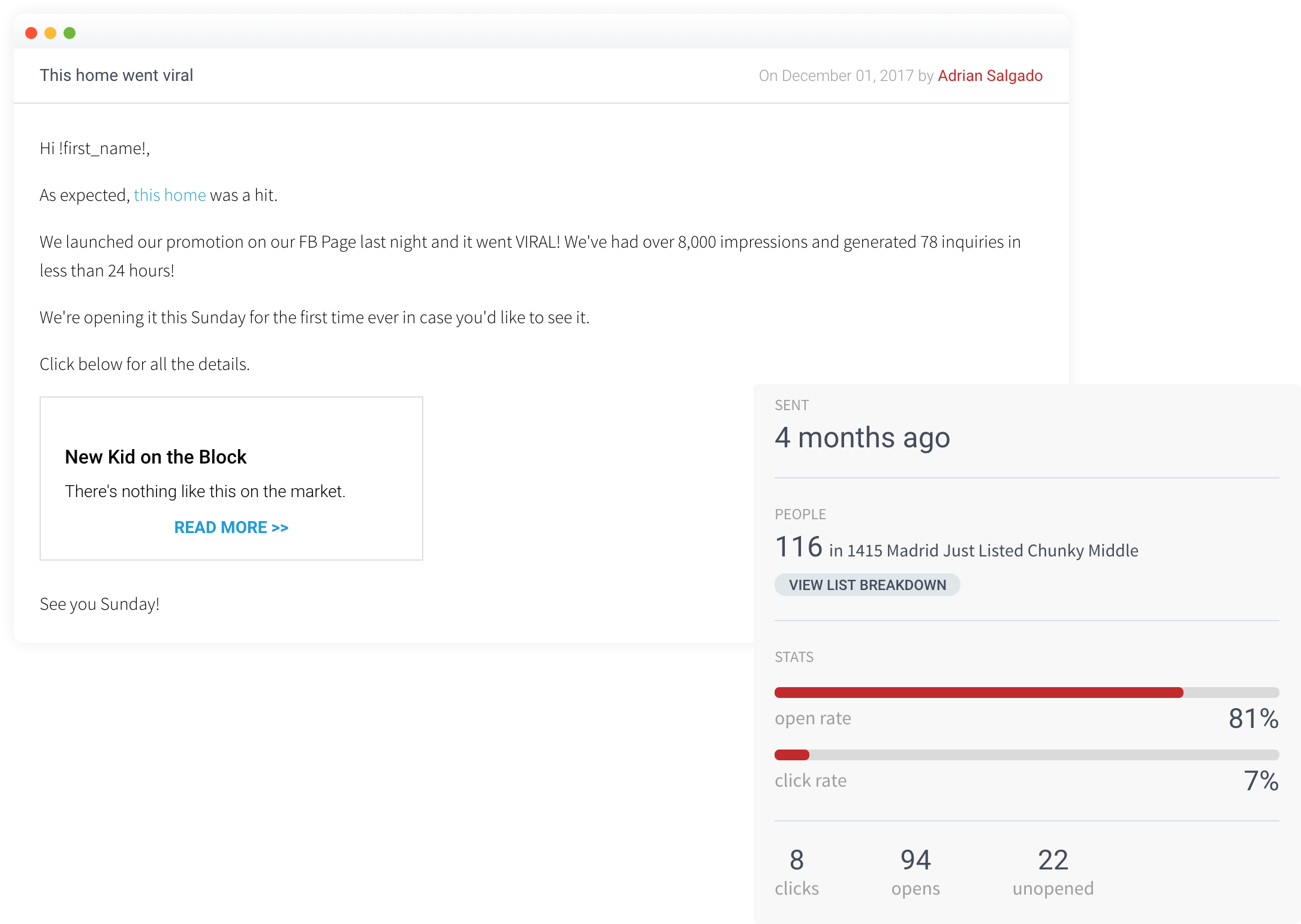 This is our storytelling approach to email marketing results in increased open rates and engagement.
But if you think this only works for listing appointments, you're missing the point.
There is an underlying formula that can be used for highlighting a client success story, shining light on a new offering, or sharing industry-related news.
Here's the formula: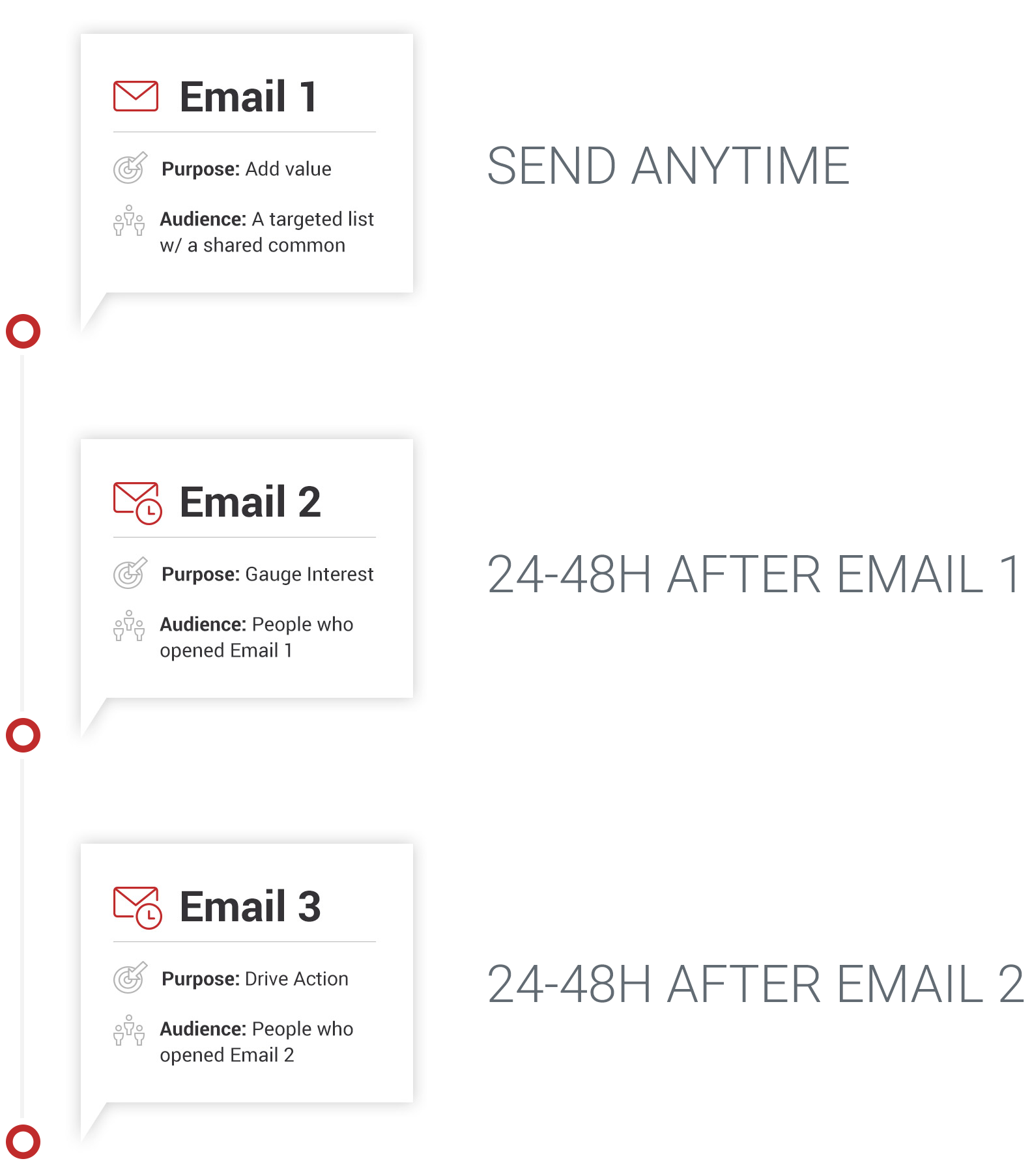 The genius in this strategy is that is helps focus on your immediate needs of driving engagement and sales without sacrificing your long-term interest.
We've used this formula to transform the way our clients promote their listings.
You can use it to dramatically improve the impact your email marketing strategy has on your business.

Here's how I'd use it to promote a client success story for a local gym.


Add Value:

Why I Love My Job!

We just finished shooting our latest client testimonial video. Ted shared with us how she lost 25lbs and stopped taking his blood pressure medicine (per his doctor's recommendation) by changing 3 things.

His diet, workout routine and his mindset.

I'm really proud of Ted's progress. It's a great example of how a comprehensive approach to fitness is the only true long-term solution to a healthy lifestyle.

Here are my 3 favorite blogs about diet, workout routines and mindset. I think you'll really enjoy them:

1) Eat More and Eat Less List
2) Stop Sabotaging Your Workouts
3) The One Thing You Need To Say To Yourself Before Every Workout


Thank you so much!
P.s. I'll be emailing you in the next few days with a link to Ted's story. You're going to love it!
Gauge Interest:
Can you relate to Ted?
"I was sick and tired of feeling like I was missing out on the best parts of life because I was self-conscious about the way I looked"
Ted's story speaks to the central issue around health and well-being. It's not about getting a six pack or hitting some arbitrary weight-loss goal -- rather it's about feeling great in your own skin.
Read Ted's Story Here
Email 3:
WRITE THIS ONE:
Here's one last pro-tip. For those of you who are already sending emails, I want you to use my "bookend" technique.

Take one of your highest performing emails and simply add an email before it that builds excitement and an email after that drives action.
"Email Marketing can have a 40X + ROI, when done right." - Jimmy The Guru
Popularized by https://www.amazon.com/Launch-Internet-Millionaires-Anything-Business/dp/1630470171
https://www.influenceatwork.com/