The Best-Performing Real Estate Facebook Ads, Emails, and Videos to Use in 2018
The best Facebook ad you can run for under
$100
Most Clicks
Ken Schwartz curated a comprehensive list of the 29 Best Places to See Christmas Lights in San Diego this year - and it got a ton of comments, shares, and nearly 1500 clicks back to his website.
His total ad spend? $66.27.
Something to think about when you're creating your Q4 content calendar for 2018...
Lowest Cost per Engagement
The Haltom Home Team scored big with a #JustListed post that got clicks and engagements for a penny apiece.
2,800 photo views, 700 website clicks, and 14,000 total impressions for a whopping total of $50.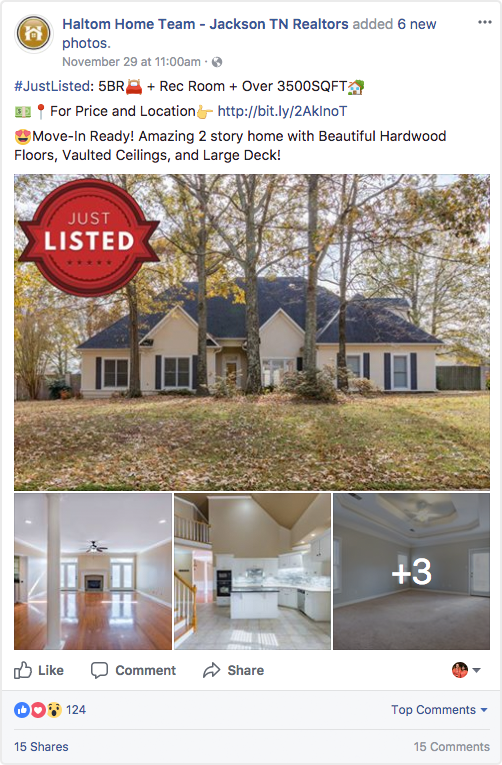 Most Reach
In less than one week, Tammi Montgomery's post about her Featured Listing in Bossier City, LA reached over 23,000 people.
That's a third of the population of Bossier City seeing Tammi's ad for $100!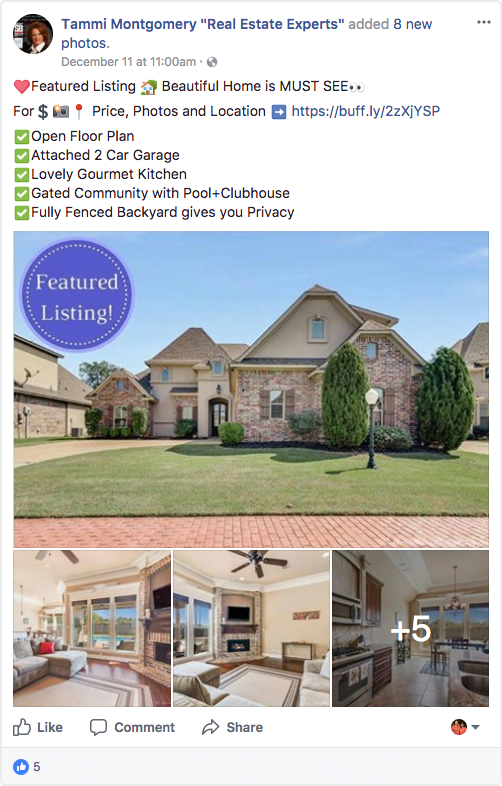 The best Facebook ad you can run for
$125-$500
Most Reactions
JMS Realty Group's New Home for Sale ad is another strong example featuring emojis, strategic use of ALL CAPS, and a clear CTA.
This post wound up with 217 reactions, 44,000 impressions, and 6,200+ photo views, all for $350.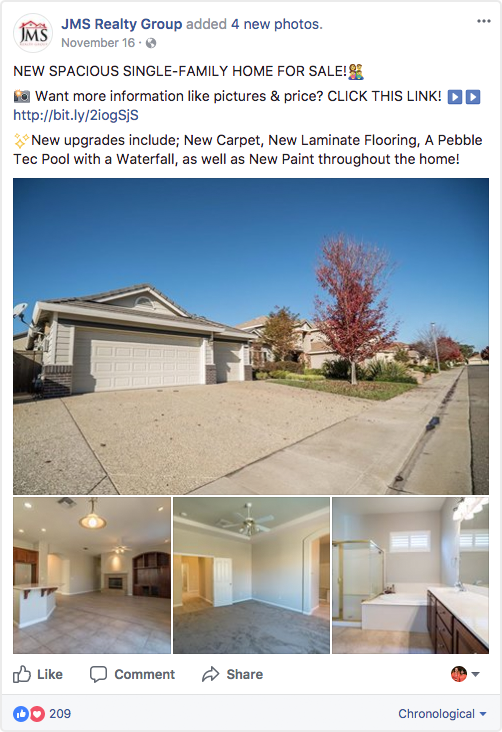 Most Clicks
The Lea Team's #JustListed post is an all-around excellent ad - take note of the CTA embellishment on the featured image.
For just $125, this post was seen by nearly 20,000 people and sent 1,800 of them back to The Lea Team's website.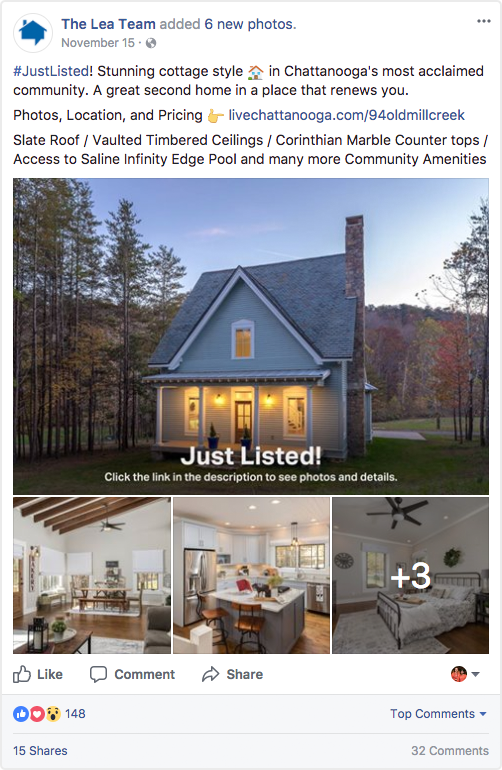 Most Reach
The Local Home Team's post about a new offering of condominiums took off, reaching over 81,000 people -- and it didn't even drive traffic to their own website!
But when a big news story in your market breaks, seize the opportunity to be the brand that helps get vital information to your community.
Take note of the top comments on the post and you'll see this was $250 well spent.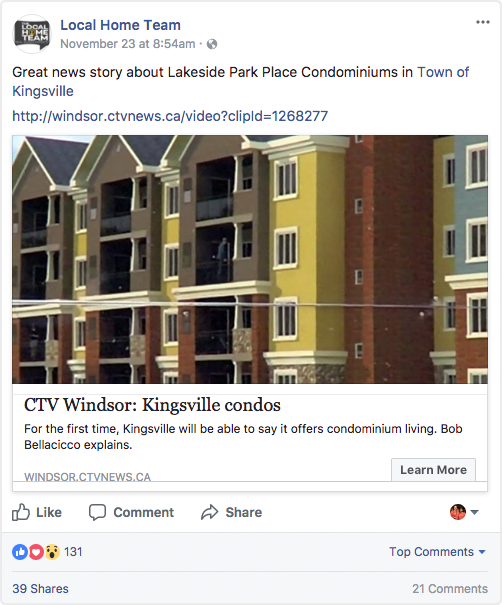 Lowest Cost Per Engagement
Gables Mavens created a Just Listed post that generated some real buzz - 35,000 impressions, 6,000 photo views, and almost 1,500 website clicks, all for $270.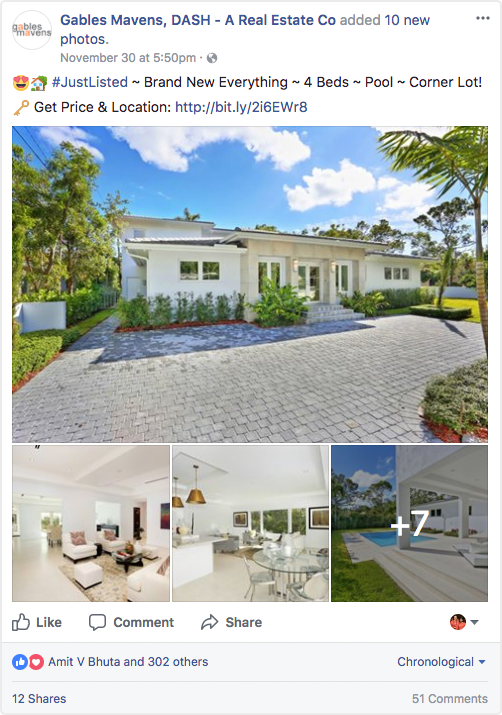 The best emails to send to under

500 people
Best Open Rate
Subject Line: This Home Went Viral
We preach doubling down on what works and here's a prime example why: The Gables Mavens make our list again with an email based on their successful Facebook post.
Adrian and Raul sent this email about the listing to a very engaged group in their database. Clearly this strategy works - this email was opened by 81% of its recipients!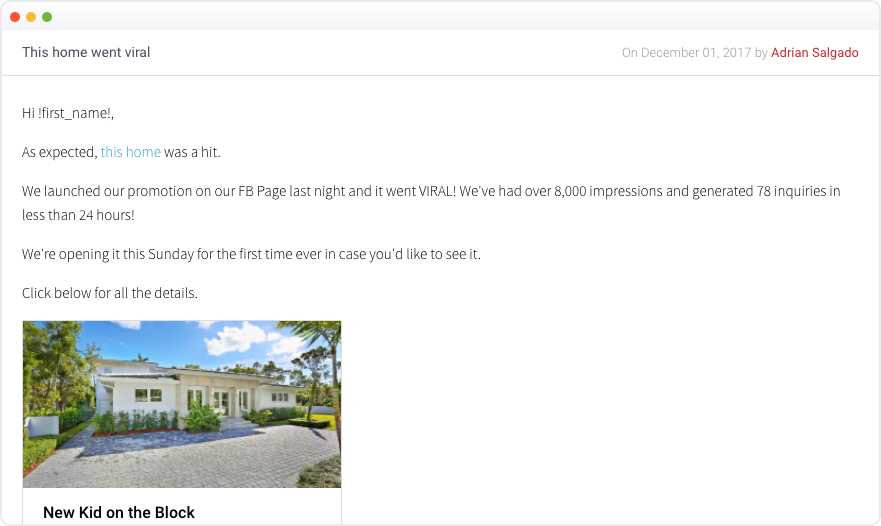 Best Click-Through Rate
Subject Line: 🔥 Coming Soon - See it here FIRST!
This email from Charles Burgess did a great job of highlighting a pre-MLS listing, coupling a strong CTA with just the right amount of information.
The CTA (complete with emoji) worked like a charm: this email had a 19% click through rate.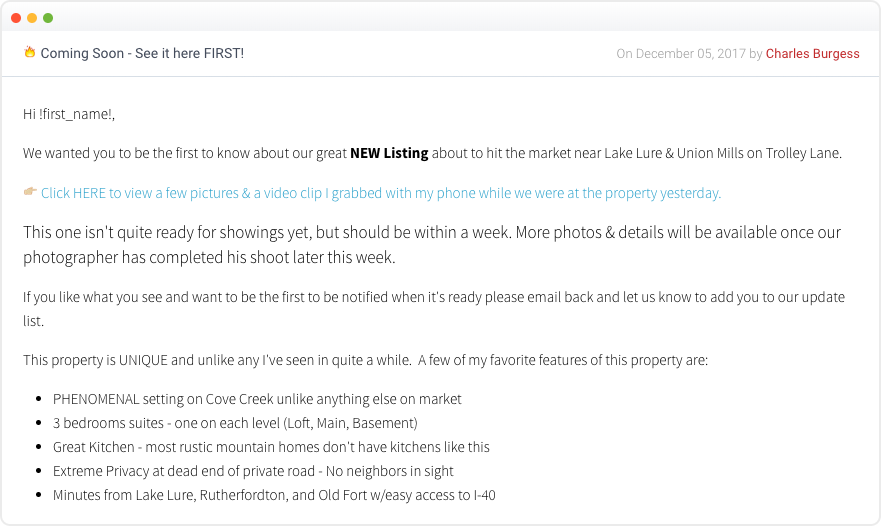 The best emails to send to

1,000-2,000 people
Best Open Rate
Subject Line: Coming Soon - Newburyport Single Family
How'd Kevin Fruh get a 55% open rate on this email? Here are 2 key takeaways...
1. He kept it simple. That subject line is direct and to the point.
2. He sent it to a list of prospects who are definitely engaged with his emails, selecting only leads who had opened one of his messages in the last 90 days.
Sometimes marketing is about generating interest where there wasn't much before, but at its best, it's about reaching out the people who want to hear from you.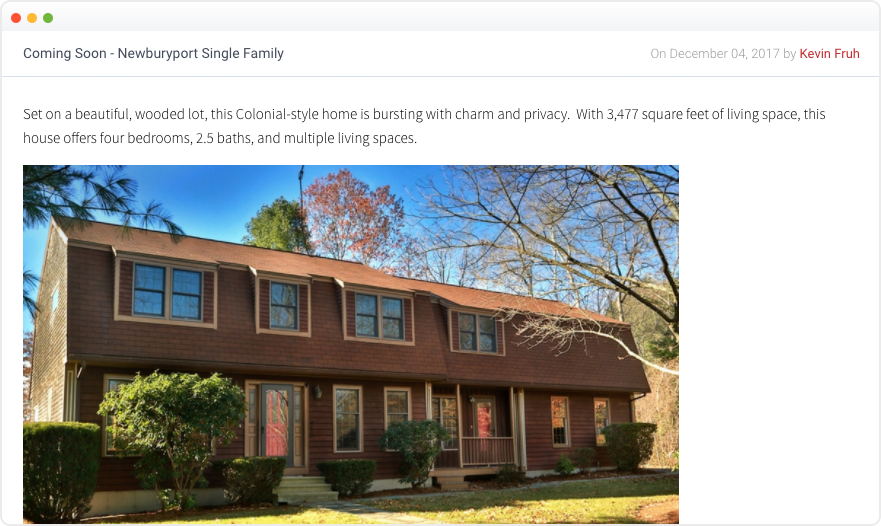 Best Click-Through Rate
Subject Line: 🔥 A 3 Bed, 2 Bath with Granite under 150k? 🤔
Josh Taylor's clever subject line (complete with emojis) led to a ridiculous 54% open rate, but even more impressive is the 16% CTR.
Notice the use of multiple links - the image is a link, the city is a link, a clear "Click here" CTA under the photo... it's very easy to click through in this email.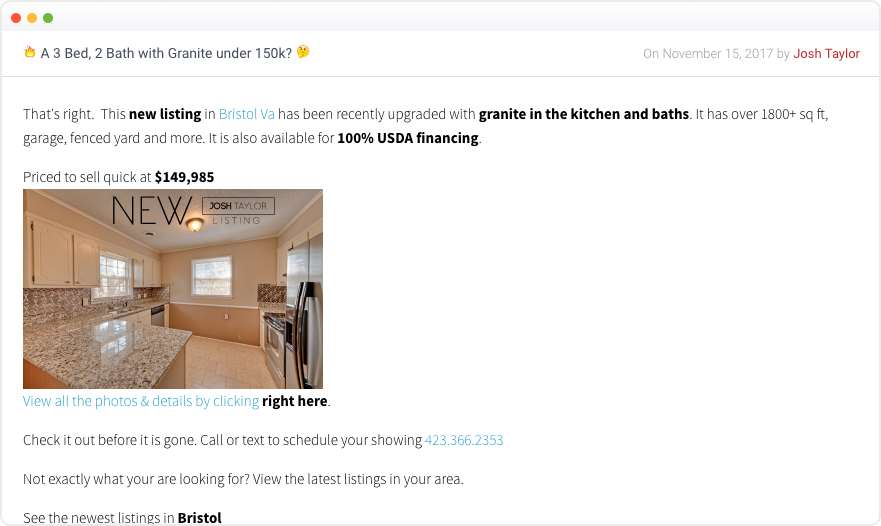 The best emails to send to over

5,000 people
Best Open Rate
Subject Line: 5 homes that I discovered last night that are the BEST deals in Tallahassee
Joe Manausa's clever subject line works because reads more like a story than a plea for attention. Plus check out the funny, conversational first sentence of the body, which shows up in the email preview and gives recipients a little extra information before they decide whether they're opening or not. All that resulted in a solid 22% open rate (and 6% click through rate) on this email.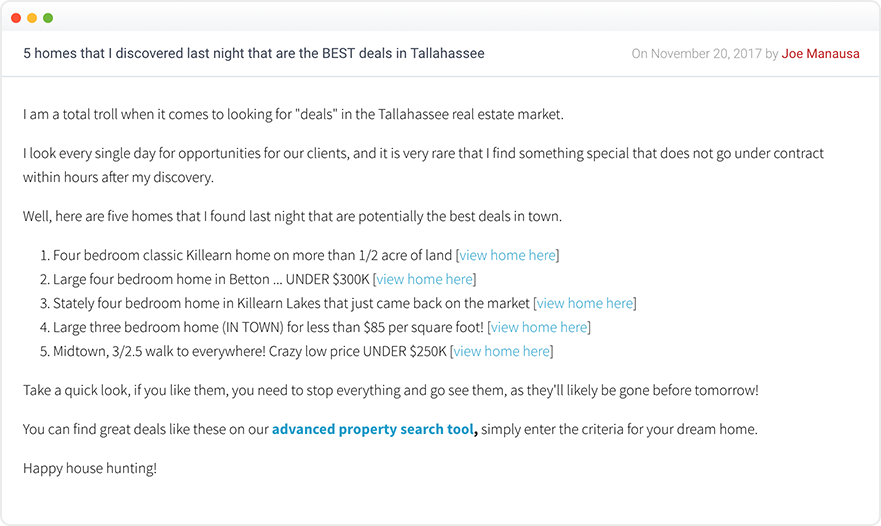 Best Click-Through Rate
Subject Line: Not found on Zillow/MLS - yet
5% click through rate - that's 484 clicks! Notice Dan's second link is a CTA to check home values, making the message applicable for potential sellers as well as buyers.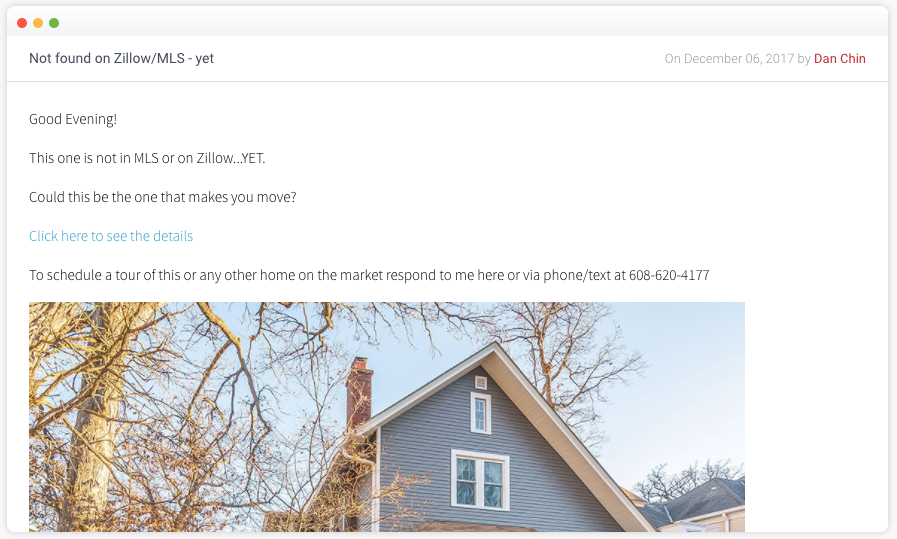 Brand Video
If you're feeling creative and looking to go viral, look no further than the Haltom Home Team.
Their music video "Relaxin' in Jackson" has nearly 400K Facebook Video views (with 6000+ shares and nearly 1000 comments).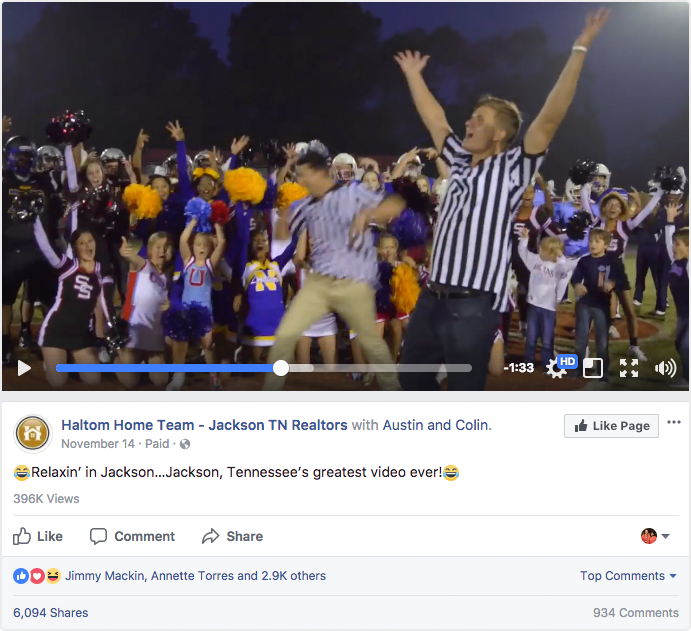 To Under 1000 Recipients
Subject Line: Hey !First_Name!, I sent you an Evite to my event, did you get it?
Several things make Ken Schwarz's video message unique:
1. It's a follow-up email.
2. It's to clients and past clients only, so he uses a merge field.
That kind of targeted personalization resulted in some amazing stats: 61% open and 14% CTR.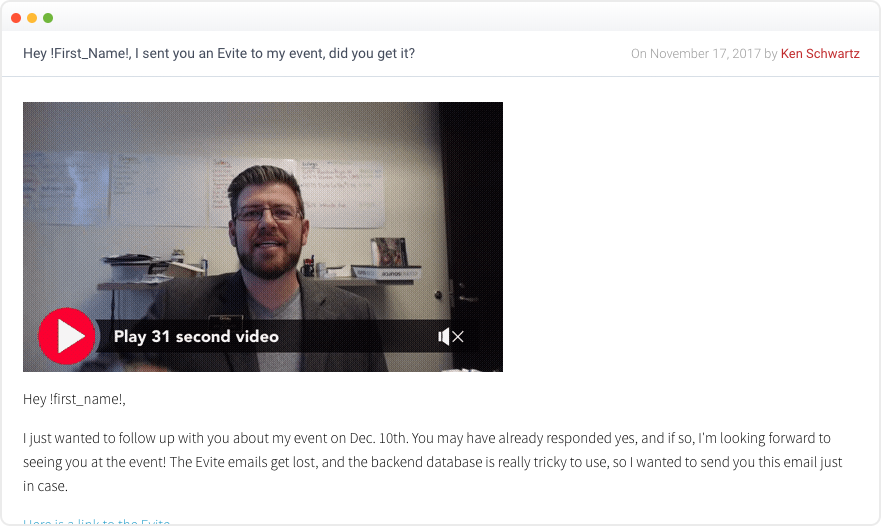 To 1000-2000 Recipients
Subject Line: Palm Canyon Mobile Club this weekend
Paul Kaplan's video message is short, to the point, and has one key element that cannot be overlooked: an adorable co-star.
You don't have to use a dog in your marketing, but the numbers don't lie: Paul's video message had a 37% open and 8% click through rate.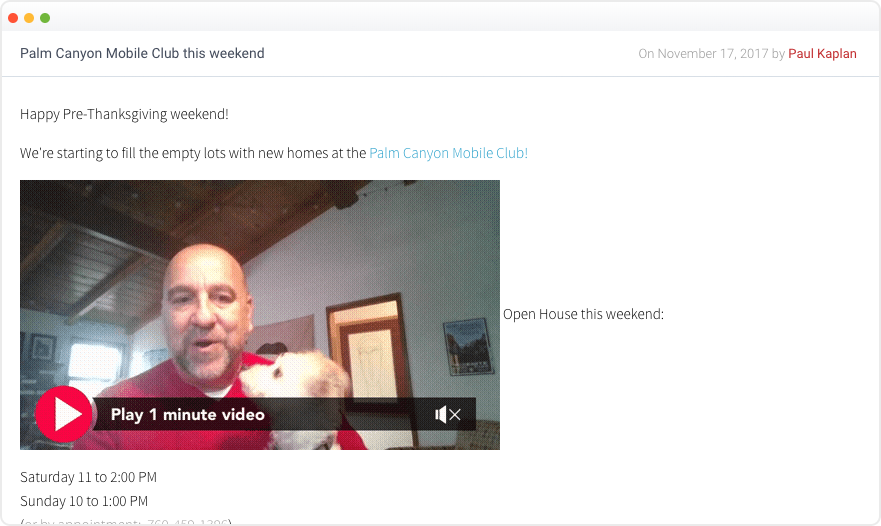 To >5000 Recipients
Subject Line: Whisler Friday Morning Coffee
Dean Linnell's weekly series "Friday Morning Coffee" is a great example of consistent marketing. Each week, Dean sends a short video along with a link to a comprehensive blog post of all the real estate activity in Whisler.
With a click-through rate of 5%, Dean has nearly 500 people watching his video and reading his latest blog content.