We can't play games trying to acquire "users" with a 5 year plan to monetize them.
Every month, we pay $176,244.13 in payroll.
As a scrappy startup, sometimes that scares the shit out of me.
Beyond marketing, technology, lawyers, accountants -- what you quickly realize is that your biggest expense is usually PEOPLE. Good old fashioned labor.
Balancing your headcount to achieve maximum productivity sounds like a simple enough problem to fix, but in my personal experience, it's an ugly mess, often riddled with landmines.

See, the thing that keeps me up at night is our company crushing under its own weight due to our lack of proper operational, people and financial management.
Maybe you can relate?
When you hire too many employees, too quickly, you're left trying to find things for new people to do to so they fill their day with "productive work". Ultimately, this often forces you to shift your focus towards short term hacks that boost sales in an effort to offset your ballooning overhead.
The inverse (too few employees) won't cause your company to crash and burn as quickly as overstaffing might, but it's still like death by a thousand cuts. Service suffers, employee morale declines and our ability to invest in the future is hindered by the necessity to avoid drowning in the workload.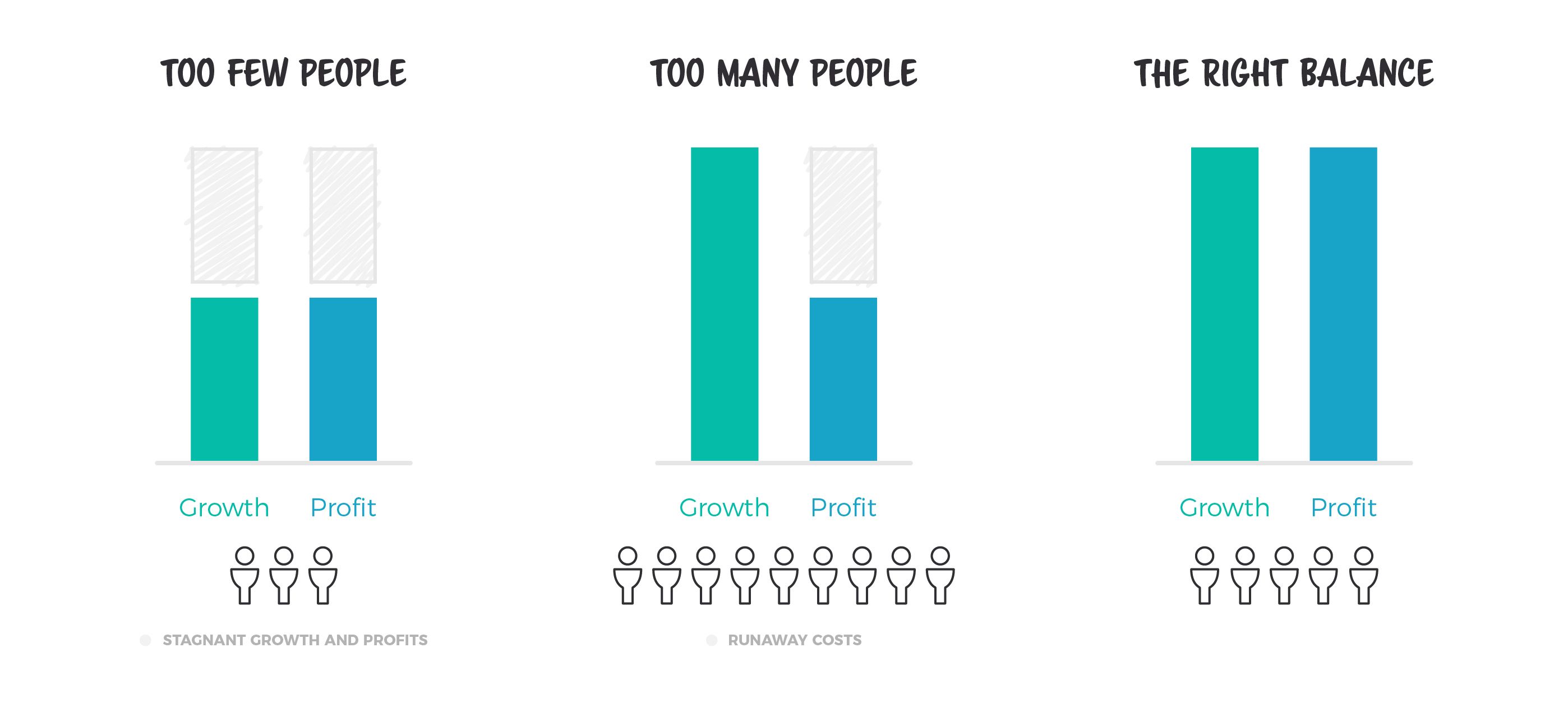 Before we get into how I personally think about hiring, I start by asking myself:
Can I significantly improve the output per head? Can I remove roadblocks? Can I revisit old procedures? Can I challenge the "thing we are already doing and why?
Once you've gone through that exercise, it can become obvious when you can't "tweak" the existing model anymore, you've tapped out your team and you need to start to hiring.
I started thinking about hiring through the lense of asking myself some simple questions:
What position is going to have the greatest impact on our ability to generate revenue right now?

When I hire this person, how long will it take me generate an ROI?

If this person is successful, will I need to hire more people to support the growth they create?
There are fringe cases where you can't draw a straight line from the new hire to new revenue. In this particular case, I think about creating an environment where they can still contribute to our growth in a direct way.

For example, by hiring this new person it is going to free up time or resources for someone else within the organization to grow their overall contribution.

After going through this basic exercise I have reached a much higher level of confidence in not only whether I should hire someone but also, who I should I hire next.
At Curaytor, we run a simple business. We need to bring in revenue (A) to cover more than our expenses (B) and the profits we're left with (C) are then used to grow our revenue (A) further.

We want to grow our A, minimize our B and put our C back to work so that we always grow our A.

As a founder I have a responsibility to our team to ensure they don't have to worry about job security due to our lack of foresight or mismanagement. It's a responsibility I don't take lightly.

Hire the right people at the right time. Then create an environment where they can do great work.
So far as I can tell, that's pretty much the job of a leader.