#WaterCooler Ep. 112: The Best Emails & Texts to Send Leads
The fortune is in the follow up, but only if the follow up is good. Crafting a great message can be difficult; that's why we're here to help. This episode covers how to create high quality emails and texts, with examples of real messages that WORK.
The 3 Bs of Email Marketing
Blasts - emails to your entire database
Bursts - emails to targeted groups
Bumps - emails to 1 person
The 3 Lead Stages
Hot
Warm
Cold
Cross-reference those two lists and your email calendar becomes much easier to fill out. "Today we're sending a blast to our whole database" or "Next week, let's send a burst about to our warm leads."
Inspiration
BuzzSumo.com is a great resource for finding content based on social media shares. Type in a keyword, subject, or news source to find articles relevant to your business, then create content that distills the information for your database in a unique way.
We created an email for our clients based around a CNN article about home values. It was one of our biggest hits.

Recently, we wrote a message about Zillow's Zestimates.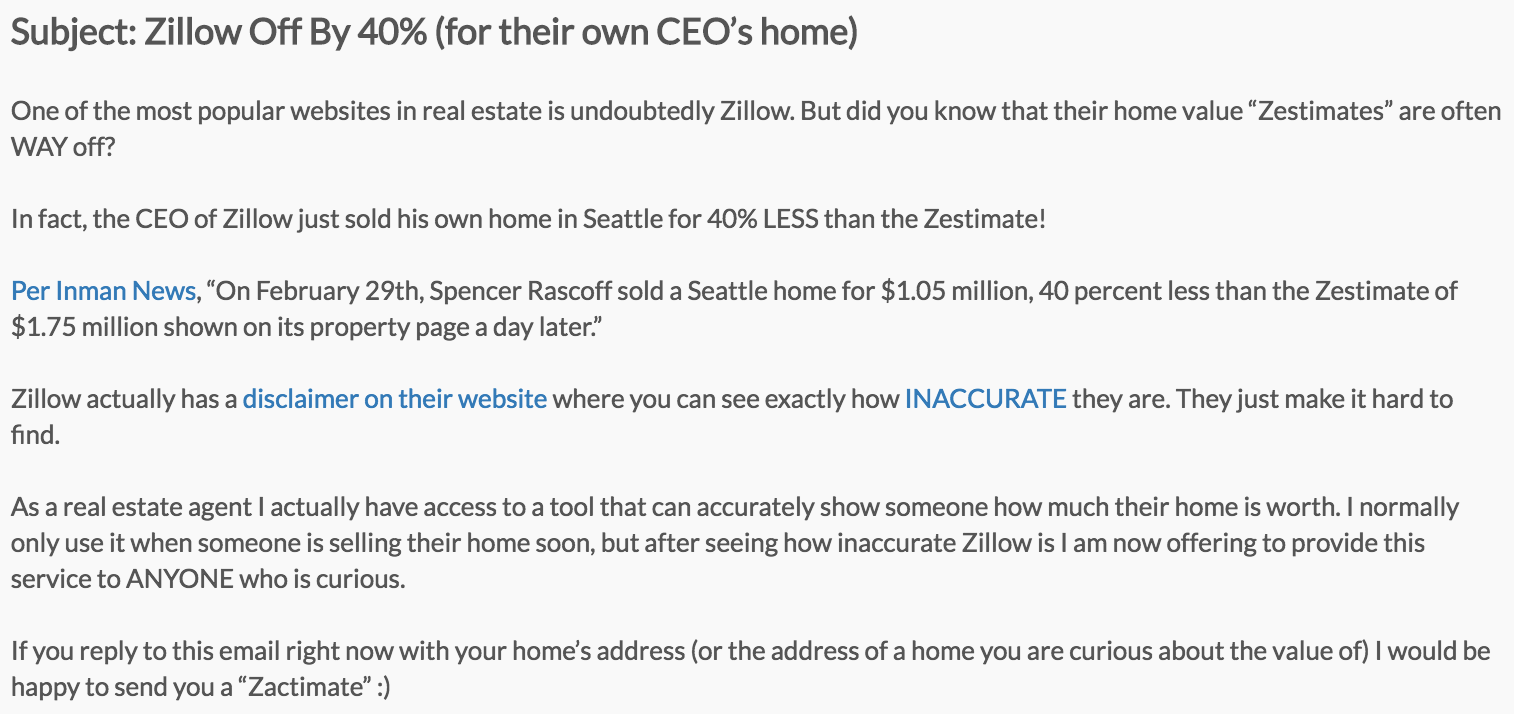 Frequency
We recommend sending more than once a month but no more than once a week. If you have enough interesting content to email your database multiple times a week, you might want to become a media company.
Consistency is key. Predictability goes a long way. We run a #WaterCooler almost every week. We've sent hundreds of emails to remind our database about our shows and webinars starting. Whether we're tremendously clever or write a bare-bones "#WaterCooler Starting Now" subject line, our open rate only ever varies by 3-5%. That's the power of consistent messaging from a trusted source.
Metrics
A 30% open rate is world class. But your open rate goes up as the size of your audience goes down. We send highly targeted messages to 400-800 people in our database and get open rates over 50%.
Other Emails
What's your favorite charity?
Send to: If you haven't ever emailed your list, send this to your whole database
"I was wondering what charity or charities you personally support. Our team is looking for different ways to give back to the community and I'd love to get some new ideas.
One of our favorites is _____, because _____. It's a great cause but we'd love to support others, as well."
I'm Taking You Off Our List
Send to: Anyone who hasn't opened an email from you in 18 months.
"We've been sending you messages for over a year and a half and you haven't opened our emails. We really hate bothering people, so we're taking you off our list unless you reply right now and let us know you still want to get real estate info."
Check Out These [City] [Features]
When you're thinking of sending your entire database an email about your new listing that has a great pool (or kitchen, dock, etc), don't send "Check out this home for sale with a..." That severely limits the level of engagement from all of the people in your database that aren't specifically looking to buy a home.
Instead of "Homes for Sale in Tampa with Pools" write "Check out these Tampa Bay pools"
Instead of "New Listing with a Beautiful Kitchen" write "Is this your dream kitchen?"
Instead of "Home for sale with mountain views" write "Check out these amazing mountain views"
The 9 Word Emails
Subject line: Quick Question
For buyers: Are you still buying a home soon?
For sellers: Are you selling your home soon?
For past clients and sphere: Can I buy you coffee this week?
No postscript. No call to action. No "Because we'd love to work with you and we're offering a special rate." None of that. Keep it simple. People will read and respond.
Bonus: Viewer Suggestion (Thanks Frank!)
What's your favorite food?
We're bringing a food truck to your neighborhood Tuesday night so you don't have to cook dinner. Come out and meet your neighbors! What's your favorite type of food?
The Ross Hardy "Bump" Strategy
Create a template for the SECOND you hang up the phone with a good lead. If the call goes well, you already know what the next steps are. It's important to have the follow-up ready with examples of your work, references, and links to some impressive stats about you.
We call this the "Post-Call Bump"
"Thank you so much for your time today. I really enjoyed our conversation. Here are what the next steps look like:
List
The
Next
Steps
I'm really looking forward to working with you."
It's that easy and it's a tremendously impactful message.