Kendall Caputo's 'Best Buys': an innovative strategy to incubate real estate buyer leads
Five years ago, buyer leads were slipping through Florida real estate broker-owner Kendall Caputo's fingers at a steady clip, as if swept away by a hurricane.
Caputo runs Flagler Coastal Properties, a 10-agent firm on Florida's north coast between Jacksonville and Daytona Beach. He and his wife operate as a real estate team within the firm, and buyers represent approximately half of the more than 100 transactions they're on track to complete this year.
Being Florida, many buyers were from out of town and early in their search. They'd show up for a day of house-hunting, then disappear only to wash ashore on another agent's beach when ready to buy, sometimes years later.
That was until 2010 when Caputo hit on an easy, engaging way to stay in touch with his buyer leads.
Every Sunday since then all of Caputo's buyers receive "Kendall's Best Buys," an email newsletter featuring a description of between three and five standout properties that hit the market that week and a link to them on his website.
The newsletter has a click-through rate nearly 30 times the industry average compared against email marketing platform MailChimp's benchmark data. Its unsubscribe rate is also roughly half the industry average. (Click-through rate refers to the percentage of email recipients who open mail and then click on a link in it).
Real estate brokers and agents have a growing number of ways to pull in buyer leads, but collecting them is only half the battle. Keeping leads engaged and wanting to reach out when they're ready to buy is where commissions are won and innovations like Caputo's become important.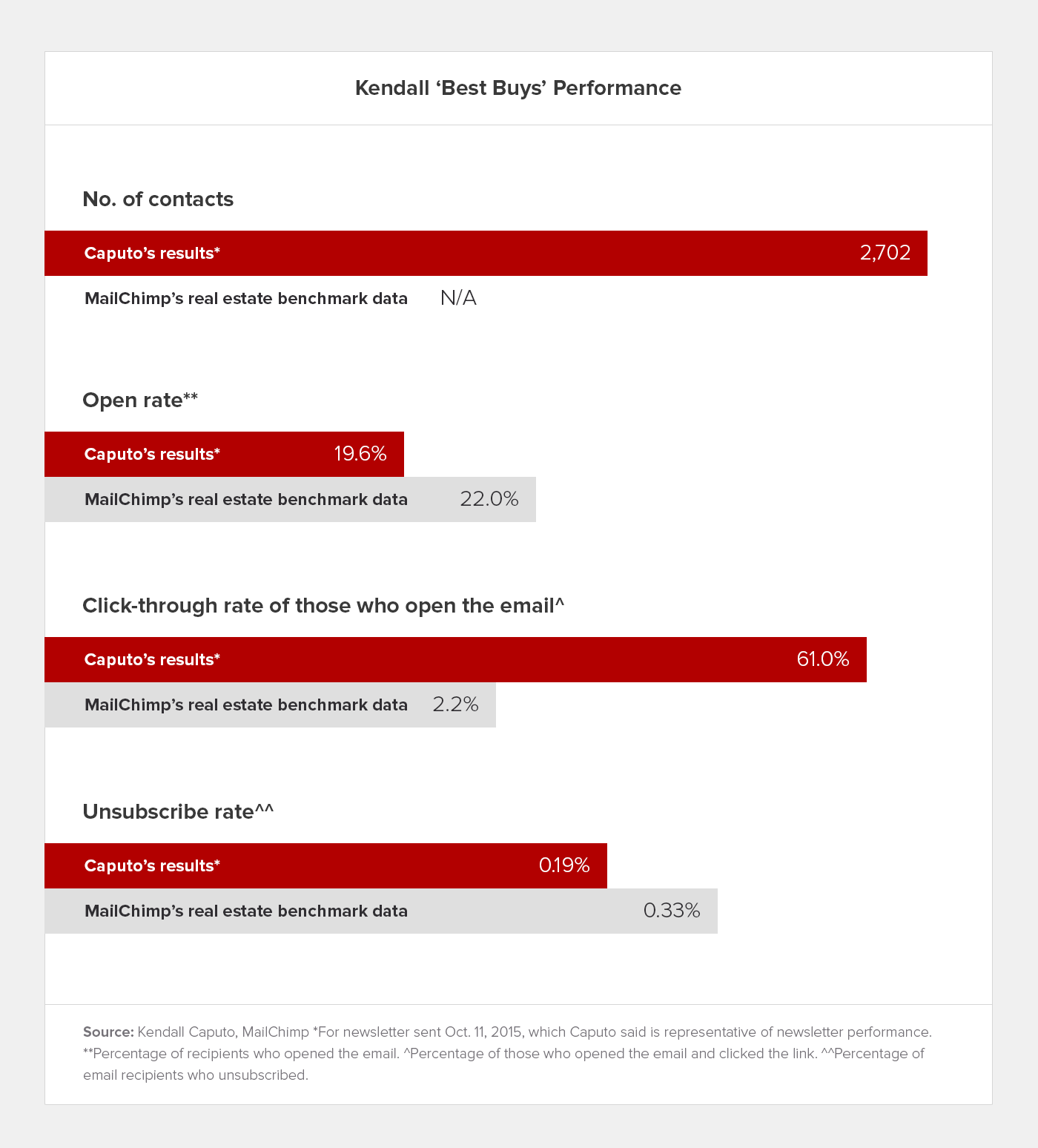 While Caputo's newsletter open rate is a few percentage points below MailChimp's real estate industry average, he pointed out that the portion of his database that opens the newsletter differs significantly each week. He estimates the engaged portion of his database to be closer to 40 percent.
Kendall's Best Buys
Every buyer lead Caputo ropes in -- from Facebook ads, Zillow, Trulia and realtor.com marketing and other sources -- goes on the email list. That means all of his buyer leads hear from him at least 52 times each year.
The list is growing at a healthy clip. The number of buyer contacts have jumped 25 percent to 2,702 since the beginning of the year, he said.
Not only is Caputo's buyer-lead incubation strategy effective, it's easy.
Every Sunday morning, he rolls out of bed, grabs coffee, heads upstairs to his computer in gym shorts and a T-shirt and begins crafting an email that will help land him more than 50 buyers this year.
If it takes him longer than 15 minutes, either the computer's acting up or he is, he said.
Caputo sends his newsletter through an integration Curaytor set up for him using the email marketing platform Happy Grasshopper. The same strategy could easily be used with similar platforms such as Mailchimp and Constant Contact.
Caputo chooses between three and five properties with exceptional photography for the newsletter, and typically includes one or more of his own listings. Although the email states that he inspects every property in person, he admits that's not always the case.
He makes sure to include a diverse set of properties -- different locations, price points and home styles.
The variety prompts some recipients to reach out to him about what they're more interested in, giving him an opportunity to re-engage with them about where they are in their homebuying journey.
When buyers finally do reach out, they're fully baked, ready to transact.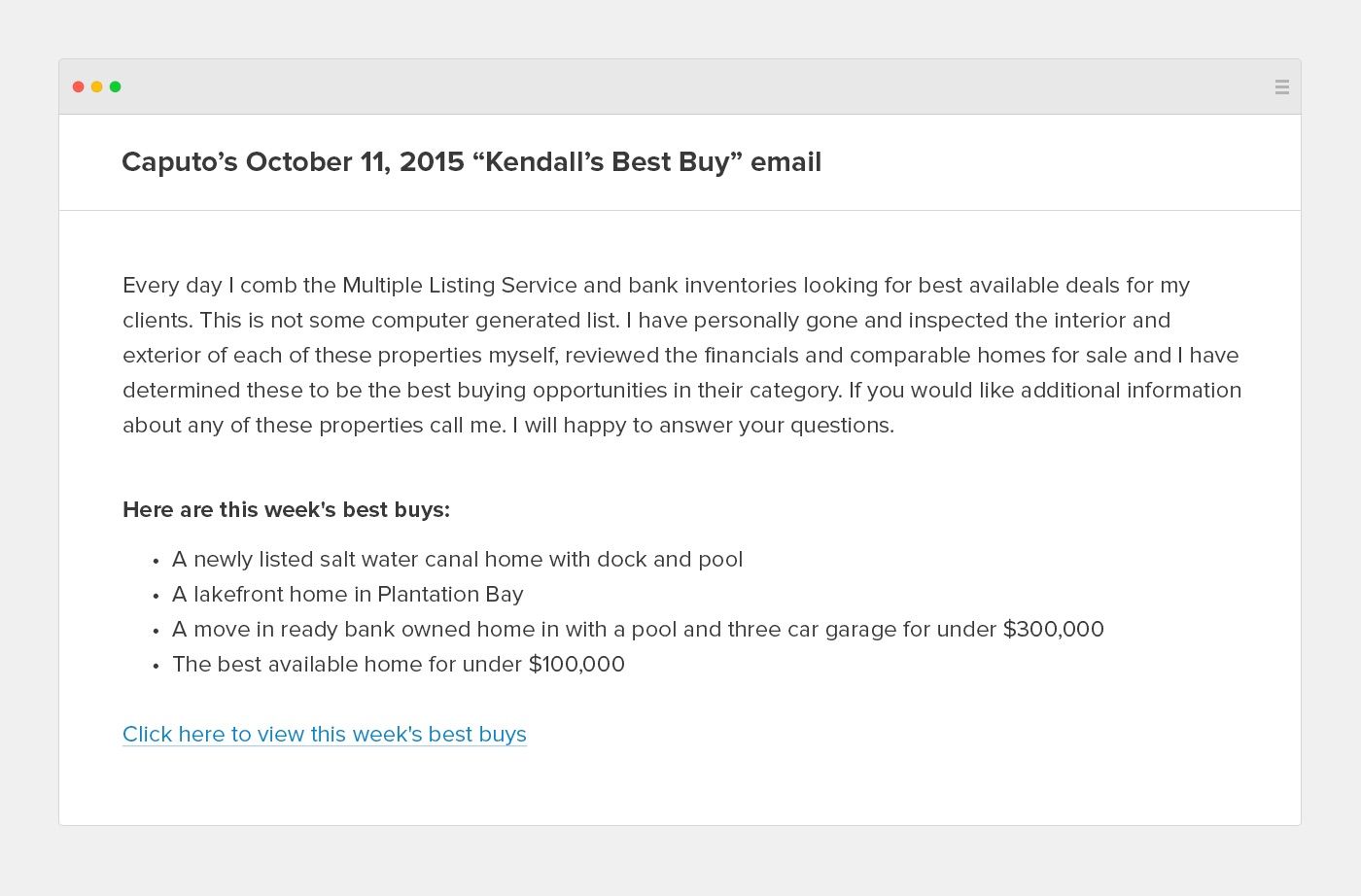 On the day we talked, October 13, Caputo had written a contract for an out-of-town buyer who had received his weekly emails for three years. He had never met her before.
She saw just one home and wrote a $170,000 offer on a $180,000 listing that day.
She appreciated the low-key way Caputo kept in touch with her with the newsletter, which enticed her to reach out to him when she was ready to buy. It's a representative experience for his buyers, Caputo said.
**Disclaimer: Kendall Caputo is a Curaytor client.
About the Author: Paul Hagey, founder of HageyMedia, is a journalist and real estate content strategist. He was a staff writer at the premier residential real estate news publication Inman News for four years.