Is Instagram real estate's next powerful advertising channel?
The Las Vegas real estate team Joe Taylor Group is a lead-generation powerhouse, thanks to a polished $2,000-per-month Facebook advertising strategy.
The 14-agent group generates between 500 and 600 leads each month, and it's beginning to sprinkle in leads from Facebook's fast-growing younger brother, Instagram, which opened up its ad platform to smaller advertisers in September.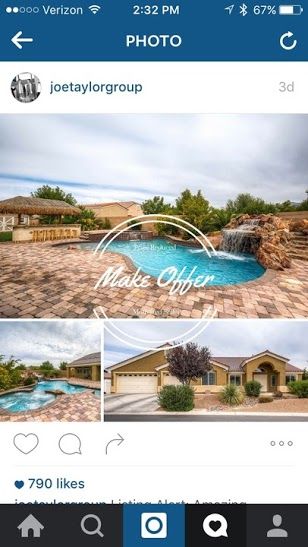 Joe Taylor Group ran the above Instagram ad (its first) in September targeted to Las Vegas residents ages 20 to 65. It generated 11 leads.

Facebook acquired the mobile-centric, photo- and video-sharing app in 2012 for $1 billion, and began allowing bigger brands to advertise on the platform in late 2013 through a sales rep. It recently opened up its self-service backend ad platform to the fast-growing app.
Now smaller players, such as real estate brokers, teams and agents, can create ads for Instagram's 400 million worldwide users that will show up among the photos and videos that stream through their feeds. As on Facebook, advertisers can target specific demographics on the app.
The early tests were positive and founding partner Joe Herrera says they will continue to explore advertising on the platform (Curaytor has also seen promise from its early tests; more on that below.)
If it grows up to be anything like its older sibling, Instagram could join Facebook as a significant real estate lead generation channel.
Although it's open to all advertisers now, Instagram's ad platform is still immensely complicated and must be accessed through Facebook's Power Editor, but that will change before the year's up when users get access to the social media giant's much more user-friendly ad platform, "Ad Manager."
"That's when it really scales up," said Curaytor's digital marketing guru John Mackin.
Instagram + audience
Instagram has doubled its user base since 2012. It's most popular among younger users, notably millennials.
It's second only to Facebook in popularity among Americans aged 18 - 29, according to a Pew Research Center social media demographic study earlier this year that also looked at Pinterest, Twitter and LinkedIn.
Instagram users also exhibit a high level of engagement; only Facebook has a higher percentage of daily users, the study showed. This presages similar success that Facebook has seen.
Comparing Social media networks, 2015
| | | | | | |
| --- | --- | --- | --- | --- | --- |
| Network | % of U.S. users (ages 18-29) | % of U.S. users (ages 30-49) | % of U.S. users (ages 50-64) | % of U.S. users w annual income over $75K | Percent of users who go on daily |
| Facebook | 82% | 79% | 64% | 78% | 70% |
| Instagram | 55% | 28% | 11% | 26% | 59% |
| Pinterest | 37% | 36% | 24% | 30% | 27% |
| Twitter | 32% | 29% | 13% | 26% | 38% |
| LinkedIn | 22% | 32% | 26% | 41% | 22% |
Source: Pew Research Center
Given the demographics of Instagram's current user base, the ad platform might be best suited for reaching first-time homebuyers, brand exposure, and cultivating future clients.
Joe Taylor Group's test
Joe Taylor Group generated 15 leads from the brief two-day Instagram ad tests it ran in October for a total of $150. Based on the leads' high quality, the team will continue to experiment with them.
"Time will tell if it gives a return on investment," Herrera said.
Curaytor's Mackin coached him through the tangled process. Herrera feels he can do it himself now, but he acknowledges it's challenging to get a handle on. (A one-hour tutorial with Mackin left this writer's head spinning.)
As with Facebook, advertisers can target their Instagram ads to specific demographics such as age and location. Herrera targeted Las Vegas residents, ages 20 through 65, in his first ad.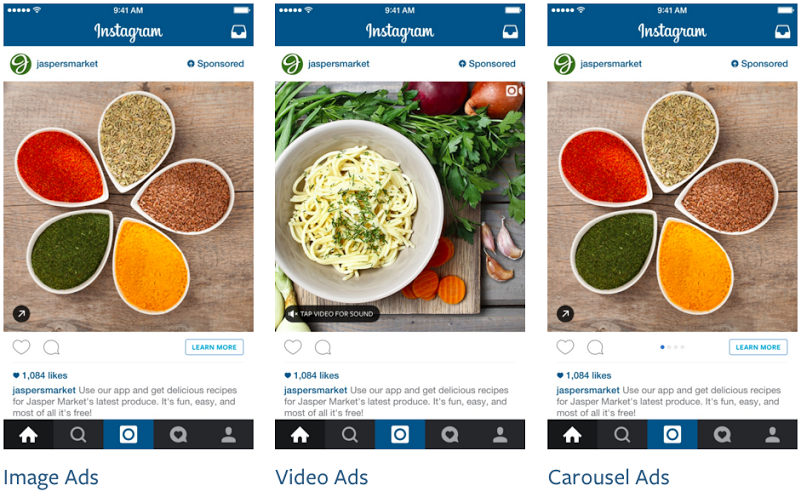 Instagram advertisers can choose from three ad formats: image, video (up to 30 seconds), and carousel (multiple images)
Smaller advertisers can set three goals for their ads now: drive traffic to a website, prompt app downloads, and elicit video views.
While primarily viewing it as a test, Joe Taylor Group wanted to drive traffic to its website and capture leads with its full-registration Curaytor system using the ad, as they do on Facebook.
The ads' exposure per dollar spent was on par with Facebook's, Herrera said. He added that the ads generated fewer leads than a comparable Facebook ad would, but the leads that did come through were higher quality.
Herrera feels fairly confident that Instagram ads can pay for themselves.
Herrera lamented that his ads, which saw a lot of engagement, aren't as easy to find on his business's Instagram page, as his Facebook ads are on his Facebook business page.
Facebook has changed radically as it more fully incorporates ads into its user experience. It's safe to assume that Instagram's network will see an evolution too, so keep an eye out for Herrera's suggestion and other adjustments.
Mackin has already noticed Instagram ad platform tweaks frequently, for example.
Delving into Instagram ads
Curaytor first tested Instagram ads in mid-September. The results suggest that Instagram ads will be a major force in real estate marketing.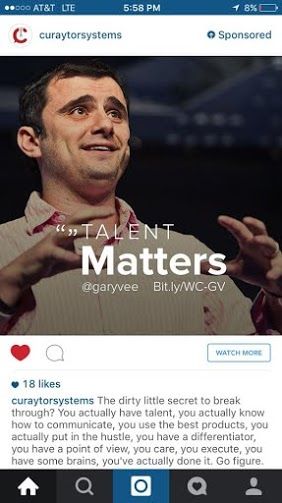 Curaytor's first Instagram ad test generated 107 likes, 10 comments, and 93 clicks. John Mackin, the firm's digital marketing guru, called it a success that warrants further testing
Curaytor spent $119.54 on its first Instagram ad over the seven-day test period. It generated 93 clicks to the link associated with the ad -- a Curaytor blog post featuring Gary Vaynerchuck on their #WaterCooler web show.
Like Joe Taylor Group, its goal was more to test out the ad platform. Secondarily, it was more interested in branding and interaction than clicks in this one, Mackin said.
Facebook requires a specific format for Instagram ads, Mackin pointed out. Text is limited to 300 characters, can cover a max of 20 percent of the image and can't include a logo.
Instagram's audience is smaller than Facebook's. Before applying any demographic filters, Curaytor had the potential to reach 35 million U.S. users, as compared to 190 million for a Facebook ad.
For the ad, Curaytor targeted its most engaged audience -- those in its email database, measuring approximately 4,000.
The results were promising.
Of the 4,000 targeted, the ad passed through 3,042 Instagram users' feeds.
In addition, Facebook gave the ad a relevancy score of 9, on a 1-to-10 scale, 10 being the most "relevant." The relevancy score measures how engaging Facebook determined the ad was based on a number of factors, such as likes, shares, comments and clickthroughs.
Mackin was extremely pleased with the 9 score, one of the key markers he looks at when determining whether a Facebook ad performed well.
The ad received 93 website clicks at a rate of $1.29 per click, which Mackin said was a good start, though that is higher than the cost per click Curaytor sees on its Facebook ads.
Curaytor plans to continue running Instagram ads, Mackin said.
Ultimately, it will look to generate website visits, capture leads and convert them into closings, the true litmus of all successful marketing.
About the Author: Paul Hagey, founder of HageyMedia, is a journalist and real estate content strategist. He was a staff writer at the premier residential real estate news publication Inman News for four years.