Introducing Curaytor Magic Moments: The Smartest Lead Conversion Tool in Real Estate
Curaytor salesman Neal Mitchell, aka "Neal the Deal," had the best month of his five-year sales career in September. Until October, when he broke his record again.
He attributes his success to Magic Moments, a new lead-conversion feature Curaytor rolled out internally in August and to all of its clients in October.
Magic Moments create the ultimate hot list helping to send conversion rates skyward. "It helps salespeople call the people who matter the most at the moment that matters the most," Curaytor co-founder Chris Smith explained.
The feature reflects a simple lead-conversion formula developed by Curaytor, built around the idea that contacts are most interested in a call, and amenable to a close, the moment they engage with your website.
The feature ties in with the powerful customer relationship management platform baked into Curaytor's tech suite, Follow Up Boss. A Magic Moment occurs when contacts tagged by a salesperson with one of the following "stages" visits a Curaytor client's website:
Hot

Pending (leads who have a contract in hand)

Closed

Past clients

SOI, sphere of influence
Magic Moments are triggered in three ways:
by contacts' "Stage," whether Hot, Pending, Closed, Past Client or Sphere -- if they return to the site
by the contacts' behavior -- whether they engaged with the site deeply or often
or by clicking a "Magic Link," a special URL Curaytor clients can build.
To see the magic moment feature up close, schedule a demo with Curaytor here.
The magic behind Magic Moments
The sales journey is a convoluted, lengthy one (see the "typical" journey of a sale below, for example). For databases that stretch into the hundreds and thousands, this can make follow-up immensely complex and leave engaged leads ignored.
Magic Moments solves this.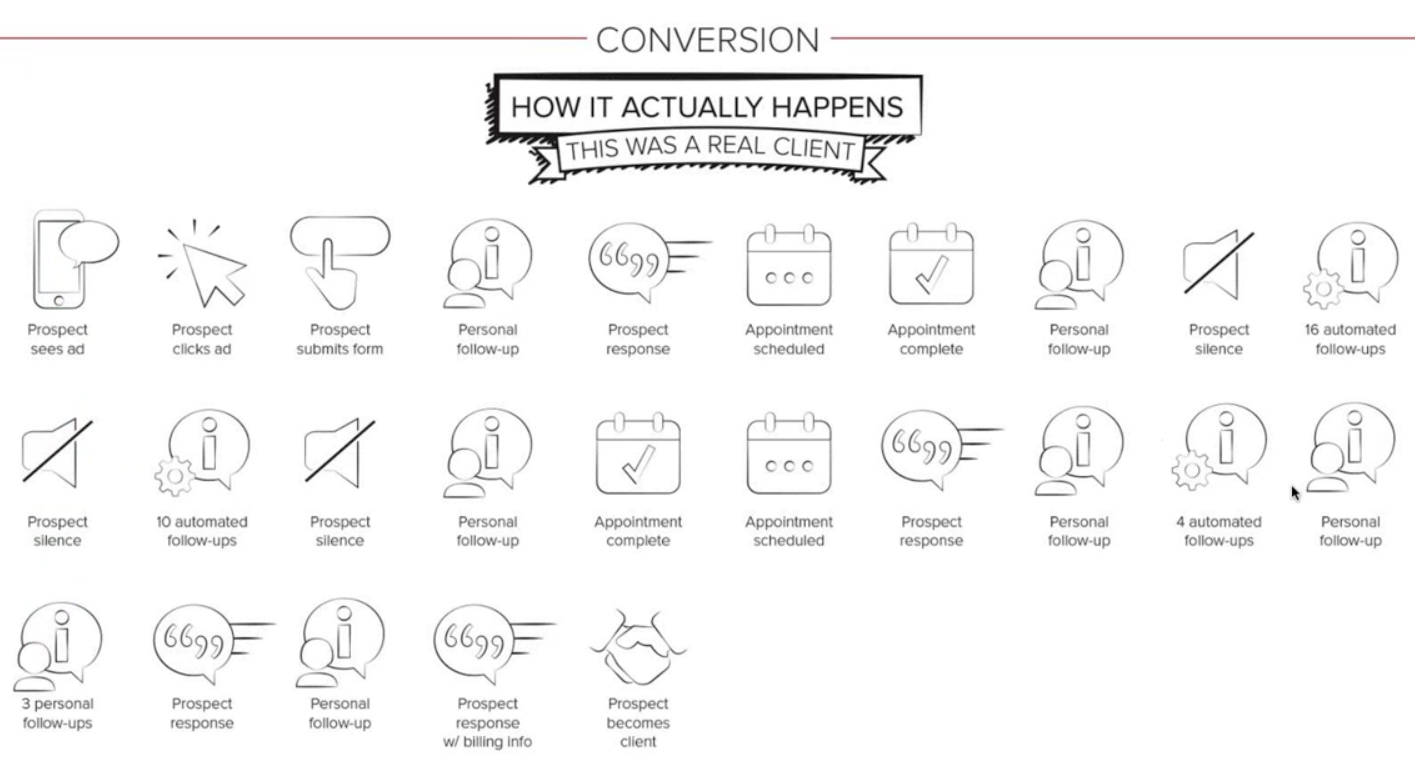 The typical sales journey is long and complicated. Magic Moments simplifies this, ensuring all engaged contacts receive attention when they indicate they're most ready for it.
Any contact can also trigger a Magic Moment when their behavior indicates they're a serious lead.
The following actions by contacts will activate the feature:
If they visit three or more pages on the website in one session.

If they visit three or more pages on the website in a 30-day period.
To see all the contacts who triggered a Magic Moment, agents go to their Follow Up Boss backend where all their activity is tracked.
Curaytor clients can also receive Magic Moment notifications in real time, by choosing to receive push notifications (through a mobile app or on desktop) from the popular team-messaging app Slack, thanks to an integration Curaytor developed with the platform.

Magic Moments show how contacts have interacted with the site, the pages they visited and when, which helps a salesperson assess their interest and craft winning talking points.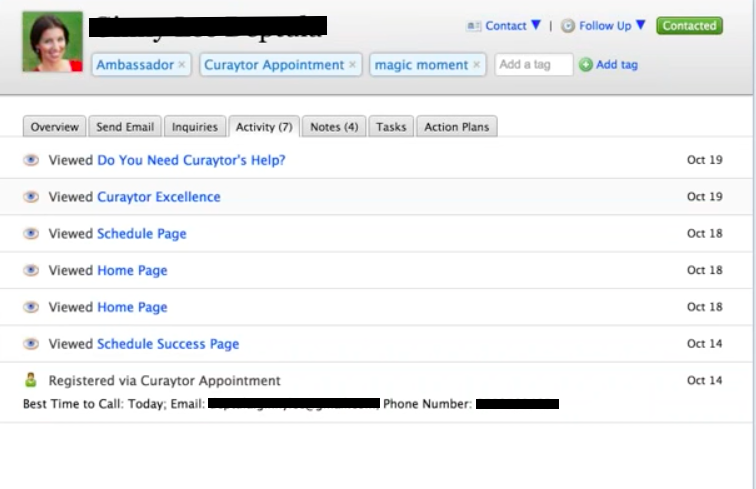 Magic Moments highlight how contacts interacted with the site and when.
Magic Links
Curaytor clients can modify the URL of any page on their website to activate a magic moment alert for any lead or contact who clicks on that link. They can use the link in email marketing campaigns, retargeting, Facebook Ads and more.
A Magic Moment is triggered when a contact in a client's database clicks the link.
Curaytor clients can turn any page on their website into a magic link by appending "/magic" to the page's URL. At that point, the site requests three pieces of information (see an example here):
to identify where the link will be broadcast -- Facebook, Twitter, LinkedIn, Retargeting, Email or website

to name the campaign

to choose the type of access they want for the content (email only registration, full registration or no registration required)
Follow Up Boss tracks the Magic Moments generated for each specific magic link. This helps Curaytor clients automatically and efficiently track the performance of specific marketing campaigns.
Magic Moments in Action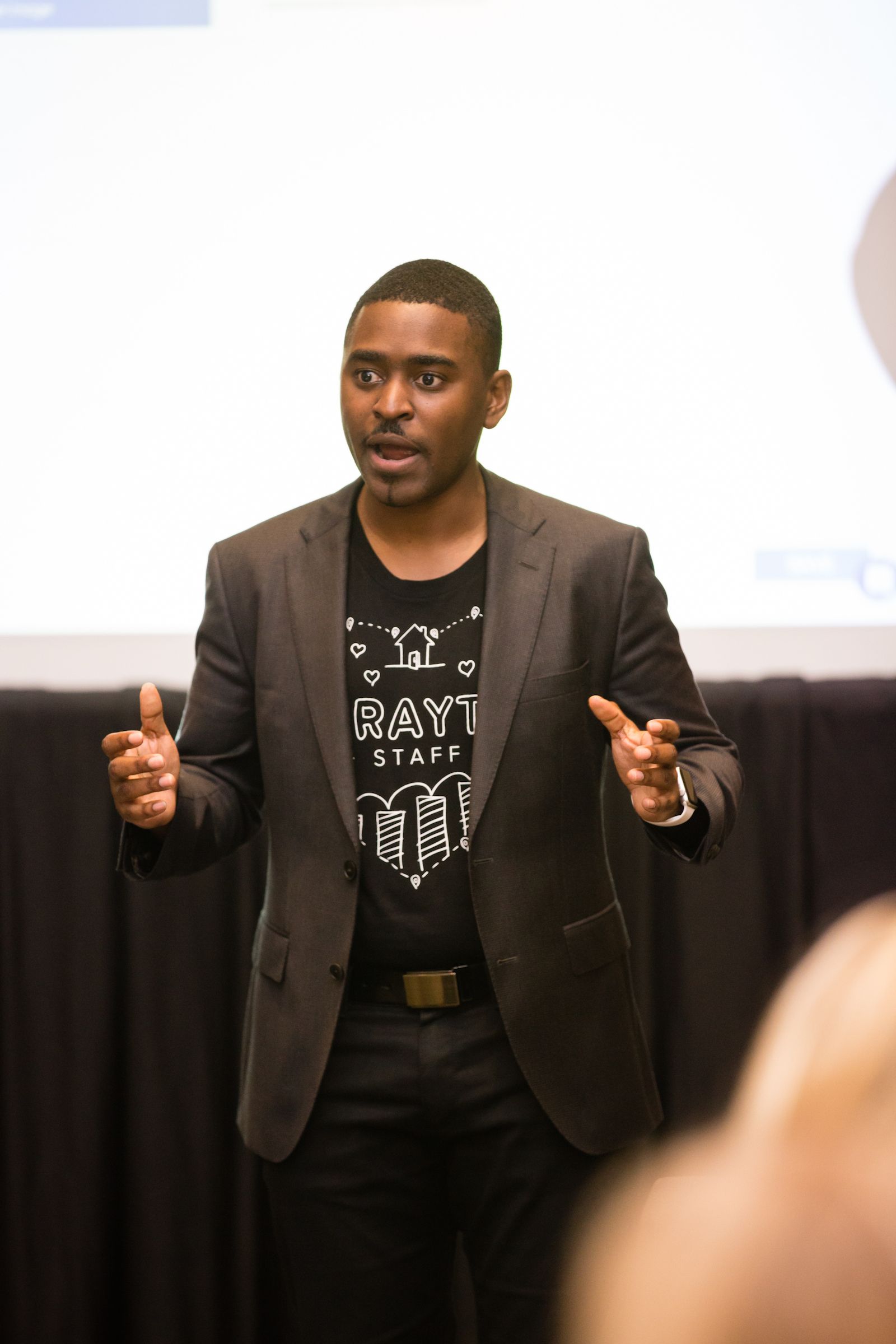 Curaytor sales maestro Neal Mitchell shared how Magic Moments helped him achieve the best month of his sales career.
The prospect was cold, that much was clear. After Mitchell ran her through a Curaytor demo in late August, she told him that her franchisor, RE/MAX, offered comparable technology, and that she wasn't interested.
Mitchell shifted her to the "not interested" side of his sales mind.
But then on October 17th, she visited Curaytor's site again: she looked at the site menu, the client success page, the schedule page for Curaytor's recent annual conference, Curaytor Excellence, and the blog roll. These activities triggered a Magic Moment for Mitchell.
Mitchell demoed her again on October 18th and closed her the next day, with a signed contract that was paid in full!
"I had given up on her," Mitchell said. Without the Magic Moment alert, she likely wouldn't be a Curaytor client today.
Mitchell's sales performance has skyrocketed with the feature. Since the release of Magic Moments in August, Mitchell has had back-to-back months setting new highs for his five-year sales career. He attributed the success, in large part, to Magic Moments. It helped him:
Increase his conversion rate by 20 percent

Double the percentage of deals he closed on the first call, from 15 percent to 30 percent. (Since he catches leads at the right time with Magic Moments, they're more ready to sign on the dotted line and pay up right then)

Roughly doubled the percentage of deals he closes within 48 hours of initial contact, from 30 percent to approximately 60 percent.
Before Magic Moments, Mitchell would focus on new leads and guess about which others to focus on. Now he has a living list of who will be most receptive to his call -- the results speak for themselves.
Curaytor's real estate clients now also have access to Magic Moments and they equally love the feature and are getting big results. Within days of the announcement here was some of their early feedback:



To see the magic moment feature up close, schedule a demo with Curaytor here.