How we are going to triple our revenue (and profits) in 2016
"...it's easy to double, but it's very hard to quadruple every year. " - Eric Schmidt, CEO of Google.
Our plan is to triple our revenue (and profits) in 2016.
It might not be "very hard" but it certainly is going to be hard enough.
If you're reading this now, you might have similar aspirations of huge growth this year.
I am going to share with you how we think about growth at Curaytor.
We call this our Growth Framework.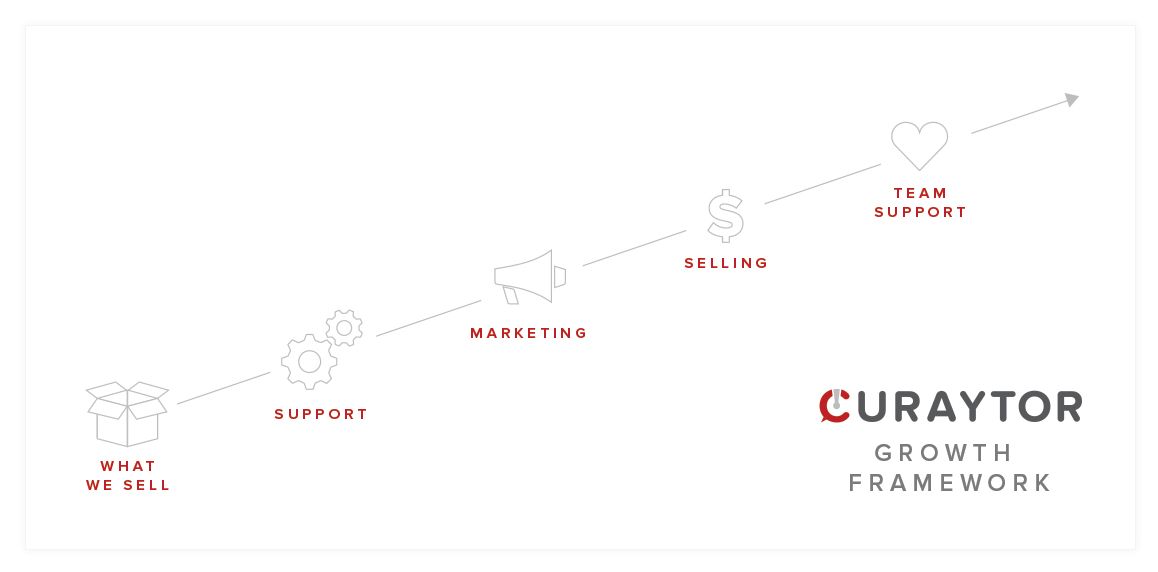 There are 5 distinct areas that we are going to focus on to make our goals a reality.
What we sell.
Supporting what we sell.
Marketing what we sell.
Selling what we sell.
Supporting the people who build, support, market and sell what we sell.
Product/Service
Self-delusion is rampant in this space.
Great entrepreneurs have a healthy dose of paranoia and self doubt.
It takes guts to admit that your product/service has holes in it. It's natural for entrepreneurs to bury their feelings of self-doubt with overconfidence and zeal.
Take this opportunity to define what your customers already love about your product or service and invest all of your resources and energies into improving that.
Check your delusions at the door, be your toughest critic -- your customers deserve nothing but your absolute best.
Support
Supporting customers boils down to one thing and one thing only -- meeting expectations.
We've been taught to under-promise and over deliver.
Whoever said that never had to sell anything. It's bad and dangerous advice. It sets unrealistic expectations and doesn't account for the fact to sell something, you have to make a promise!
BMW doesn't advertise their cars as, "The Average Driving Machine".
Nor do they try to exceed their brand promise.
They simply make a promise and try to deliver on it.
That's it.
What's lost on most entrepreneurs is that we actually have the power to set the expectations.
Take this opportunity to revisit the expectations you set with your customers at every stage of the sale and support cycle then figure out where you're falling short.
Improve upon this and unlock huge potential growth in happy customers spreading the word about a company that actually does what they say.
Marketing
For the sake of this post, I'm combining how you reach people and the message that's delivered under the umbrella of Marketing.
Marketing has one master, and that is sales.
Marketing's main function is to reach, educate and influence your customers into wanting to buy your product/service.
We are putting our resources into marketing that solves our customers problems and establishes Curaytor as THE expert in the service we sell.
Bad marketing makes claims.
Good marketing proves it.
It's that simple.
Selling
At the beginning of the year, I posted my personal goals for 2016 in our SLACK channel.
Here's how my co-founder (our head of sales) reacted...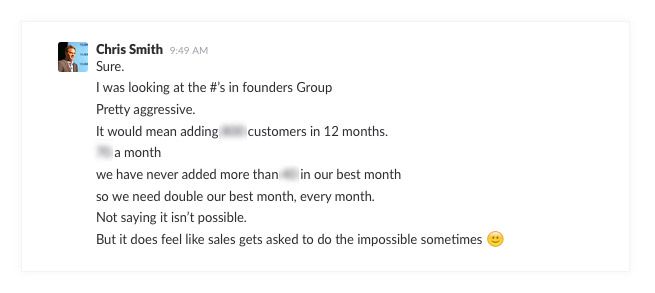 2 days later, he outlines his game plan: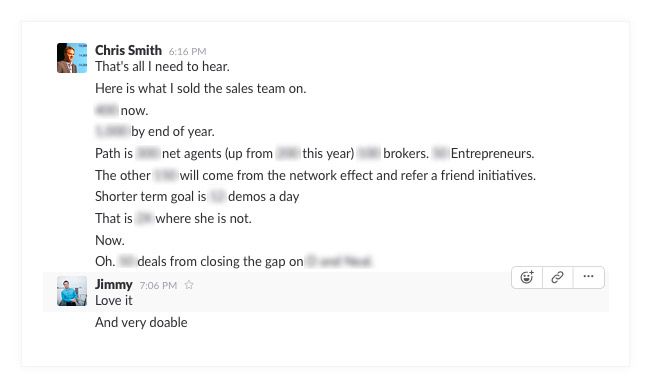 I have unwavering confidence in my co-founders ability to get the job done.
You'll notice how he takes a seemingly impossible goal, internalizes it and then breaks it down into small, doable steps to help us achieve it.
He calls it "reducing it to the ridiculous".
It's the mark of a great salesperson and great entrepreneur. The goal is set and the roadmap is drawn.
Time to get to work.
People
When you start a business, it's all about you.
You want the world to know who you are, you want your customers to love you, you want to be the go-to resource for everything that's needed to get the job done.
It's hard to let that go.
You convince yourself that "nobody can do the job as good as you", so you hold on too long.
Your team and your customers become dependent on you. You get stretched too thin and end up creating an environment of order takers.
Everyone is waiting on you to tell them what to do and when to do it.
Growth slows and the business suffers.
I'm no expert on management, but some things are self-evident.
It's not enough to hire great people.
You have to empower them to be better than you.
"Your employees come first. And if you treat your employees right, guess what? Your customers come back, and that makes your shareholders happy. Start with employees and the rest follows from that." - Herb Kelleher, co-founder of Southwest Airlines
---
Conclusion
I once believed in the ideology that "sales solves all problems", but what I've come to learn is that strong sales can actually mask real problems within a growing organization.
Meaningful improvements to what you sell, supporting what you sell, marketing what you sell, selling what you selling and supporting the people who build, support, market and sell what you sell is how we plan to triple this year.
Sustained growth is the responsibility of the entire organization.