How a top RE/MAX agent is using YouTube to strengthen her brand in a competitive luxury market
As marketers, many real estate agents -- and all Seth Godin fans -- know purple cows stand out from life's predictable pastures. They also know any unusual color will do.
Real estate agent Judy Weiniger, who runs the two-agent RE/MAX team Weiniger Group in Central New Jersey, found her shade with video, a medium that conveys hues more vividly than any other.
In 2015, the team completed 28 sides for a sales volume of $20 million.
"Video's not about ROI, but about transparency with your community," Weiniger said.
Over the last four years, Weiniger's video strategy has helped her rack up nearly 45,000 video views and 177 subscribers on YouTube (and many more views on Facebook).
But her video investment is not about numbers. It's about building her brand and the deep, organic dreams of the best marketers: value, meaning and trust.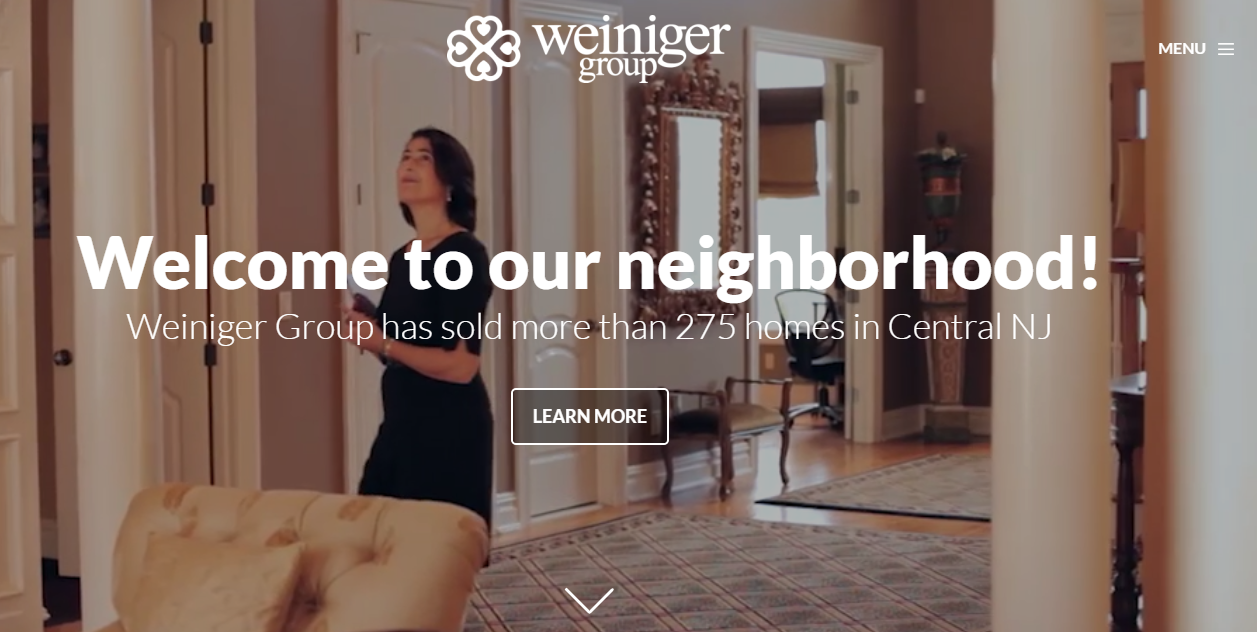 Weiniger has immersed her brand with video. It's the first thing visitors see on her Curaytor website.
Weiniger's video strategy is a long-term branding play, borne from a genuine love for her community, a desire to profile its shining stars, and to connect authentically with potential clients.
"It makes me feel like I'm giving back to my community," Weiniger said of the 17 professionally-shot and -edited business and community profile videos she has produced in her core market of Warren, New Jersey.
Local business owners work hard everyday and care about what they're doing, and giving back by celebrating them with video profiles feels good, she added.
One of the 17 local videos Judy Weiniger has produced.
Branded to the Weiniger Group with intro and outro bumpers, the videos also help prove her team's local commitment and expertise.

Weiniger has also done a series of buyer-focused Q&A videos in which she answers common real estate questions on camera. She hopes to come across as competent, approachable, friendly and knowledgable.
She targets her videos to buyers, primarily because she loves working with them. They represent approximately 40 percent of her business.
As real estate agents ponder ever new ways to stand out in their communities and create unique content that provides value and establishes trust, Weiniger's video effort shines a light on one promising path.
From 0 to 100, real quick
"I knew nothing four years ago," Weiniger said of video. Now it anchors her branding strategy and others turn to her as an expert. (Last October, she participated in a panel at Curaytor Excellence and then in January was on a panel in New York City at Inman Connect)
Weiniger was first inspired to do video at an early 2012 industry conference (Agent Reboot) emcee'd by Curaytor's own Chris Smith and another prominent real estate speaker, Katie Lance. They stressed that agents should use video if they want to become the go to referral source for their communities. She started soon shooting videos soon after the event.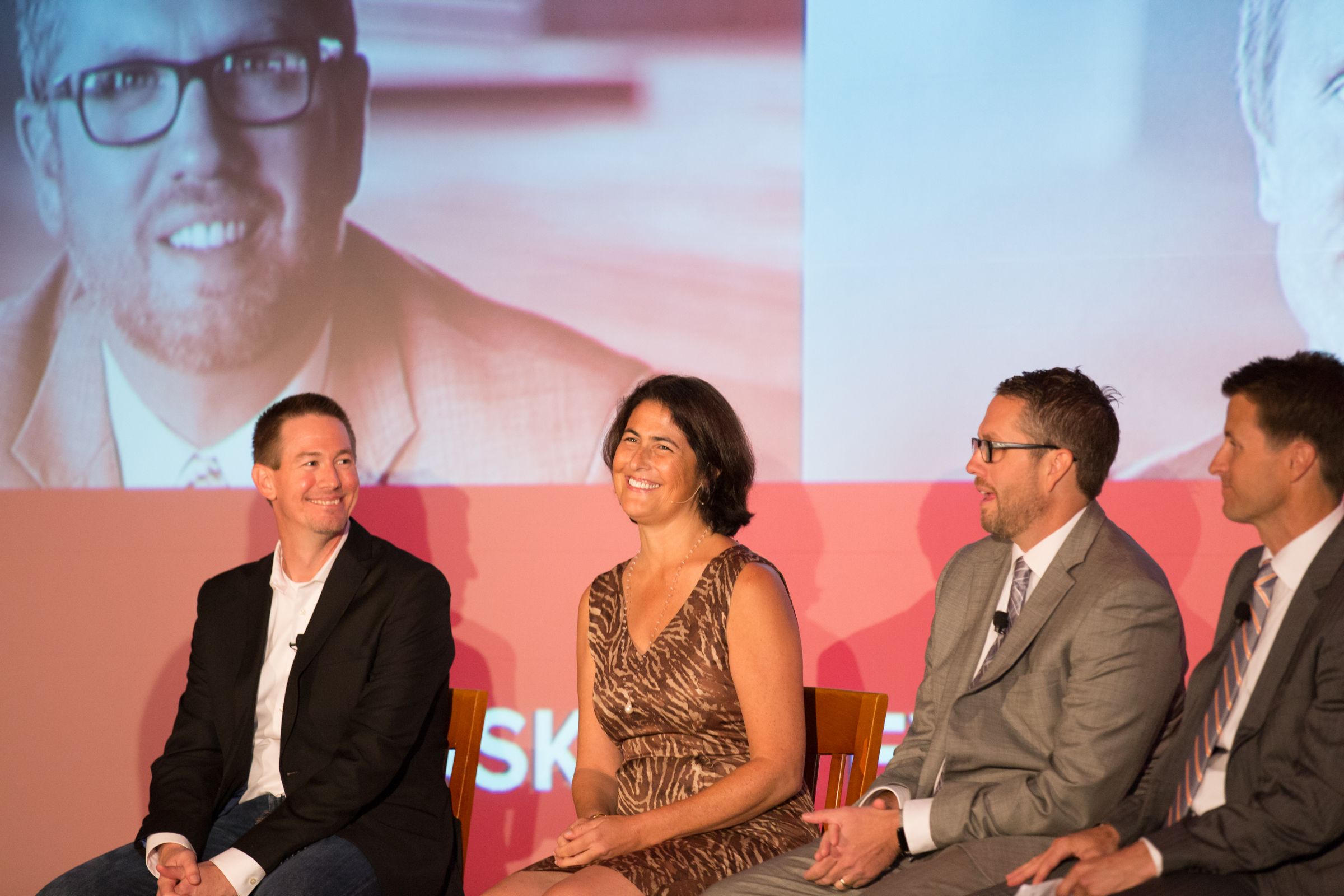 Weiniger was a featured guest at Curaytor Excellence 2015
Early on, she was inspired by prominent real estate team leader Sue Adler's community videos. Weiniger decided to adapt Adler's community focus into one that centered on her favorite businesses in her area.

Some of Weiniger's real estate video inspirations
Nonverbal communication and trust
The mannerisms, voice, body language and facial expression apparent in video all convey a person's character: confidence, trustworthiness, focus, demeanor.
"It shows who you are," Weiniger said.
So, she includes videos of herself giving homebuying advice in her video strategy, as uncomfortable as that originally made her feel.
Above all else, Weiniger strives for authenticity in her videos. It's one of the top tips she gives colleagues about building an effective video strategy.

Judy Weiniger's video tips
Don't worry about light and sound, especially in the beginning. Just do it.

Be authentic. If you're not into it or there are phony elements, viewers pick up on it right away.

Invest in a microphone. Sound is so important.

Hire a professional editor who adds music and splices the video together.

Hire a graphic designer to develop a branded intro and outro.
Evergreen content
Most of Weiniger's videos cover general subjects, so they remain relevant over a relatively long period of time. This allows her to wring more value out of her videos, which sometimes aren't cheap.
Their long shelf life allows Weiniger to promote them through various marketing channels, including Facebook, Instagram and her blog, months, and sometimes years, after they were initially published, because they remain fresh.
For example, she published a video profile of her favorite pizza joint, "Trattoria La Strada," in early January 2015. Later in the year, she published a blog post of her 14 favorite pizza spots in and around Warren. She named her pizza favorite No. 1, and embedded its video at the top of the post.
Weiniger distributes her evergreen video content on her team's social media accounts and blog
ROI
Weiniger admits the hard-number ROI is not yet there for her video strategy, but the investment rests on a bet that creating a valuable local presence will yield results for years to come.
The strategy is beginning to pull fruit from the money tree, however.
She has seen a jump in organic traffic to her website and an increase in new Internet leads who have already "met" her through one of her videos first.
In addition, her increased digital footprint has allowed her to cut back on her spend ad spend on Zillow, Trulia and realtor.com. She hopes to cultivate enough recurring leads from her unique, video content that she can leave those third-party lead generation sources by the roadside, as soon as this summer.
Leads that come from her videos carry more value than third-party leads, she said. Having seen her or seen her community video, they're warmer, primed to work with her, she said.
Weiniger says she's constantly debating how much to invest in cost-intensive marketing such as videos, having to decipher, like all savvy agents, the shifting chicken-and-egg dilemma of where to focus resources -- on sales or marketing.
The Future
Weiniger has plans to deploy her video strategy into 14 nearby markets she also works in.
"Each town has a unique flavor and we would love to be able to share that local insight with information-thirsty consumers," Weiniger said.
She will follow the same proven recipe: produce local videos, promote them, generate community goodwill, establish expertise, grow area digital presence, and watch her brand flourish.
She's looking to accompany her videos with more written content -- to provide visitors with deep, robust information only locals know.
In addition, she plans to do a beefed-up version of her Q&A videos, possibly including a format where she answers questions live. She also wants to target homebuyers earlier in their lifecycle.
"My goal is to fill in the gaps," Weiniger said of her video strategy. "I want to give them all sides to the story."