How a small brokerage is getting big results with a clever, custom map
A few miles east of Cape Fear River, where downtown Wilmington, North Carolina begins to thin out into residential and commercial shops, sits "Midtown," a region on the early side of vibrant growth.
The area's recent, diverse development -- including a 14-screen movie theater (in development), a Whole Foods and a new cross-city hike-and-bike trail -- has begun to take off, and its lack of clear boundaries increasingly surprised Stephanie Lanier.

So Lanier, a Curaytor client and owner of the 4-year-old brokerage Lanier Property Group headquartered in Midtown, decided to do something about it earlier this year by gathering area stakeholders together to collaborate on defining the region with a map.
"We kept waiting for someone to do it," Lanier said. When no one did, she decided to kickstart the effort to brand part of her city.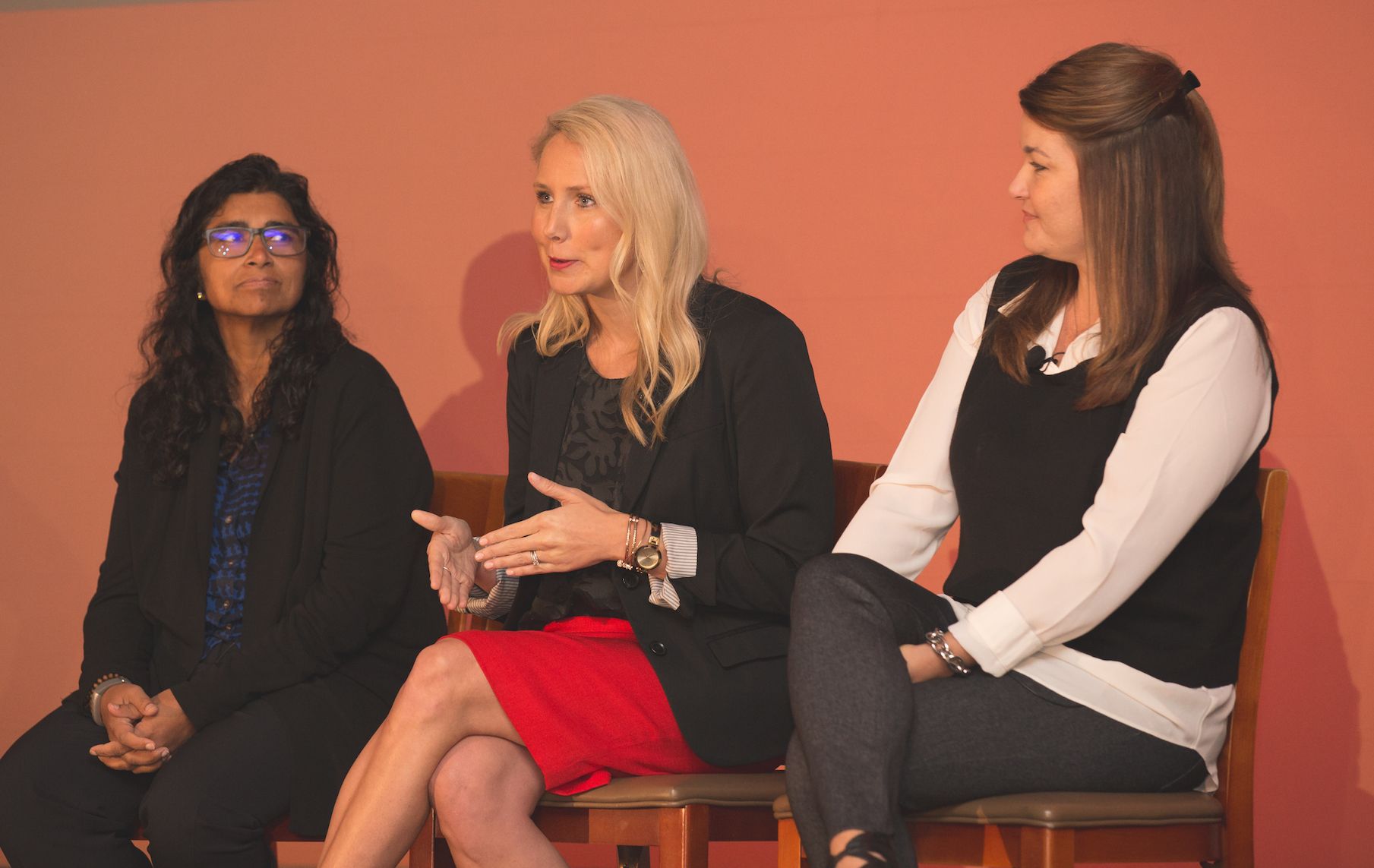 Influential local stakeholders are now on board, catapulting Lanier's young, 14-agent company into a community leadership role, lending her young firm valuable credibility.

This fall, the Greater Wilmington Business Journal named Lanier one of Wilmington's most intriguing people of 2015 for her effort to "put Midtown on the map." She even gave a TED-style talk to a roomful of the town's movers and shakers at a morning event in early December.
She couldn't pay for the exposure she got at the event, she said.
The branding play allows her firm to compete with big-buck companies and shows that a scrappy, small independent can make an outsized name for itself. It has genuine buzz, Lanier said.
The results of the innovative branding endeavor demonstrates the opportunity firms have at their fingertips if they keep their ears to the ground and their hearts open.
Process & timeline
"It's become bigger than we thought it would," Lanier said of the six-month-old endeavor.
Late last year, her brokerage wrote a blog post exploring the definition of Midtown.
But the trigger for the map project was a May 7 press release announcing a 14-screen theater planned for a development in the southwest section of Midtown, Lanier said.
She prepared herself from the project's outset with two potential outcomes. Worst case: nobody cares. Best case: the firm gets to play an integral role in something bigger.
In June, she hired a watercolorist to begin designing a map for the region, highlighting its boundaries and notable features, including the site of Lanier Property Group's headquarters, of course.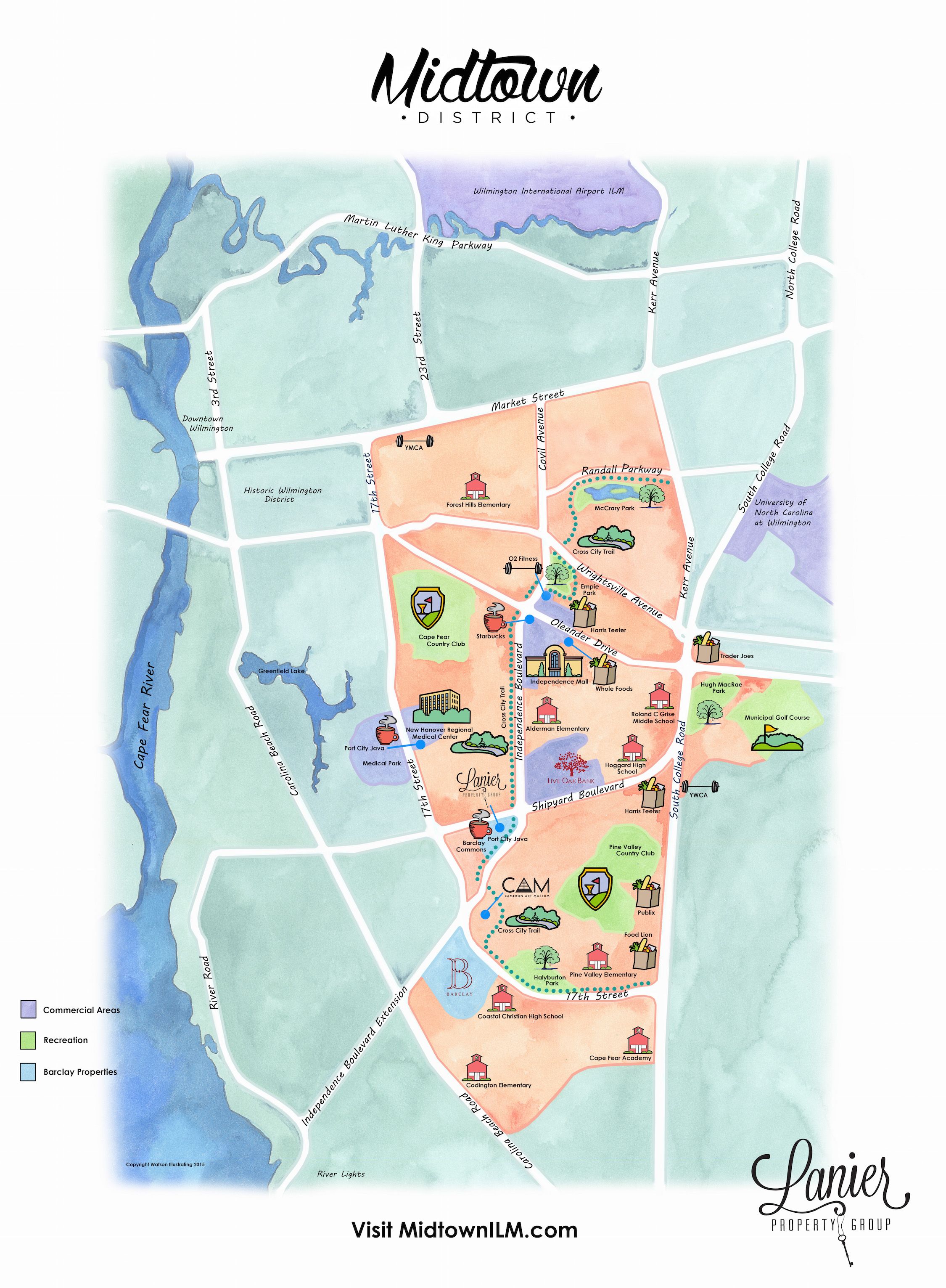 She started collecting feedback on boundaries during this time from some of the notable companies headquartered in the area including a medical center, an art museum, a commercial and residential development company, Cameron Management Inc., and the booming Live Oak Bank, which went public this year.
Lanier found herself in the office of Live Oak Bank's chief marketing officer one day. Their collaboration established an organic, local connection that they wouldn't otherwise have, Lanier said.
As with others, she told the marketing officer the map can be an effective talent-recruiting tool. And when those recruits need to buy a home, they just might remember the brokerage company that produced the hip map they checked out before taking the job.
Lanier's map has brought more awareness to Midtown, agreed Hill Rogers, Cameron Management's broker-in-charge, who's given input on its boundaries.
Since his group has development deals in the area, it immediately wanted to be a part of the effort, he said.
Midtown
The dynamic Midtown area is fueled by diversity.
You'll find homes in Midtown for as little as $150,000 and as much as $1 million or more, Lanier said. Those price points are as diverse as the residents, mix of businesses and neighborhoods, too, she added.
The area's also one of the few in Wilmington that has open space left for development, which makes its potential palpable, Lanier said.
The Midtown District map Lanier spearheaded measures approximately 12 square miles.
Successful branding = love
The inspiration for Lanier's branding move was organic, but she had tilled the soil before it sprouted.
At various conferences, she had been talking with notable real estate marketer, Seth Price, about how to create branded content that people would share.
Other than a logo, a map has great potential for becoming shareable content, Lanier concluded.
The Midtown situation presented the perfect opportunity to test her feeling.
Lanier said she's careful to hold the Midtown branding effort loosely, to keep it organic, community-oriented and true.
She wants the map to promote her brokerage's brand but not at the expense of authenticity, the genuine love she and her agents have for the area and the vibrant collaborative vibe it has built.
She's in it for the long haul.
The map is only the beginning of a project she sees running 10 years or longer.
What has all this cost so far? $1,200 and "tons of time," Lanier said.
What's next
Beginning in the new year, Lanier will help coordinate an informal "Midtown Meetup" of local businesses to plan an area 2016 events series. She's also working on coining a hashtag for the movement -- "#midtown" is chief in the running now.
Currently, only a few area landmarks -- businesses, schools, parks, coffee shops and grocery stores -- grace the map, but Lanier said she has received lots of interest from local businesses who want to be added to the map.
Lanier's considering charging a nominal fee for inclusion on the map, and then donating the proceeds to a charity that serves Midtown residents.
In addition, Lanier's looking to hire an interdisciplinary group of interns from the nearby University of North Carolina-Wilmington to produce a set of creative writing, film, communication studies and marketing materials to support the Midtown movement.
She anticipates that part of the project will kick off next school semester or during the summer term.
About the Author: Paul Hagey, founder of HageyMedia, is a journalist and real estate content strategist. He was a staff writer at the premier residential real estate news publication Inman News for four years.