How a new sales script doubled one broker's online lead conversion rate
What comes to mind when you think of sales scripts?
Before your eyes glaze over and you get a headache, consider the love Austin, Texas, broker Ryan Rodenbeck has for his.
Last September, Rodenbeck came across an Inside Sales webinar from Curaytor co-founder Chris Smith. In it, Smith outlined a new sales formula called The Conversion Code that merges a deep understanding of psychology with proven sales tactics.
Something clicked for Rodenbeck right away. He pored over the webinar recording, watching it seven times, and wrote out his own sales script to begin using it right away.
Within six months his eight-agent firm, Spyglass Realty, has nearly doubled its online lead conversion rate from approximately 1.5 percent to 2.5 percent. Ryan expects their conversion rate to cross 3% very soon.
Within six months Ryan Rodenbeck's eight-agent firm Spyglass Realty has nearly doubled its online conversion rate.
Smith developed the sales formula based on insights he gleaned from his decade-long career as a successful inside salesman and internet marketer. Published in March of 2016, The Conversion Code is now a USA Today and #1 Amazon Bestseller. The book was also recently featured by Forbes.
A scientific approach with a touch of art, the "code" outlines how internet marketers can quickly build genuine rapport, demonstrate value, take control of the conversation, uncover potential objections, build momentum to a close, and more, with online lead prospects over the phone.
As online leads proliferate in real estate with the rise of Facebook, Zillow, Redfin and other platforms built to generate business online, a smart process to close prospects will only become more critical moving forward.
The Conversion Code
Installing a well-thought-out sales formula like The Conversion Code can help agents and real estate teams bring home more of the low-hanging lead fruit, almost overnight.
Upping lead volume and building brand is a slow burn; they take lots of effort, time and money to improve. "Sales improvement can happen on the next call and everyone already has calls to make even if they don't generate online leads," Smith said.
The Conversion Code is designed to make the sales process more clear and efficient.
Elements include: the introduction, outlining how the agent can take control of the call; probing questions, assessing the lead's needs; the five yeses, building rapport and clarifying lead's real estate needs; "Feature, Benefit, Tie-down," affirming an agent's unique value; and the close.
Some of The Conversion Code Steps
Take control by asking the lead to "Grab a pen and paper."
Qualifying questions: Dig deep by always asking another question based on their answer to your first one to find what the prospect is truly looking for
Build trust -- Co-Branding and Share Powerful Stats ex. "We have 95 five star reviews on Yelp and sold 500 homes in the last two years"
Uncover objections. "Is there any reason we can't meet this week if I find some homes you agree you might love?"
The 5 Yeses -- Build rapport by reaffirming what the lead said during qualifying questions
Feature, Benefit, Tie-Down -- Showcases the expertise, unique services, and tools that will benefit the prospect. Most reps only sell features. Pros turn the corner and talk about the benifit to the buyer of that feature and then get them to agree it benefits THEM.
The Close. Using a transitioning closing statement like "Here's what happens next." when they are ready to close versus "So what do you think?" can instantly increase conversions. Smith also details techniques like the trial close and the slot close in his book.
All marketers know there's an arc to a sale. The Conversion Code isolates the critical points in the process and outlines how to execute the most effective messaging at each.
One of the process's inflection points is what Smith calls the "Feature, Benefit, Tie-down," where the agent explains a skill or system that's valuable to leads, clearly explains how it benefits them and then emphasizes the importance of working with agents who have those skills or systems.
For example, a feature can be the ability of an agent to write offers quickly while assuring quality due diligence. The benefit to prospects in this case is that they are in a better position to win a home in a competitive market. Then as part of the tie-down, the agent stresses the importance of having the ability to move quickly.
Other critical Conversion Code moments Smith mentioned include: the first minute of the call; the qualifying and digging deep questions; getting affirmation and building rapport with the five yeses; and recognizing when the prospect's ready for the close, then nailing it without trepidation.
Smith gives the analogy of an NFL game for those critical moments. When you're down by 6 at the end of the game and it's 4th and one from the goal, you want a proven play you've rehearsed which gives you the highest chance at success. You can't wing it during critical moments.
Don't call it a script
Online lead calls can bring to mind images of a phone dungeon and cheap pizza. Think The Wolf of Wall Street or Boiler Room
That's partly because many sales scripts are monotonous and dry (and why so few agents actually use them). That's how Rodenbeck described the four he had used before finding The Conversion Code.
They tended to be blunt and one-sided, which also made them extremely boring to execute, he said. Each call felt the same. He disliked them all.
The Conversion Code stands out.
"It's the difference between a sales script and an outline to break into a real conversation," Rodenbeck said.
Now his calls include more subtle messaging and more closely follow the contours of a real relationship.
In addition, the call remains interesting, because each one seems new, thanks to the focus being on each lead's needs and preferences.
Rodenbeck said he finds internet lead calls fun now, particularly because he knows he has a greater chance of winning business.
Getting buy-in from agents
Every broker and team leader knows it's hard to get agents to adopt anything, much less a sales script.
But The Conversion Code's intuitive structure and clear utility facilitated buy-in from Rodenbeck's agents. Six of his eight agents now use the process and are seeing results.
He coaches agents up at call nights one to two times each month to ensure that agents are using the system properly.
The Conversion Code in practice
To get a feel for the formula and its effectiveness, I asked Rodenbeck to try it out on me.
I pretended to be an out-of-town buyer looking for a home in Austin's Barton Hills neighborhood, one of my favorites in the city (author's note: Austin is my hometown).
Barton Hills in Austin, TX
Rodenbeck took control of the conversation right away. He asked me to grab a pen and paper to take some notes, as he would be giving me some information that might be good to take down.
Then he repeated his name, firm, and phone number, which I appreciated as a pseudo-lead. It solidified who I was talking to and I felt that he was focused and clear.
Then he jumped into his value proposition, which surprisingly didn't seem forced.
Homes are flying off the market in Austin at the moment, he said. His team trolls its network for off-market homes and has systems in place to move fast that will give me as a buyer an inside track in the competitive market.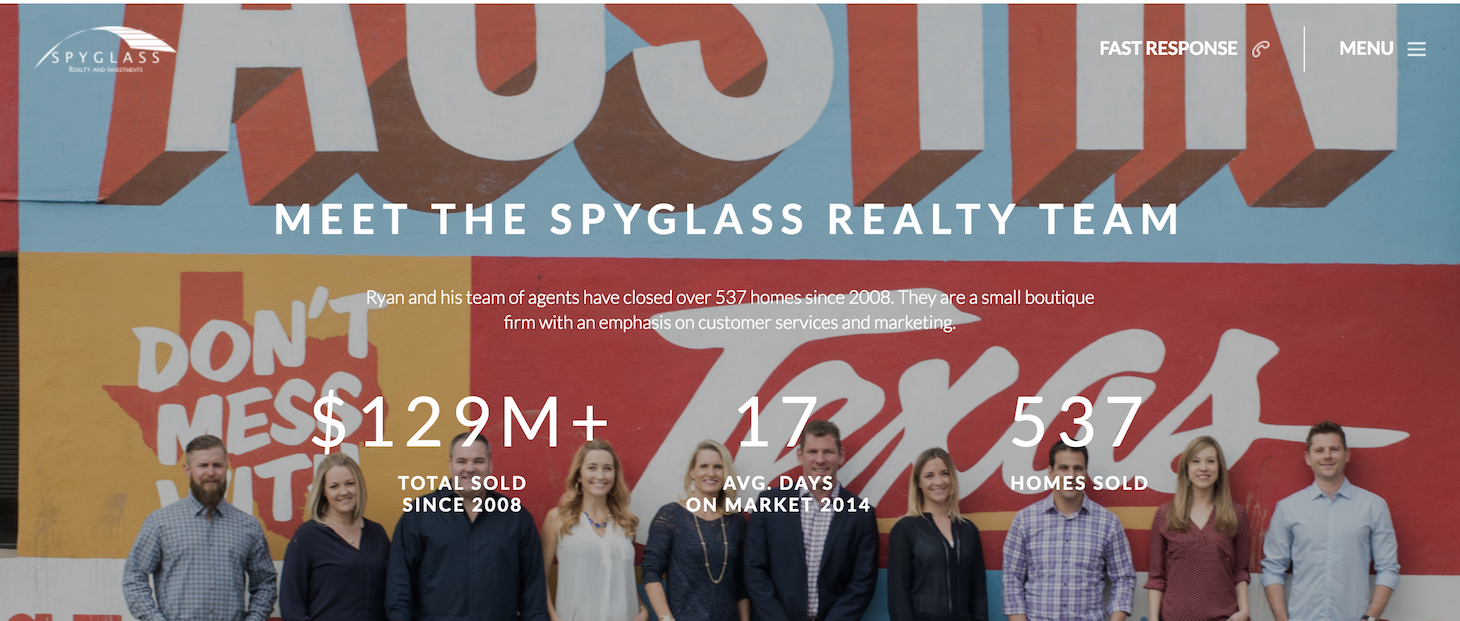 Ryan Rodenbeck's Spyglass Realty Team
I was leaning in and felt in capable hands.
He added that his team has a system for writing offers quickly while ensuring proper due diligence is done on each home. I was intrigued.
He added that if I chose to work with his lender that his team could write offers on a home with zero days financing contingency. Very few agents can offer this, he said.
I was interested, but also a little concerned about him pitching his lender. I wondered if I'd get the best deal on the mortgage if it went that way.
He mentioned his firm does contracting, too, and has tried-and-true vendors on hand should the home I bought need any work.
He asked when we could meet. I was vague on my answer as to when I'd be in town.
Without missing a beat, he said that he'd send an email with a follow-up to our call with more information on his firm and its services and that his lender would be in touch in a couple of days to start the pre-approval process, which he stressed was important.
Overall, the call felt very smart and nuanced, multi-dimensional and efficient. It did feel a little scripted, but I intently listened and I came away understanding clearly the benefits of working with Rodenbeck, some of the unique skills he had to offer as an agent, and that he was competent, clear and a good businessman.
It felt like I had good service, was in competent, confident hands, and would want to work with him if I was in the market for a home. Not something I can say for many of the agents I have spoken with over the years.
Editor's note: Rodenbeck joined Curaytor in September of 2015 after being a long time viewer of the webshow #WaterCooler, which is hosted by Curaytor co-founders Chris Smith and Jimmy Mackin.
Why did you hire Curaytor?
I had a nagging interest that continued to grow in joining Curaytor.
What has it done for your business?
Curaytor has given me an amazing website that's been highly praised and which matches one of my firm's core values: Design Matters
I generate three times more seller leads with Curaytor than I did without it. It's system automates my follow-up with these sellers so that I can continue to work on my sphere of influence and past clients.
In addition, the sales coaching from Curaytor has given me the ability to convert these leads at a rate we've not previously seen.
What's your favorite feature?
The website. It's gorgeous. I get many compliments.
What has hiring Curaytor allowed you to better focus on?
The automation provided through Curaytor is allowing me to focus on building my business and training my team members.