How a boutique broker gets 40% of his business with a smart content strategy
Nat Ferguson was at his Seal Beach, California, home last May when he saw the smoke.
It rose black and ominous out of the end of Seal Beach Pier where a vacant restaurant stood. The owner of the local five-agent brokerage Ferguson Realty walked across the street, stood shoulder to shoulder with his neighbors and gaped at the fire.
The burning pier raised more than just smoke. Ferguson called it "surreal" -- the pier had a rich, juicy history for the quaint Orange County beach town of approximately 26,000 residents Ferguson calls "Mayberry by the sea." While one part of him wanted to gossip with his neighbors, the maturing content side of him lit up. "I had to walk away and write my blog," he said.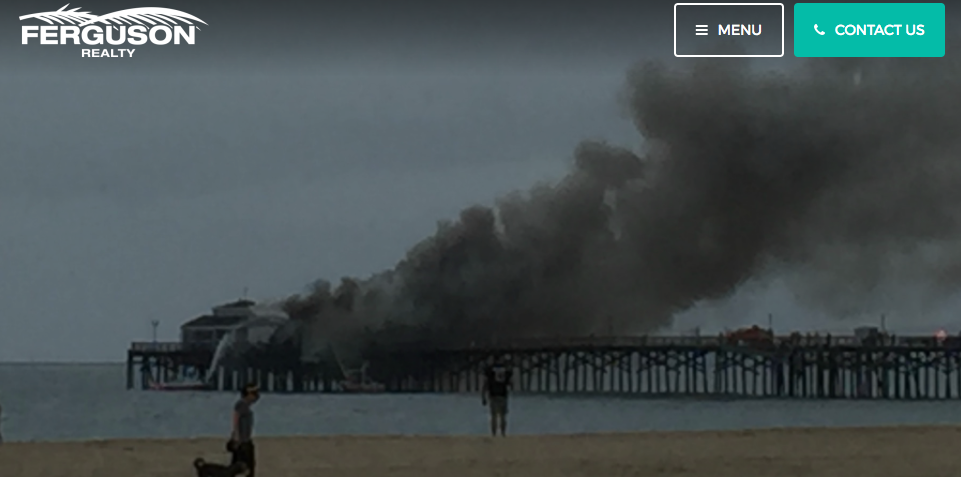 Nat Ferguson saw his hometown pier burning and instead of gawking, blogged about it. Community news is a core, growing part of his content strategy.
The result: a 321-word post chronicling the pier's controversial history that scored a 30 percent open rate on the email he sent out promoting it. Damaged by Hurricane Marie in 2014, the pier needed at least $845,000 in repairs and much more (in the $4 million range) to accommodate a restaurant and foot traffic. Was the fire insurance-related?
By plugging into the local community, keeping his ear to the ground, and honing his writing skills, Ferguson has made blog posts like this a core part of his business. Through networking and generating leads, he estimates his blog accounts for approximately 40 percent ($5 million) of his annual sales volume ($12.3 million in 2016).
"Agents know what's going on in their local community," Ferguson said. Referencing a Gary Vaynerchuk keynote in which the media guru implored real estate agents to consider becoming digital mayors of their towns, he is redoubling his content efforts this year.
Local journalism's slow, ongoing death rattle has opened up opportunities for real estate agents to step in and become community hubs around issues and events they care about.
Ferguson sees this gaping content hole in his community. Seal Beach's local publication is stuck in the digital dark ages (see its homepage), doesn't publish much online between its weekly printings, and has a limited Facebook presence.
As a Curaytor client, Ferguson is on the cutting edge of digital, so he knows how to get his content seen through Curaytor's CAB system: Create, Advertise (on Facebook) and Blast (through email).
Why blog?
Ferguson picked up blogging in 2012 after facing the question all good marketers ask themselves: How do I stand out? His competitors were blogging about open houses (when they did at all) and, as a fourth generation resident, he was well connected and knew the area from the inside out. He rightly settled on blogging.
It took him awhile to discover his writing voice and style, but he knew from the beginning that he wanted his blog to be conversational. He started hitting his stride in 2014, when the local paper approached him to do a bimonthly real estate column.
This regular writing assignment helped him hone his writing skills and become even more of an expert on local real estate news. He started scooping the newspaper on big news with his blog at times and walked away from his column in November to focus more on his own blog.
Most of his content (roughly 80 percent) focuses on real estate-related news, with posts like "5 Thanksgiving Day Home Sales that defied Odds" and "Powerful demand creates shortage of oversized lots in Seal Beach."
His remaining content centers on community news such as updates on a playground remodel and a preview of businesses going into a new development.
For his blog posts Ferguson frequently talks to stakeholders, reporting like a local journalist, like he did for this post on an update to his town's "Tot Lot."
He uses his local community Facebook Group to hunt for stories. He finds topics people are talking about but have little information on.
The practice delivers classic content marketing results: it connects him to local business owners and other important movers and shakers as he reports his stories and demonstrates his expertise and engages an audience of potential clients.
Clever content strategy
Ferguson doesn't just produce quality copy on strong local stories; he also strategically delivers it.
One story has been bearing fruit for over a year thanks to a clever strategy.
Seal Beach has very little undeveloped land. One sliver has been in development for 15 years and has had a tortuous history. While progress is being made, the developers of the 30-home residential project haven't addressed all of the public's questions about it.
There was simply not much information out there, so Ferguson decided to talk to the developers, dig through city council documents, and write a blog post.
The post went live in January 2016. Given the subject's high interest and the dearth of information available on it, Ferguson can gate the post. He requires readers to register to his blog with their email address before reading.
Within the post, he links to a separate landing page where readers can sign up for an "interest list" for the development. Every month he calls the development's project manager and sends an update email to the list, which now has over 380 people. That email has an open rate of 68 percent, Ferguson said.
He's not the principal broker for the development, but in many ways he has become the primary point of contact for interested buyers. There will only be 30 homes and they haven't yet been built, so a good portion of those on the list have become quality leads. He's already weaned four clients from the list.
He also advertises the original post with a Facebook ad every other month, which continues to generate buzz and leads.
"It will continue to have legs until it's built, because no one else is sending out information on the development," Ferguson said.
Measuring success
As an experienced content marketer, Ferguson knows measuring results is difficult for his content play. He assesses the success of specific pieces of content by how much conversation and engagement they generate (email open rates, leads generated, and Facebook shares and comments).
But the bigger goal -- warmer leads and consistent, focused attention -- is more intangible and harder to measure. "I invest the time without expectation of a result," Ferguson said. Approached with that generous spirit, content becomes alive and attracts readers. "A natural byproduct of the content play is business will come at you from all different ways," he said.
He's looking to do more community-oriented blog posts to network with more business leaders and become a reliable go-to source for information residents don't get elsewhere. Ultimately, he wants to remove himself from a content-generating role and hire a writer.
Why Curaytor?
Editor's note: Ferguson joined Curaytor in 2013 because he wanted the best platform available to generate seller leads. He answered some questions about his Curaytor experience.
What has Curaytor done for your business?
It has created a steady stream of new leads and closed the gaps in regularly communicating with our sphere and past clients. $3.2 million in sales in 2016 came from my sphere of influence as a result of the Curaytor CAB (Create, Advertise, Blast) system.
What's your favorite feature?
The Facebook consumer registration feature on the website. When consumers sign in with Facebook, we get 100 percent accurate emails because the system pulls in their email from their Facebook account.
What is Curaytor allowing you to focus on now?
Growing my brokerage from the "small kid on the block" to a marketing powerhouse sought after by sellers and aspiring agents alike.