How a $100,000/year blogging budget helped an agent break the sales record in their market
A mansion sits on the beautiful Delaware shore. Tan beach sand and endless blue Atlantic water fills the horizon.
The $3 million home is a listing agent's dream. Dustin Oldfather, who runs the 17-agent team The Oldfather Group with his wife Mariya in Delaware, is living this one.
Realized dreams don't come cheap or easy. The dark art of content marketing bore this reverie. Oldfather spends over $100,000 each year to execute his content marketing plan, which is anchored by his team's year-and-a-half-old blog.
Content marketing (also known as inbound marketing) involves creating content -- blog posts, videos, photography, podcasts -- that displays value and expertise, which builds trust and rapport with potential clients and eventually, in theory, leads to sales.
A full-time staff photographer and a full-time staff writer produce the high-quality blog content, which ranges from local event lists to restaurant profiles to state-of-the-market posts and new listings. Oldfather and his wife share a byline on each post.
The team's content marketing strategy helped rocket the team to 165 buyer sales in 2015, the highest annual total ever in Sussex County, where the team works.
About The Oldfather Group
| | |
| --- | --- |
| Founded: | 2009 |
| Location: | Rehoboth Beach, Delaware |
| 2015 Production: | 208 units, $62.5 million |
| Average Sales Price: | $325,000 |
| Agents: | 17 |
The potential seller noted above saw an Oldfather Group blog post on virtual reality, highlighting the team's use of the 3-D virtual tour technology Matterport and invited Oldfather over to discuss listing his home. While he postponed his decision to sell, Oldfather is the first agent in line when he's ready.

A recent blog post on The Oldfather Group's use of virtual tour technology Matterport generated a lot of local buzz, Oldfather said. "Told the story right and everybody heard. The power of telling that story is that you can connect."
The multi-million oceanfront seller is just one business opportunity Oldfather's investment in content marketing has unearthed.
Local awareness of his team's brand has also soared, Oldfather said. This has led to features on local radio and TV programs, which further burnishes his brand's thought-leadership.
"Regionally renowned chef Hari Cameron often views the ingredients he chooses for his culinary masterpieces in multiple dimensions. The way the peppers and the tomatoes burst with tantalizing flavor, or the freshest of the fresh seafood practically leaps off of the plate, or the way the spices make the food come alive in vibrant and instantly appealing bursts of taste and excitement."
-- An example of high-quality blog content from a recent Oldfather Group post
While content marketing offers value and demonstrates local knowledge and commitment, it's expensive and its results are tricky to evaluate. How do you measure increased trust and perceived value?
The challenges of measuring ROI and producing consistent, high-quality content causes many agents to shy away from the strategy.
But there's immense opportunity.
The vacuum left by local journalism's slow demise gives communities, and those interested in them, a big hunger and need for quality, relevant, informational, local stories that can't be found anywhere else (like Zillow).
These stories build allegiance and trust, the glue behind marketing. Given the infrequent, costly nature of home sales, these are even more critical in real estate.
The Oldfather Group shows what it takes to get results.
All about images + words
The big aim for The Oldfather Group's content play is to gain consumers' trust. "That's my new goal for everything I do in my business," Oldfather said.
That target aligns with the age-old pillar of marketing made popular recently by branding supernovas like Seth Godin and Gary Vaynerchuck: provide value, provide value again, win trust, win clients.
Dustin's swan dive into content marketing has organic roots.
Several years ago, he tried his hand at creating compelling blog content. While he felt he produced something quality, it took him a long time, close to 40 hours. Producing a quality post is hard, he found. That obviously would not be sustainable. This is why many real estate agents are actually blogging their way out of business...
"I can see why few people do it," he said.
His jump into full-blown content marketing started with his commitment to high-quality photography.
A few years ago he had worked with a talented, young photographer who he paid $350 to shoot each of his listings. Given her talent, he began to think, "What else can a photographer do?" Social media, video? She left the area before he could explore those ideas.
Oldfather's content marketing tips
Provide value at all costs.

"Don't technique it," OIdfather said. Value emerges from the authenticity apparent through the content.

Insist that every piece of content be interesting.
Oldfather soon met another talented photographer, Attila, and brought him on full time. Shortly after, he ran into a writer, James, who was born and raised in Delaware and had worked as a local newspaper editor. He couldn't let this opportunity pass and hired him as a full-time writer.
Attila takes photos for the team's blog posts, team group photos, agent headshots, press releases and listing photos. He will soon add video and capture drone footage as well.
Oldfather uses the listing photos his photographer produces in local TV commercials that run five to six times each week.
James produces three to five blog posts each week, two press releases each month, bios for all new agents, and writes listing descriptions, often interviewing sellers to gather highlights. He also writes copy for Facebook posts/ads, which are critical to driving traffic to the blog.
While lead-generation mantra compels many real estate marketers to turn visitors into leads by using "forced registration", Oldfather shies away from that.
Given the focus on content quality, he feels this move erodes trust with consumers fatigued with websites asking for their information when they just want to read something.
If a tree falls in the forest ...
Content can shine like the noonday sun, but if nobody sees it, its brilliance is in vain.
With the help of Curaytor, Dustin has a sophisticated distribution strategy that includes a $600-per-month spend on Facebook to boost his blog posts and listings.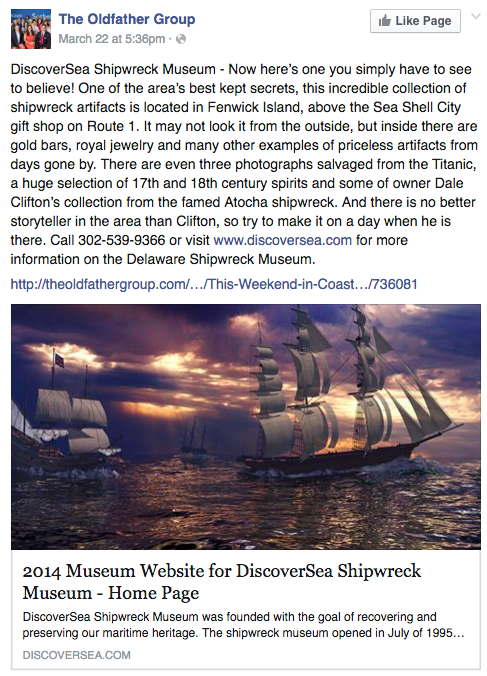 The Oldfather Group's writer, James, also writes all their Facebook copy to ensure consistency of voice and quality.
Oldfather targets various custom audiences on Facebook including prior clients and listing prospects. The Oldfather Group also broadcasts its content through its Twitter and Instagram accounts.
The team is experimenting with ways to increase engagement and authenticity on each social channel by assigning staff members to certain channels whose styles most closely align with them.
Since the team markets its content on social media (primarily Facebook), it sometimes ropes in business without ever leaving the platform. Oldfather has never met the seller of one of his current listings -- communication has just gone through Facebook messenger and telephone, exemplifying the type of trust that consistent, high-quality content can breed.
Content in action
The Oldfather Group's blog topics vary quite a bit.
It publishes a "Weekender Blog" post, which highlights area events and activities for the upcoming weekend and typically performs well, Oldfather said.
James also writes a profile of each Oldfather Group agent as a blog post.
Since they tell an agent's story, they often remain relevant beyond when they were first published. This means the group can re-publicize them when the story elements match events.
For example, Oldfather Group agent Bob Burton grew up in Delaware when schools were segregated. He attended one of the segregated schools and his feature focused on that. During MLK Day this year, The Oldfather Group republished the story and it received fresh engagement.
These pieces often include evergreen content that the group can re-promote around certain events. This content has multiple benefits: it burnishes the team's brand, the agent's brand, creates feel-good for potential consumers and makes the agents feel special and supported by the team.
The Oldfather Group republicized its blog feature on agent Bob Burton around Martin Luther King Jr's birthday this year.
In some posts, both Attila and James really shine.
In a recent feature, Attila captured a local restaurateur in three different poses in one shot using a photography sleight-of-hand. The well-written story also featured a 3-D model created using the firm's virtual tour technology Matterport.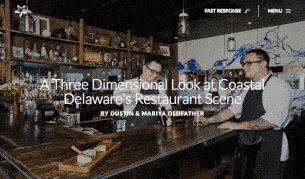 Words and images shine in this recent feature on a local restaurateur.
In addition to being an attractive, useful story for readers, that restaurateur will be a referrer for life, Oldfather said.
Editor's note: Delaware-based real estate team The Oldfather Group brought on Curaytor in 2015 to take its lead generation and branding to the next level.

Why did you hire Curaytor?

While everyone was piling into to pay-per-click home search platforms and saturating that online market segment, I could see that Facebook marketing was growing and I wanted to "skate to where the puck was going."

What has it done for your business?

The Curaytor platform is fabulous and continues to improve while the Facebook ad campaign management and retargeting for home sellers is best in class. Our business will grow from 210 transactions and a $62.5 million sales volume in 2015 to over 300 transactions and over $100 million in volume this year. Our social media conversion is gaining momentum and is having a halo effect on our other marketing -- TV, radio and print.

What's your favorite feature?

It's a tie between one-click landing page creation with registrations for any page and home values Facebook ad campaign management with retargeting.

What is it allowing you to focus on now?

Having an elegant user-friendly, social media-integrated back-end allows us to focus on creating great content to match our audience and easily share and repurpose on multiple social media platforms. Our content creation is quickly proliferating as we feel more and more comfortable in the ecosystem.