How To Keep and Acquire More Customers by Asking One Simple Question
Like countless real estate agents, Denver-based David Bell often feels like a caged gerbil, distracted by client demands, new technology, and the many other objects in the modern real estate cage.
Last fall, the leader of the 2-agent team, CoolRanchColorado, hired Curaytor, but stumbled to take full advantage of their high-powered lead-generation and follow-up platform. While simple to use and baked with top-notch coaching, Curaytor is not a driverless car -- proper execution requires the agent to get involved.
Curaytor had no knowledge of Bell's hiccup until he gave Curaytor a seven out of 10 (10 being highest service) on a recent Net Promoter Score (NPS) client satisfaction survey.
Developed by an executive at the renowned management consulting firm Bain & Co. over a decade ago, NPS measures customer loyalty on a 10-point scale and an open-ended question. It takes respondents just a few seconds to complete. (More than two-thirds of Fortune 1000 companies use NPS, according to a May Bloomberg article).
The 10-point satisfaction scale has three segments:
0-6: "detractors"
7 and 8: "passives"
9 and 10: "promoters"
Net Promoter Scores are calculated by subtracting the percentage of "detractors" respondents from the percentage of "promoters" respondents. Anything above a 50 is considered world-class. Curaytor, which implemented NPS on earlier this year, is at a 73 with 110 responses. (See NPS benchmarks in several industries here)
Through an integration with Slack Curaytor was immediately alerted their client was struggling and thus dove in to give Bell custom attention and coaching. He's now well on his way to a 10.
Real estate brokers and agents can similarly use the NPS system for real-time client checkups to root out emerging problems in their systems and ensure customers stay happy. And raving fans, Seth Godin devotees know, are the best marketing.
Not only does Curaytor use NPS to proactively identify customer support issues, they also use it to ask for referrals at the right time, driving bottom line revenue. When their sales team sees a 10 out of 10 they call the client to thank them for the score and ask if there is anyone else we can also "be a perfect fit" for.
Why did Curaytor bring on NPS?
"Growth can be inhibiting," Curaytor co-founder Jimmy Mackin said. "Often firms fix a steely eye on top-line sales when assessing company health, but customer satisfaction levels are just as critical, if not more," he said.
"Business analytics consistently point to the same truth," Mackin said. "It's more cost-effective to keep existing clients than to win new ones."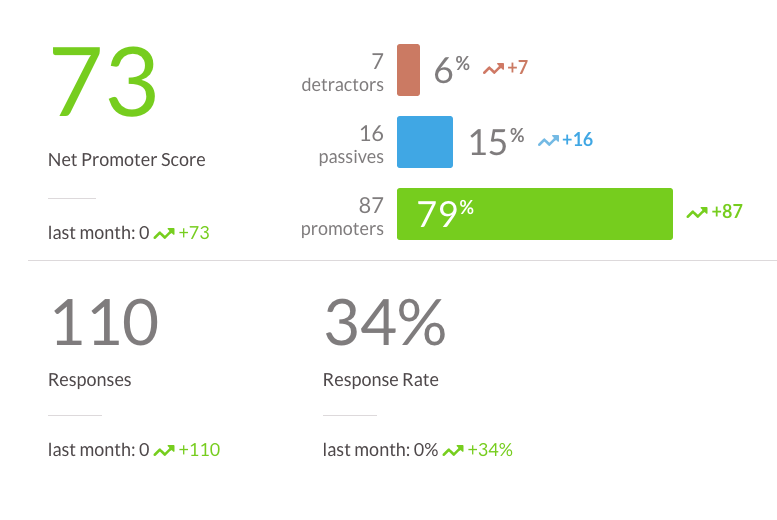 Curaytor uses Wootric to manage its NPS measurement. See its results above, through July 28th 2016.
NPS offers a simple, streamlined way to do this.
A living metric
NPS is a living metric, allowing firms to periodically check up with clients at all stages of their lifecycle. Since it's so simple and short, it's not (much of) a customer nuisance.
This ensures firms who use NPS on a consistent basis uncover weak links in customer service as they appear, not six months after significant damage has been done and is beyond repair.
For example, Curaytor sends its NPS survey to every customer (500 and growing) every quarter, averaging between four and 10 each day.
This has obvious real estate applications.
For example, if brokers and agents just survey clients at the end of a transaction, a positive review could mask shortcomings earlier in the process.
Firms can use feedback from passives and detractors to discover service weaknesses and perform immediate triage.
"Real estate brokers and agents don't have to adopt the formal NPS system," Mackin said. "Given that they typically handle fewer clients, they can periodically check in and gather the same insights. Anything we can do to improve?"
This will provide a true measure of service at every stage of a client relationship.
"The NPS metric pulls emotion out of a client support assessment," Mackin said, "It provides clear feedback."
Brokers and agents can ask raving fans for testimonials, learn what they love, and even adapt some of their open-ended responses to shape their latest marketing messages -- transforming a success story into a new sale.
Curaytor's NPS-inspired changes
It's been less than a year, but Curaytor's already tweaked its approach to service based on NPS-derived feedback. The firm's process facilitates this.
Holly Haven, Curaytor's operations manager, emails every NPS respondent within 24 hours of a response with content that varies depending on the score. All are asked to expand on their feedback if they wish. She asks 10s for testimonials she can add to Curaytor.com and everybody else a version of: "What can we do to get you to a 10?"
"We want to make everybody a 10," Haven said.
Curaytor's not just focused on getting clients like Bell to that score, however. Bell's response, in part, helped them uncover ways to improve processes that impact every client.
For example, Haven said passives and detractors helped make clear that onboarding was an issue. In response, Curaytor created a simplified onboarding page and has plans to do more much more in the near future like investing in a full blown LMS (Learning Management Software).
Curaytor created the onboarding page above in response to NPS-derived feedback.
The firm has already added five testimonials rustled up from the NPS process to its testimonials page.
On the way to 10
Haven jumped in immediately to support Bell. Mackin, a founder of the company, has also been working with him one on one to polish his execution on the platform, which impressed Bell.
"Holly's amazing," Bell said. "She's given me a second wind."
He and his partner agent are crafting their Curaytor strategies now with Haven and Mackin's help.
Bell's may not have been a 10, but now he's on the path, plus the support he's received, that's an obvious 10, he said.