Curaytor launches GradeMyAds to unlock Facebook's marketing potential
As Facebook increasingly revolutionizes advertising and just about everything internet, it's becoming more critical than ever for small businesses to master Facebook ads to stay ahead of the game and keep growing.
The challenge lies in analyzing their Facebook ad performance and knowing where, how and why to improve. And that challenge seems to grow every day as mastering mastering the nuances Facebook advertising increases approaches expertise found in a graduate-level degree. Facebook's Ads Manager looks more like NASA mission control than a place to analyze ad performance.
The Facebook marketing experts at Curaytor know this all too well. So they built GradeMyAds, a new tool that instantly grades your Facebook ads, shows you what you're doing well and where you need to improve to get better results.
By giving the tool access to your Facebook page and to Ads Manager, the tool instantly reads and analyzes your ads and then spits out your overall score on a 100-point scale for the past three-month period. Four core ad-performance metrics, each graded on a 25-point scale, make up the score: quality, effectiveness, consistency and budget.
The grades are built with proprietary benchmarking data Curaytor's gathered from four years helping manage over $5 million in annual Facebook ad spend on behalf of its clients, which now number over 700.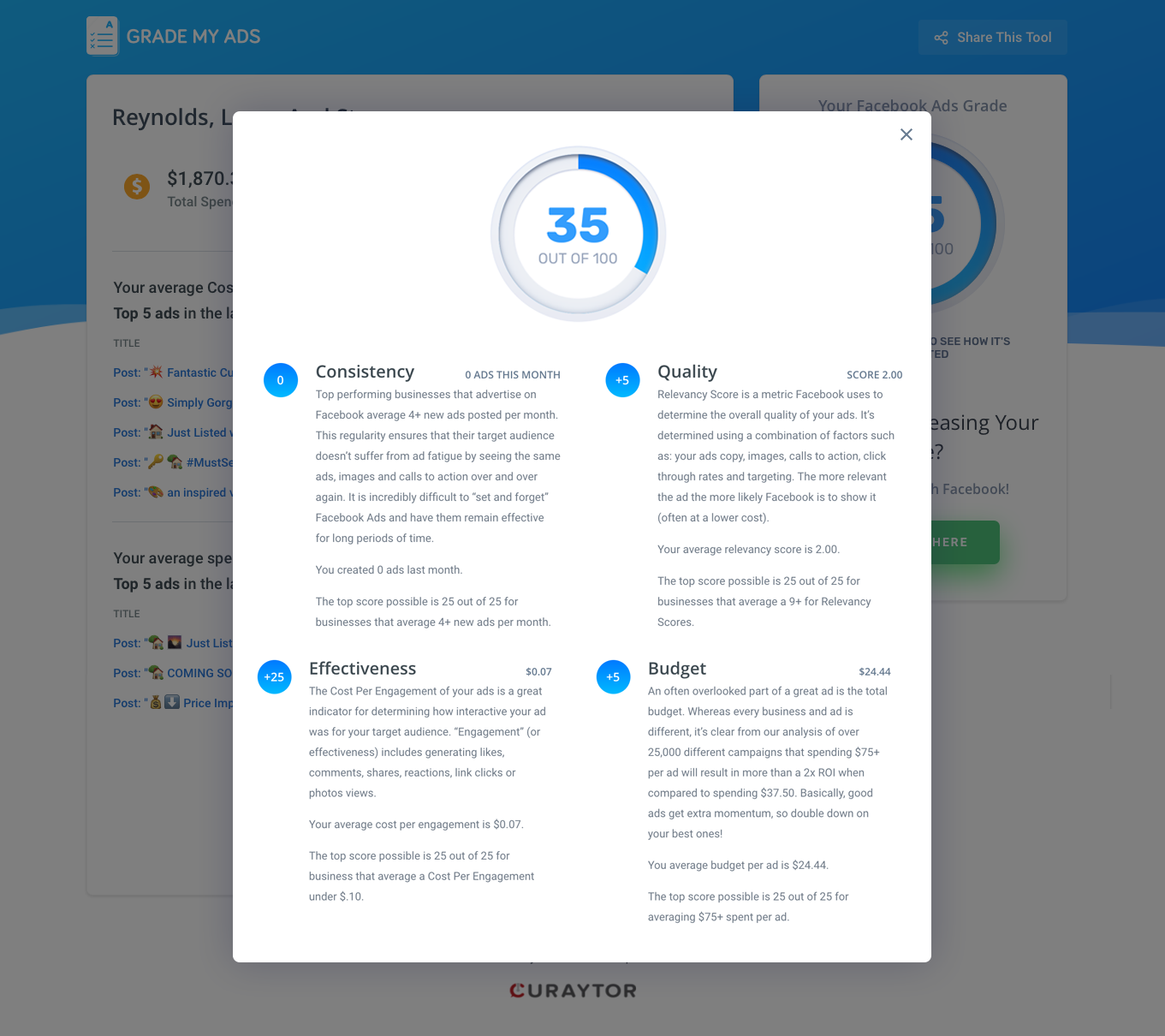 The tool ranks advertisers' five overall top-performing ads and the top five in each bucket. Users can click these specific ads to see more detailed information about them including spend, impressions, comments, location, duration, etc.
When users click their score, they get a breakdown of performance by category with suggestions for improving.
Initially intended as an internal tool for the marketing firm's employees to better coach Curaytor's growing roster of clients, Curaytor co-founders Chris Smith and Jimmy Mackin quickly saw they had massively useful tool on their hands.
As a digital marketing agency that's been focused on mastering Facebook since its 2013 inception, Curaytor has honed a Facebook ad strategy shaped by a $5 million-plus annual spend Facebook ads across its growing client roster, not to mention the ads it runs for its business.
Digging in
Curaytor distilled four Facebook ad metrics from the hundreds that Facebook makes available as the most critical for small businesses to pay attention to. It also translated the social media giant's wonky ad nomenclature into understandable words in the process.
"Relevancy" became quality. "Cost per engagement" became effectiveness. GradeMyAds also assesses consistency and budget to come up with its overall score.
"These were the four metrics we felt were leading indicators of a high-performing ad and a healthy ad account," Smith said.
Top ways people fail at Facebook advertising, according to Smith:
Not spending enough: Small businesses should be spending at least $75 per ad, according to Smith.
Not targeting enough people.
Not using enough images.
Not making the ads relevant and timely. Facebook's algorithm is biased toward freshness. Advertisers need to promote new ads at least every week.
To score a perfect 25 in any bucket is a big effort. For example, for marketers to get a 25 out of 25 in the GradeMyAds effectiveness bucket, they need to have a cost per engagement of no more than 10 cents. To earn a perfect grade on quality, their ads' relevancy average must be above a nine.
Smith outlined some of the overall scores, what they mean and the suggestions GradeMyAds gives for improving them:
Score of over 60: You are doing some things well but there are areas for improvement. Focus on the ads that are on your Top 5 list for Cost Per Engagement and DO MORE OF THOSE.
Score of over 70: You're rocking! If your score is 70+ you have several ads that are doing exceptionally well. Identify those using our tool, then do more of those.
Score over 80: Congratulations! You're at the top of your game. This is a world class score. Focus on making small, incremental changes and of course, stay consistent.
"GradeMyAds makes what you should do more of blindingly clear," Smith said.
GradeMyAds in action
Darin Persinger, who runs the Persinger Group real estate team out of Everett, Washington, with his wife, was an early beta user of the GradeMyAds tool.
He and his team do a lot of Facebook advertising and he considers himself a fairly advanced user. After using the tool in mid-March, he got back an overall score of 65 and two clear recommendations for how to improve: spend more money per ad and focus more on the ads that work.
"We kinda knew that because of the engagement, but seeing it there gave us a crystal clear picture," Persinger said. "It was nice to see stuff laid out in a simple format, rather than having to dig around."
Those two recommendations immediately resonated. He felt he was too tepid with his ad spends and also knew that the promotion of new listings, specifically listing videos, performed outstandingly. He addressed both and when he graded his ads again recently, his overall score had jumped to 75.
Of course, scores alone mean nothing. Higher scores reflect higher-performing more cost-effective Facebook ads, which translates into more effective campaigns and higher ROIs, which is what every marketer is after.
Other Curaytor resources with tips and insights on how to improve Facebook ads:
Future plans
This is just the first iteration of the GradeMyAds tool. Curaytor plans to incorporate the data from its use to improve the algorithm and provide more context around ways marketers can improve their ads.
Soon it will show users' scores in relation to the average score by others who have also graded their ads. It is also considering showing users' five worst performing ads, overall and in each bucket, in addition to the top five. Another possible addition are ad performance comparisons between current month or weeks versus all time and other previous periods.