7 Ways to Improve Your Website Immediately
Think of your website as one of the most valuable members of your sales team. It is constantly selling 24/7, 365. Even when you're asleep. If a consumer has a bad experience with your website, research says that 88% of them are less likely to return.
What does that mean for you?
Failing to invest in your #1 sales tool could cost you thousands.
Here are 7 website improvements you can make today to start seeing results immediately.
1.

T

ake them down a logical journey
Opendoor
The customer journey is centered around understanding how visitors interact with your website. Customers come to your site in hopes of solving a problem that they have. You need to identify what that problem is, empathize with that problem, position yourself as an expert and provide a solution that feels easy and right.
If you visit Opendoor, you'll notice they identify and empathize with the customer's problem, the hassles of listings, showings and months of uncertainty. They offer an immediate (and enticing) solution, "Get an offer on your home in the press of a button." As you continue down the page, Opendoor lists, but doesn't brag about, the reputable companies they've worked with to position themselves as the trusted authority. They then offer three simple steps to get started, subtly letting the customer know exactly what they need to do next. Overall, Opendoor absolutely nails the customer journey.
When you think about your customers first, the questions they are asking, and the information they want to know, you can begin to transform the structure of your site to take them from learning about your business to converting at the end of the page.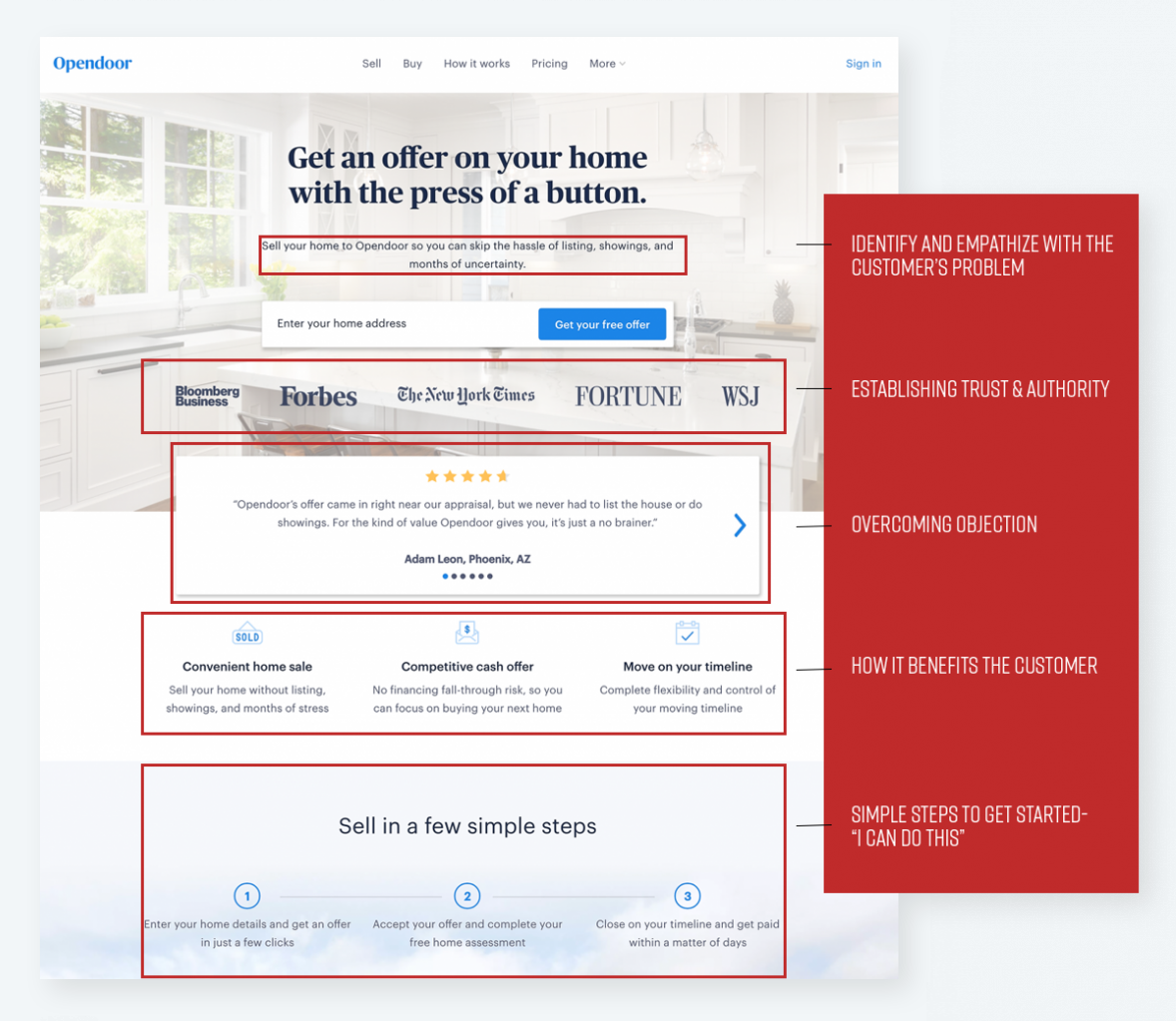 2.

Use direct

& consistent calls to action
Hello Bonsai
Two of the most common website mistakes we see are:
1. Having several different CTAs on one single page. For example: If I'm on your home page and you have buttons or links to schedule a call, read your testimonials, check your home's value and an option to read about your services, then I'm completely overwhelmed. I don't know what to choose so I don't choose any of them.
There's a concept that originated from Barry Schwartz called "The Paradox of Choice," which is simply the idea that eliminating consumer choices can greatly reduce anxiety for shoppers. By cutting down on the number of actions you want your customer to take, the consumer will have a clear path to where they need to go next.
2. Asking customers to complete the same action with different language. For example, when you use the phrase "Schedule a call" and "Book an appointment" which both lead to the same form, you are confusing the customer. Choose one phrase to use throughout your entire site and stick with it.
If you visit Hello Bonsai, you'll notice they use "Start Free" everywhere throughout their site. In fact, it appears SEVEN times. I know exactly what they want me to do and I have the opportunity to start for free after reading each section.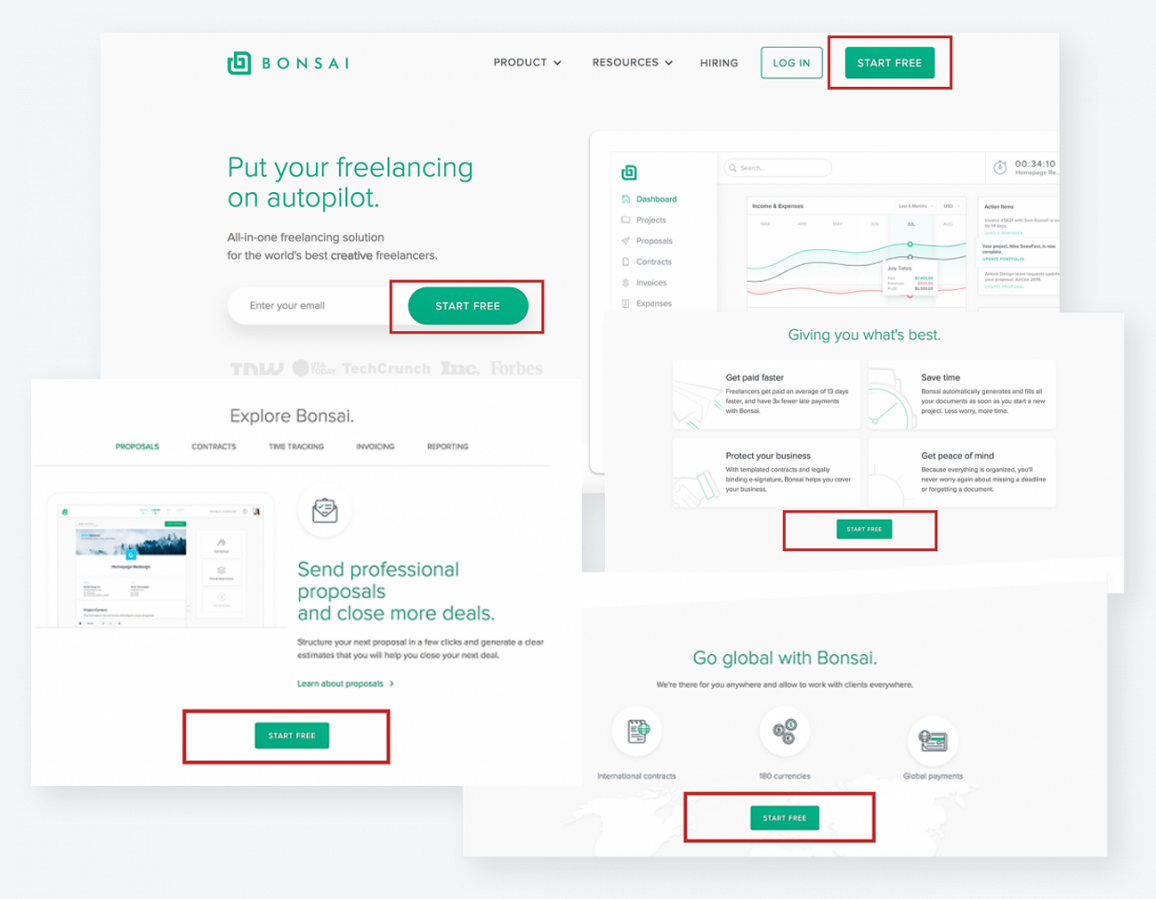 3. Talk like your customer
Marie Forleo & Unruh Furniture
Don't sound too stiff and corporate.
People relate to people. When you don't sound relatable or if your language isn't easy to understand, customers will have a hard time connecting with you. There are two different ways to approach this:
1. Use a conversational tone. A simple hack to start implementing conversational tone is to use the word "you" in your website's copy. They will feel like you're only speaking to them. For example, "We're here to help our clients" is generic and broad, but by saying "We're here to help you" is directly speaking to the consumer. If you visit Marie Forleo's website, you'll notice she does an exceptional job at speaking to her customers in a casual and relatable way. Her conversational style of writing makes it seem as though she is addressing you, rather than talking to the masses. Because of that, you immediately feel connected to her.
2. Use your customer's words. Customers will only buy what they understand they are buying. When companies are speaking about their own product or service, they tend to use inside language that may seem obvious to them, but makes absolutely no sense to their customers. A great way to overcome this is by using the words your past customers have used to describe your business. If you visit Unruh Furniture, you'll notice they present a dining room table as "The Perfect Table" rather than a complex, confusing title such as "Haddigan Dining Room Table with built-in butterfly leaf extension." No one is shopping for a Haddington dining room table with a built-in butterfly leaf extension, but everyone is shopping for the perfect table. This strategy allows potential customers to fully understand their product, which brings them one step closer to purchasing.
BONUS: To implement this technique, read through some of your best testimonials and identify common words and phrases to use throughout your website!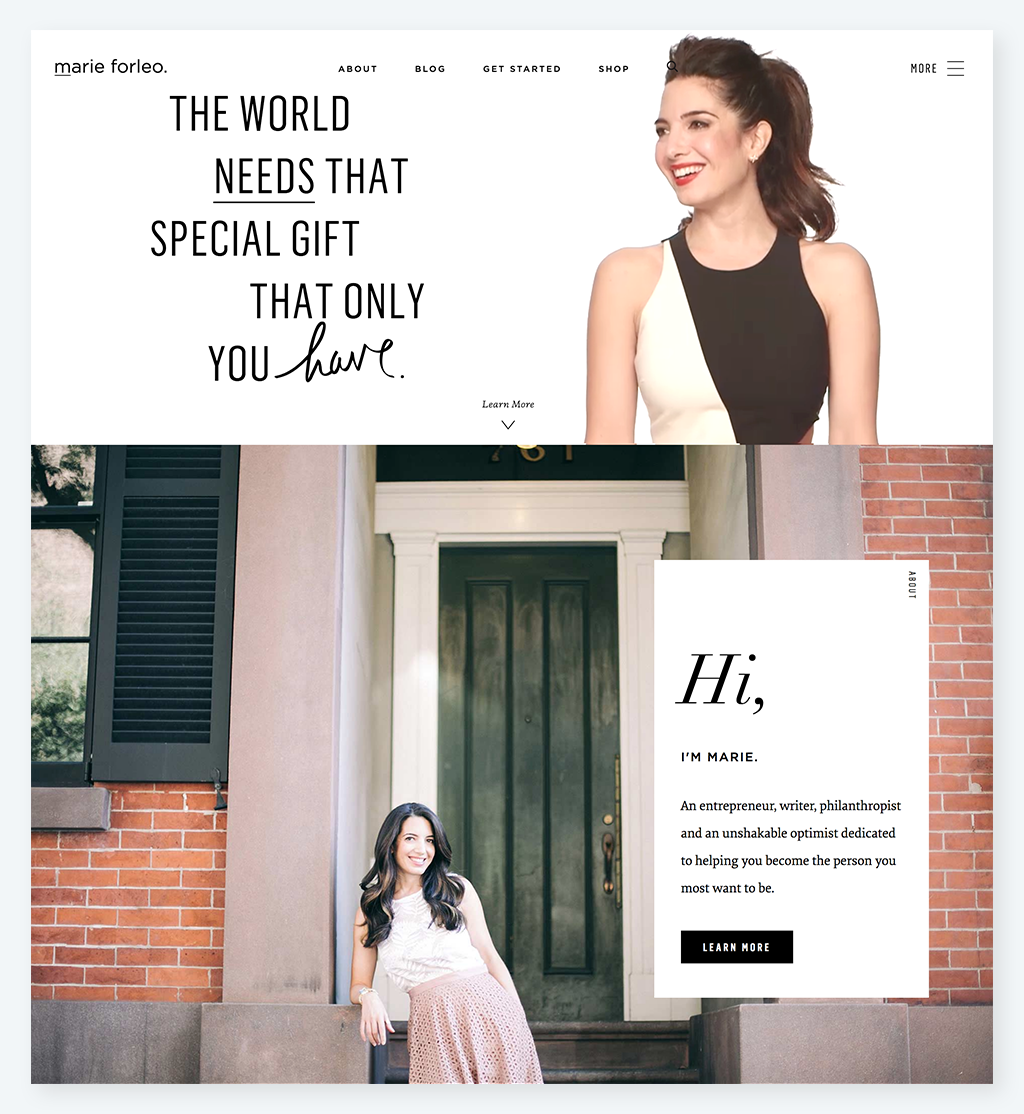 4. Cut in half,

then cut in half again.
Harry's
A common mistake businesses make is providing too much information. It sounds counter-intuitive because you want to help potential customers make an informed decision, but reality is, people don't read everything that's on your site. Web content is meant to be skimmed. According to SearchEngineLand, you should start each section or paragraph with your most important and compelling verbiage. Visitors typically look at the first line to see if it pertains to them and what they want, so make it count.
If you visit Harrys.com, you'll notice their extreme minimalist approach. With less than 100 words total on their home page (76 to be exact), Harry's effectively delivers what they offer, who they are, and how they'll benefit you.
5. Use microcopy wisely
Farewill
Microcopy is one of the best ways to overcome your customer's objections. Microcopy is the small text that appears below the primary call to action on your site. Think of your primary CTA as the equivalent of asking someone to marry you. Customers have to be compelled and convinced that they should click. If they're not quite ready to click on it, you can use microcopy to eliminate their hesitation and overcome their objection.
If you visit Farewill, you'll notice they use their TrustPilot TrustScore as their microcopy. After an offer as simple and enticing as, "Make your legally binding will online in minutes for only £90", I immediately hesitate to move forward because I'm wondering if I can trust them. By adding the TrustScore beneath their CTA's, they overcome the common objection I experienced, "Can I trust this company?" or "Is this too good to be true?"
To implement this right away, think of the one question or hesitation your customers have that prevents them from moving forward on your site. Overcome that with your microcopy.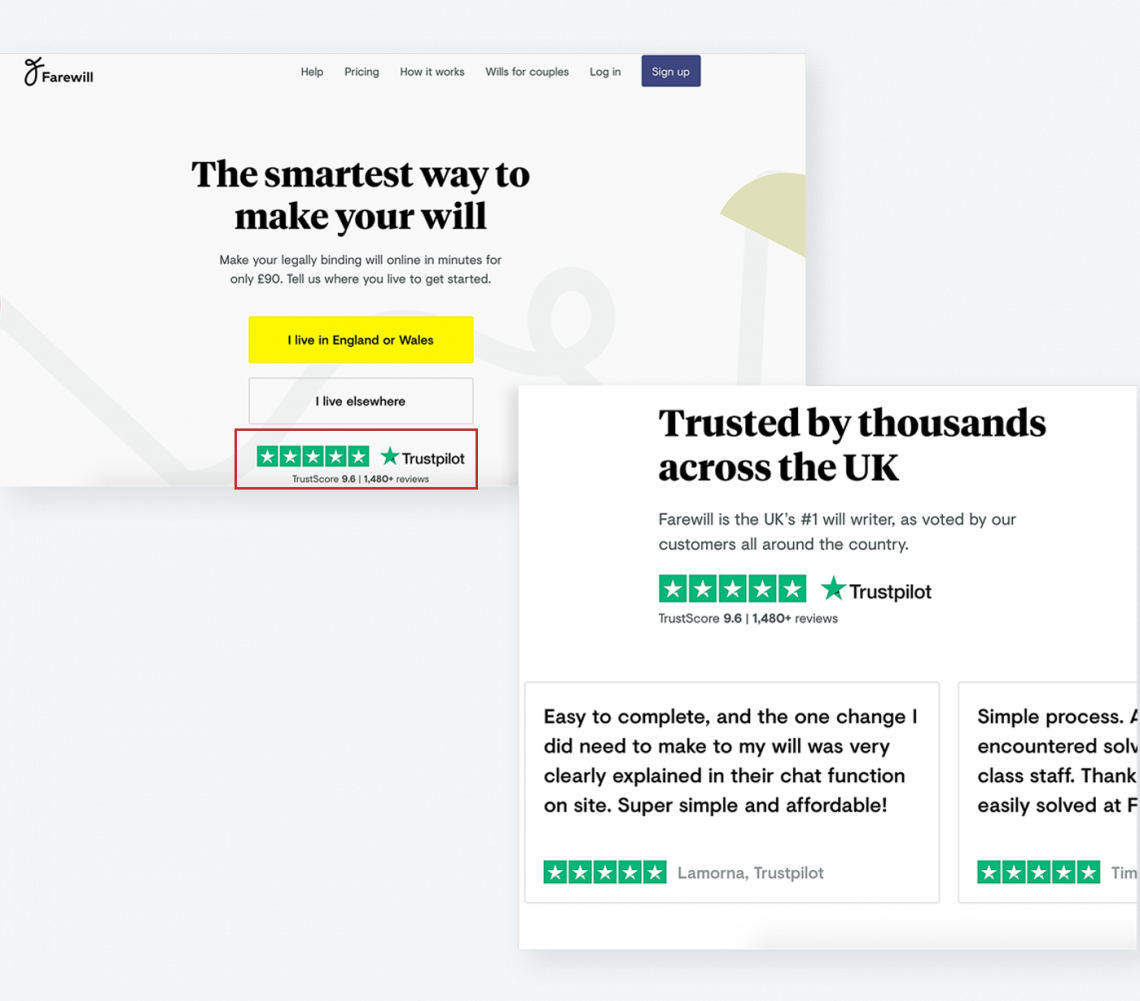 6.
Socialize your website
KrissDidIt
Social media allows us to connect with our customers on a daily basis. Think about this: how many times per day do you look at Instagram, Facebook, Twitter or Youtube compared to the amount of times you go directly to a specific website?
Social allows you to develop a relationship with customers by continuously updating your profile with valuable content that establishes you as the expert and organically grows your reach. If you have quality content, people will follow you.
If you visit KrissDidIt.com and scroll all the way to the bottom, you'll notice a preview of her Instagram reel with an invitation to "be her friend" and follow her. This not only allows her to develop a rapport with her site visitors, but it also gives consumers who might not be ready to work with her yet the option to stay connected.
BONUS: A great plug-in tool for adding social accounts to your website is ElfSight. It's super easy to use and doesn't require any coding!
7. Provide next steps
Curaytor
When someone subscribes to your e-mail list, what does your confirmation page look like? On most websites, when you enter your e-mail to either subscribe or receive a valuable piece of content, the next screen you typically see says something along the lines of "Thank you for subscribing!"

Let me get this straight. Someone just willingly signed up to hear from you at least once a week and all you're going to say is "Thanks?"
When a visitor is giving you their personal information (in this case, e-mail), they are very interested in you and what you have to offer. Take advantage of this moment in their journey and provide additional value. Some ways to do this are linking them to another relevant piece of content or offering something for free.
In our latest lead generation campaign, 25 Attention Grabbing Facebook Ads, we do more than just provide the list to the subscribers. When they click "See the full list," a 40-second video appears which offers viewers a free audit of their Facebook ads with one of our Curaytor experts. The goal with this video is to add even more value to the customer who has already begun to position us as authorities in their mind.