5 Must Use Facebook Ad Targeting Options (and How to Stop Your Ads from Getting Denied)
Are you ready to use Facebook Advertising to reach your perfect audience?
If so, then there are lots of great targeting options to choose from if you go beyond the Boost Page, Boost Website, and Boost Post options on your Facebook Page.
So for today's lesson, skip these options: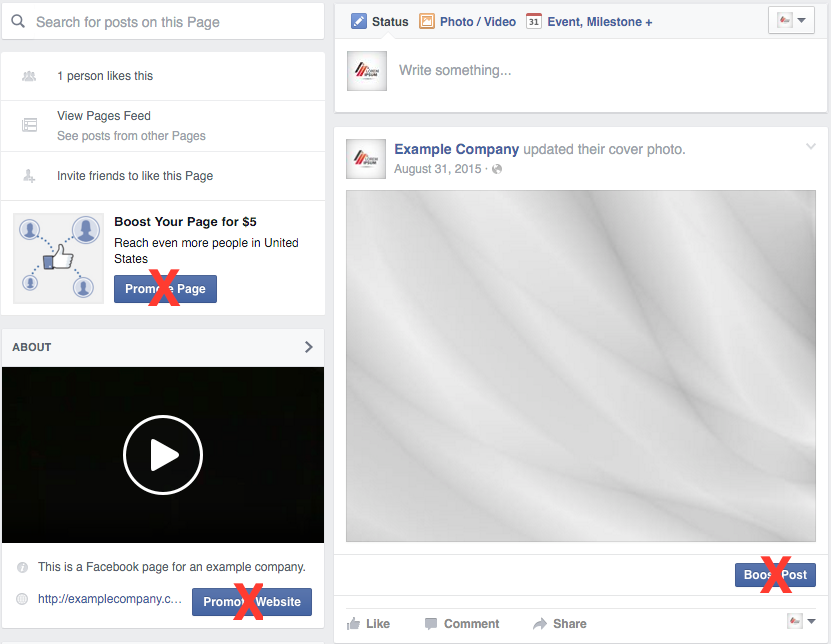 And go directly to your Facebook Ads Manager instead. You'll find it here. Ads Manager is where you will find the ability to use the following five advanced Facebook targeting options for the best Facebook (and Instagram) advertising campaigns.
Note: If you use Business Manager, log in to your Business Manager here and click on Ads Manager in the left sidebar.
1. Create Custom Audiences based on your website visitors.
Do you ever get frustrated by the notion that you get thousands of visits per year, month, week, or even day on your website, but not nearly as many leads or sales? You can recapture the attention of those visitors by building a Custom Audience based on your website traffic through Facebook Ads
To do this, start by installing the Facebook Pixel on your website. You can find this in your Facebook Ads Manager under the Tools Menu.
On the following screen, you will click on the Actions dropdown and select the View Pixel Code option. This will give you the code and directions you need to install the Pixel on your website. Once installed, Facebook will begin tracking visitors to your website.
Note: If you head is already spinning keep in mind that you can hire Curaytor to help you with this
Next, you will click the Create Audience button. This will allow you to create a Custom Audience based on your website visitors. By default, the settings will configure the Custom Audience to target your ad towards anyone who visits your website within the last 30 days.
You can get more specific with your Custom Audience by changing the Website Traffic dropdown from Anyone who visits your website to People visiting specific web pages but not others.
For example, let's say that all of your website's real estate listing pages have the keyword "property" in the URL. Now you can retarget just the visitors who looked at homes for sale. Or when a visitor chooses to fill out a contact form for more information about that property, the confirmation page they land upon after submitting the form has the keyword "thanks" in the URL. So you could have another set of ads that targeted those you captured.
You could easily use the above configuration to create a Custom Audience to create an ad that targets visitors who saw a property listing, but did not choose to complete the contact form for more information. Depending on your number of listings, you may want to create Custom Audiences per listing or only for specific listings you plan on driving massive traffic to.
2. Create Custom Audiences based on your customer database.
There are several ways to take advantage of your current customer database. You can advertise to them when you have something new to sell or promote. You can advertise to them when you have something complementary to something you have sold to them before. Or you can advertise to them when you could use a boost in your word of mouth marketing as a friendly reminder that you are someone to recommend if they have friends that could use your services. This option is perfect for agents who work by referral!
No matter what the case is, Facebook Custom Audiences comes to the rescue again with another advanced targeting option to use. You can create Custom Audiences using your current customers' email addresses or phone number by going to the Tools menu in your Facebook Ads Manager and clicking on Audiences. On the following screen, click on the Create Audience dropdown and select Custom Audience.
From here, you will follow the prompts to create a Custom Audience based on a Customer List of either email addresses or phone numbers. You may want to try both to see from which one you get the most matches from.
Unfortunately, unlike the Custom Audiences based on website traffic that you created in the first step, the Customer List audience will not be auto-updated (unless you use a pro tool like DriftRock). Therefore, each time you run a new ad campaign, you will need to create a new Custom Audience and upload your customer database if you believe there have been a significant number of changes to the database. For most updating this audience monthly or quarterly makes the most sense.
3. Create Custom Audiences based on your leads, email list, and other email contacts.
The same steps you use for creating a Custom Audience from your customer database can also be used to create Custom Audiences based on your leads, email list, and other email contacts. Effectively, think of any source of emails that you can export into a text or CSV file, export them, and import them into Facebook as Custom Audiences.
Note that there are terms and policies associated with the use of Custom Audiences. If you feel that a list of email addresses or phone numbers you are about to import into Facebook as Custom Audiences might break one of these terms, you may not want to name them in a way that would alert Facebook to the fact that your Custom Audience does break a rule. For example, don't name a Custom Audience "email addresses I scraped off of the web" or "mobile phone numbers I stole from a leaked document" or something similar. But if you are getting your emails the right way, this targeting option can be very powerful.
That said, also don't put anything in your ads that would identify how you have targeted someone. "Since you applied for a job with us back in 1999" is not a good thing to put in your ad text, even if it is how you got their email address. Try to find the balance towards relevant over creepy.
4. Create Lookalike Audiences based on your Custom Audiences.
Another advanced targeting option Facebook offers is the Lookalike Audience. Let's say that you have no reason to advertise to your custom database, but that you do have the emails and phone numbers of your best clientele. If you upload them to Facebook as a Custom Audience, you can then use the Lookalike Audience option.
What this option does is create a target audience that is similar to your Custom Audience. Facebook will analyze your best clientele via the Custom Audience you created with their email addresses and phone numbers, then it will create a Lookalike Audience that closely matches your Custom Audience. In other words, it will find the people it believes are most likely to match your best clientele.
You will only want to create Lookalike Audiences from Custom Audiences that are proven to be the best lead or sales generators. This will ensure that you get the best ROI possible on your ads targeted towards Lookalike Audiences.
Also keep in mind that unlike ads towards Custom Audiences based on your website visitors, customer database, leads, and other email contacts, ads targeted at Lookalike Audiences will be to people that could be completely unfamiliar with you and your business. So start your campaign with that in mind.
Unfortunately, you can not yet target a Lookalike Audience hyper-locally by zip code or city. Once that option is added real estate agents should all use this feature!
5. Create Saved Audiences.
Last, but not least, are Saved Audiences. Unlike Custom Audiences, Saved Audiences are simply those you configure through the standard Facebook Ads targeting options. But instead of configuring your audience each time you create an ad or want to Boost a Post, you will create Saved Audiences that you can use each time you start an ad campaign.
The Saved Audience feature will allow you to create audiences based on everything from general demographics information to detailed specifics.
So you could effectively create Saved Audiences that could be as specific as this:
This is a great option to use if you plan on targeting similar audiences each time you create specific ads or Boost Posts from your Page. Especially when you start creating ads in mass quantity and Boost Posts regularly, it will save you a lot of time and money.
What to Avoid
When it comes to targeting options, you can target people based on a variety of demographics, interests, and behaviors. While some are innocent enough, there are others that people may not want to be identified with. That is why Facebook has strict Advertising Policies, one of which is as follows:
When reading Facebook support communities, you will find that most people asking "why was my ad not approved?" will be answered by this particular policy. That or the "no more than 20% text in images" rule (which Facebook recently changed to be much more lenient. But the key is to avoid identifying people's traits in your ad. Especially if they are traits linked to "race, ethnic origin, religion, beliefs, age, sexual orientation or practices, gender identity, disability, medical condition (including physical or mental health), financial status, membership in a trade union, criminal record, or name."
And, as mentioned earlier, leave out any details about why you are targeting the person in your ad. There is no reason to mention that someone is a LinkedIn contact, college alumni, or a member of your neighborhood watch in your ad. None at all. Just let that knowledge drive the creative and calls to action. Not the specific copy.
In Conclusion
As you can see, Facebook offers some of the most advanced targeting options for paid advertising, ever. Considering it is the top social network in the world, it is certainly one to use when you want to reach your perfect audience.
If you found this article helpful, Like this post and we will keep them coming!